By Micheal Rios, Tulalip News
With the rainy season officially upon us again in the Pacific Northwest, the worrisome drought conditions are quickly a thing of the distant past. It only makes sense then that September 30th's downpour was a welcome sight as the topsoil for an all new tiny homes project aimed at combating homelessness, was softened for an official ground-breaking ceremony
"We definitely experienced challenges during this past year. It was in the middle of a global pandemic and the project was almost put on hold," said Teri Nelson, executive director of tribal services. "There was a reduction in work force and government closures, making for an uncertain future. But as we navigated through uncharted waters, we continued to plan for this project remotely with Zoom meetings."
Throughout the planning process the project continued to grow. From a group of tiny units to a village of miniature homes with all the accommodations one would expect from a proper residential area. Options will include one and two bedroom layouts with a kitchen and full bathroom. Plans include a central community building with laundry facilities and a computer lab. Resident aides and a number of support services will also be located on site.
Located next to the homeless shelter, this project is named Village of Hope. With 17 tiny homes planned to make up the village, tribal leadership intends to offer a sense of stability and hope for a better future to its future occupants. Village homes will be made accessible to individuals, couples, and families.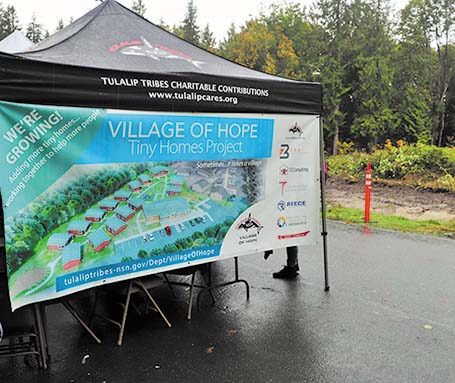 "Every situation and story is different," said Teri. "Our mission is to help our people and provide a place where families can have a place to reconcile, reunite…a place where they can recover, reclaim, and rebuild their lives."
With last month's completion of the Place of Transition, this latest project to combat homelessness comes as the Board of Directors continues to prioritize creating housing solutions for an ever-growing membership and rising number of families who find themselves without a stable roof over their heads.
"Understanding that homelessness creates lifelong generational traumas, we're trying to reach those tribal members stuck within those traumas," explained board member Misty Napeahi. "These [tiny homes] will help us make those necessary connections.
"Intergenerational trauma is what all of us suffer from as tribal members," she added. "The only way through that is through our community and with love and support for each other. When people have homes we know they become constructive citizens of our community."
Updates as to estimated competition of construction and the application process to be a Village of Hope tenant will be announced in the near future.