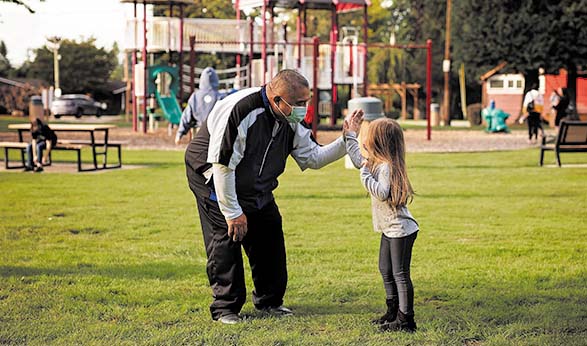 By Kalvin Valdillez; photos courtesy of Ray Sheldon, Jr.
It has been one full term. Four long years since Tulalip tribal member Ray Sheldon Jr. first ran for a position on the Marysville School District (MSD) school board in 2017. Although he wasn't elected on his first go-round, Ray's desire to hold that position and make a positive impact for his community has never faltered.
With Tulalip students and families in mind, Ray has decided to run once again for a seat on the board. If elected, he would represent District One, which is largely comprised of the Tulalip Reservation. He intends to be a strong voice advocating for the needs of tribal students and families who live within District One's boundaries.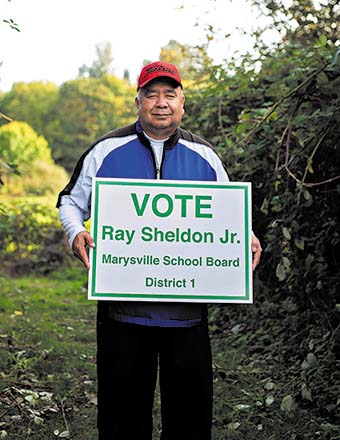 "There are five board members and four of those positions are open this year," said Ray. "I live at Hermosa; I've been here for a long time and I would really love to have the position. I graduated from MP. I started at Tulalip elementary, went to Liberty, Pinewood, and Marysville Middle school and Pilchuck; in '75 they fused the two schools together. So, I've been around."
He continued, "I am a Tulalip planning commissioner and a Snohomish County planning commissioner and I belong to a few committees here in town, with the tribal education committee and as the bond levy chair for the past few years. I will work as hard as I do with my two planning commissions. Sometimes I think that by being on both planning commissions, people are starting to see how we feel as a tribe. And the people in the school district need to understand how we feel out here."
It has been reported that throughout MSD's twenty-two schools, they serve nearly 12,000 students. And according to the district's Indian Education webpage, more than 10% of those students are enrolled tribal members either with Tulalip or other federally recognized tribes throughout the nation.
As a tribal member who went through the Marysville School District during his academic career, Ray believes that he has valuable input that will ultimately be in the best interest of those Indigenous students, who otherwise might be overlooked when the school board makes major decisions. In fact, that is one of the reasons why he chose to throw his name in the hat once more, because many tribal families feel unheard, as though their needs and desires are not being factored-in and met throughout the entire district.
Ray echoed many sentiments that tribal parents often voice and have voiced for well over a decade. The main concern is that there is practically no relationship between tribal families and the current MSD District One representative, Chris Nation, who has held the position for the past three terms.
Although Nation is not running for re-election, Ray fears that much of the same would continue should his opponent, Connor Krebbs, get into the position come election time. Ray notes that Connor is relatively new to the area and has lived in Marysville for the past couple of years after moving from Texas. Whereas Ray has lived in District One nearly his entire lifetime, and has excellent and established relationships with both the communities of Marysville and Tulalip.
Prior to Nation, Tulalip tribal elder Don 'Penoke' Hatch served in that position for a total of 16 years, or four terms. During his tenure, Penoke would often reach out to families within District One, visiting students and families at their homes or at local gatherings to get their input and perspective on several issues happening within MSD at the time. He would then take that information and any concerns to the next board meeting, before any votes were cast and any big decisions were made. Unfortunately, this practice did not continue after Penoke retired from the board. Ray is looking to repair that broken relationship between school district and tribal families, and is backed by Penoke himself who serves as Ray's original inspiration and the reason he wishes to be an elected MSD board member.
"Don and I were talking when he was on the board," Ray shared. "One time at breakfast, he told me I was supposed to take over. I'm about 15 years late, but I'm ready to do this work."
Penoke stated, "Ray is a strong person who utilizes his voice. I feel he would be a tremendous person in there. He's coached sports and knows a lot of people in Marysville. Ray has been to many school board meetings and committee meetings in the last several years. There's nobody that's running for the board now, who has been there as much as he has in the last few years."
Continuing, Penoke expressed, "Each school board member counts for 20% of the big decisions like boundaries, school names, mascots, school colors. So, when we have something big coming up, he would have a vote in that. If they dump the Tomahawk, he would be one of the ones helping make the decision of what the mascot will be. We got to make sure we have a voice."
Ray wishes to see the Tulalip culture, language and history taught at each school, noting that Lushootseed is currently only offered at select schools such as Heritage and MPHS. There are a lot of tribal students who attend other schools like Getchell High School, who he believes should be afforded the option to learn more about their local tribe.
He is not only passionate about tribal youth within the school district, but advocates for representation for all students including those living with special needs. He was sure to comment on the lack of representation for Hispanic students and those youth involved with the BLM movement, and stated he will work to make sure those students are supported. Ray has also urged the school district to hire more teaching staff and faculty members of color and was pleased to report that he now sees more people of different ethnicities when visiting the schools and the district office.
"There's been a lot of changing in the past year, that I've harped on, that's happening. And those things are slowly happening because they are getting tired of me saying the same thing over and over again at the board meetings," said Ray. "We also need to change how the behavioral system is handled because we have a lot of tribal kids in those situations. We have a lot of kids with special needs who need to be taken care of. We need to work on better policy to help keep the schools and students stay safe, which we haven't done in a while."
As Ray mentioned previously, he is the current chairperson for the bond levy that would increase property taxes in Marysville in order to raise funds to repair or rebuild a number of outdated schools within the district.
He stated, "There's a lot of schools, four of them, that really need to be changed. The floors are rotting out at Cedarcrest, Liberty and Cascade. And we all know how old the high school is now, that's where Totem Middle School is. Even the Quil needs changes because they have the portables, our kids are going to classes that are separate from the schools. If we can't keep the schools up, if we don't approve this for the schools, no one will want to live here. They're going to want to go to Lake Stevens, Arlington and Lakewood where the schools are newer and they will gladly pay the tax."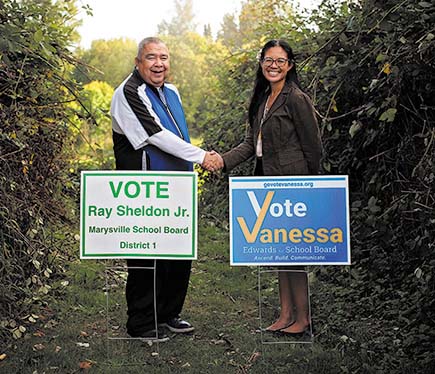 Over the last few weeks, Ray has been campaigning with Vanessa Edwards who is up for re-election in District Four. He wants every eligible voter to also support her on election day. Her opposition, Wade Reinhardt, has some radical views and has shared some controversial statements while on the campaign trail, most notably his opposition to teach Critical Race Theory curriculum in schools.
"Vanessa is in District Four," he explained. "She's been supportive of tribal students for quite a while. Last Friday, in Wade's statement against Vanessa, he said he will not support any curriculum that places value on any race, color, gender, or national origin above another. That's why we need your support. That's why it's important to get her in there because he can really throw a wrench into everything. If you live off the reservation, you don't have to vote just for your district, you can vote for everybody. You can vote for everyone on the ballot."
Ballots will be mailed on Friday October 15, to begin the eighteen-day voting period. Online and mail registrations must be received by October 25, eight days prior to this year's Election Day of November 2. The deadline for in-person voter registration is also November 2. Ballots must be placed in an official drop box by 8:00 p.m. on Election Day in order for your vote to count.
"I praise Ray and I'm hoping and praying he gets in there," shared Penoke. "If we don't go out and vote for one of our tribal members, then we're not going to be able to get the things we need for our children and parents. We have to go out and start campaigning for him. Ray needs help passing pamphlets out from our young people. And if you see a sign that is down, help put it back. We need a lot of help from our people out here. We need to take care of our schools and take care of our kids."
Ray added, "It's really important that if we, as a community, are upset with how the district is being run, it's time. It's time that we all stand up and say, this is the guy, we're going to put him in there. We can make a change for our students now. This is exciting and enjoyable for me and I'm really hoping to get in. But if it doesn't happen, I'll still be here. I'll be fighting for our students for a long time."
For more information and to follow Ray's campaign, please be sure to join his Facebook group, Ray Sheldon Jr. for MSD 25 District 1.