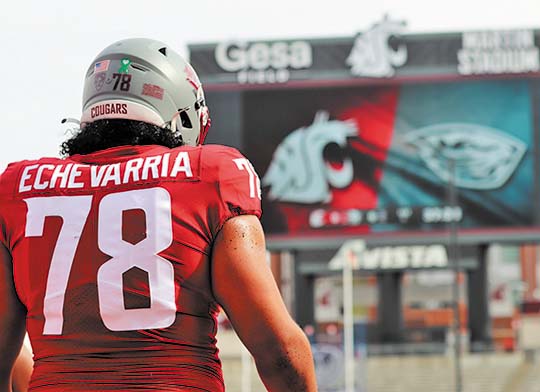 By Micheal Rios, Tulalip News
Tulalip history is filled with stories of athletic achievement. Ranging from grandiose tales told by elders reminiscing about their glory days, to standout high schoolers showcasing their skills in front of adoring families, to proud parents posting on social media about how amazing their child's latest bitty ball performance was.
Sports have become as valuable to passing on traditional teachings as any other element of Tulalip culture. Think about it. Passing down knowledge and insight from one generation to the next, check. Learning invaluable lessons about patience, determination and hard work, check. Teaching the importance of mind/body connection with an emphasis on balancing nutritious foods with physical activity, check. Each generation of Tulalip youth being able to connect and participate regardless of family ties, check. An entire community being able to unite and root for the success of an inspiring tribal member, check. 
It should be no surprise then as to why recent success stories of homegrown athletes like Tysen and Bradley Fryberg (Salish Kootenai College basketball), Adiya Jones (Skagit Valley Community College basketball), Collin Montez (Washington State University baseball), RaeQuan Battle (University of Washington basketball), and Mikail Montez (Everett Community College basketball) have spread like wildfire on the Tulalip Reservation. Their stories stretch the imagination of what's possible for a rez kid with a sports dream, while also giving parents a clear cut example that all the long practices, tournament-filled weekends, and substantial financial investment is worth it.
Enter 6-foot-2, 290 pound Jesus "Zues" Echevarria Jr. The latest Tulalip athlete to compete on the coveted D1 collegiate level. A former team captain of the 2016 state championship winning Archbishop Murphy, Zues made the bold decision to attend Washington State University the following fall and endeavored to make their football team as a true walk-on. His prowess on the grid iron, focus during film study and tenacity in the training room earned him a spot as a redshirt freshman.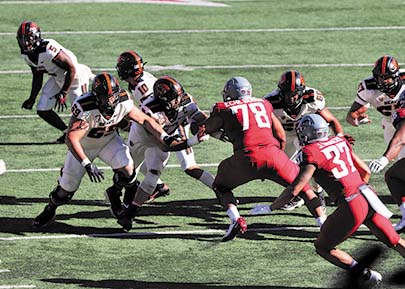 "The key is to be patient because every athlete that goes to the college level learns that you have to start all over. No matter how big of a high school star you were or how many programs were recruiting, once you get to college you have to earn your spot every day and work for every opportunity," said Zues. "Gotta keep your head down and keep working, knowing that the patience will pay off when given the opportunity. A lot of times it comes down to the simple things like eating the right foods, getting enough sleep so your body can recover, and having the discipline to do the little things every single day knowing that you gotta stay ready for whenever opportunity presents itself."
Unfortunately, injuries derailed his college career before he had opportunity to shine under the bright lights. He suffered a gruesome leg injury that forced him to miss most of the 2019 season and made it difficult to regain a top position on the depth chart in 2020. Instead, of taking the easy road and quitting on his football dream, the headstrong defenseman shifted his focus on rehabbing his body and conditioning in a way to minimize future injuries.
"Injuries are always gonna be a part of sports, especially at the higher competition levels, and I'll admit the recovery process is more a mental challenge than anything else, but at no point did I think of giving up," reflected Zues of his near 15-month recovery and rehab from a devastating leg injury. "I've worked way too hard to get to this point. My dream of playing football at the highest level is something I've had since being a little guy. My support system of my mom, my grandparents, and my teammates kept me up when I was down. The whole process just fueled me to want to get back on the field even more."
The determination that fuels him as a defensive tackle combined with the mental strength to preserve over injury, to not give up, and to keep on working at his craft was something his coaches took notice of.
"Even when he was unable to practice with the team because of injury, Zues was coming out of the training room just as sweaty as our players who had gone through a two-and-a-half-hour practice," explained WSU D-line coach Ricky Logo. "That's how he showed us his commitment to coming back and getting healthy. When he finally got his chance to step back on the field and see game action, it was like he didn't miss a beat. That's what I love about him most. His will to fight through adversity and overcome separates him on and off the field."
All the countless hours of rehabbing through injury, conditioning to keep his body at peak performance, and film study to ensure when his opportunity presented itself he'd be ready came to fruition on Saturday, October 9. It was WSU's homecoming game and the stakes couldn't have been higher as the Cougars hosted the Pac-12 North's leading team, Oregon State.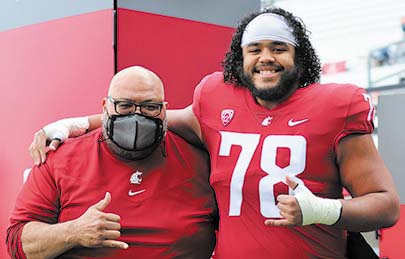 On the field pre-game, the now 5th year senior and recent scholarship recipient warmed up with the same tenacity and vigor that his coaches had anxiously been waiting to unleash on their opponents. With a near packed house cheering on their home team at Martin Stadium, Zues got his chance to seize a meaningful role in the Cougar defense. He was on the field for twenty defensive snaps and came up with two crucial solo tackles that were met with a thunderous roar from the WSU faithful. His impactful play helped his team secure a huge 31-24 upset win over a Pac-12 rival.
In what may have been his most extensive playing time in any game of his collegiate career thus far, his head coach offered praise for the 22-year-old Tulalip tribal member.
"It's good to see [success from] young people who have gone through some adversity and worked hard to get something," said WSU head coach Nick Rolovich postgame. "[Zues] was really productive before getting hurt. He's a hard worker and attacked rehab the same way, and we knew he was going to add to our defensive-tackle play as he got healthier. If he didn't get hurt, I think he would have had a big part in all of our games this year."
Zues intends to climb the depth chart further and become a fulltime defensive stalwart for the Cougars, whether that happens this year or next is of no concern because he understands the process is part of a much larger picture.
When asked if he still dreams of playing in the NFL, Zues responded without hesitation, "Absolutely! That's my number one dream. Everything I do in practice, film study, and in games is geared towards continuing to get better, developing my skills to dominate on the college level. Then maybe NFL scouts will take notice. That's the dream anyway."
In the meantime, the student-athlete understands that he has to prepare for a career outside of football. Zues is close to earning a Bachelor's Degree in Digital Tenchology that will allow him to continue his family's longline of tribal artistry in the digital realm.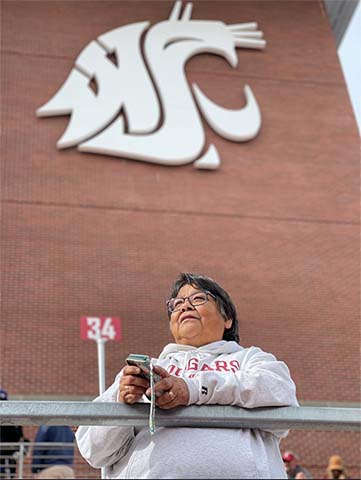 Zues's grandmother Judy Gobin is his self-described #1 fan. She and her husband Tony make the five-hour drive from Tulalip to Pullman every home game to cheer on their grandson. Their support has proved to be instrumental, as has the support Zues receives from his Tribe in assisting with college related expenses.
"We are so fortunate as Tulalip because our kids have the opportunity to go to any school in the nation and excel," said Judy at a postgame dinner, where her grandson was approached by random WSU fans applauding him for his efforts. "They can study to become whatever they want knowing our Tribe will pay for the vast majority of costs. We have so many great success stories because of the resources our tribal gaming allows us to access. Yet, so many of our children don't do it. Stories like Zues show them what's possible and can incentivize the next generation to take their education seriously. When they see Tulalips succeeding at college it breaks the stereotypes and lets them know they can accomplish great things in academics and sports."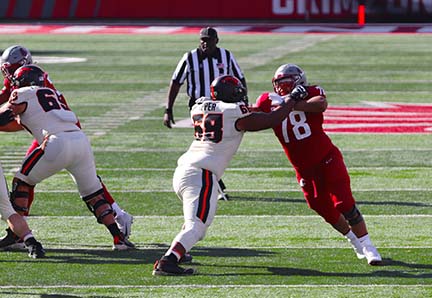 Because of the pandemic, Zues has gained two extra years of eligibility to play college football. The WSU football program hopes to see him accomplish great things with the extra years and awarded him with a scholarship as a sign of further commitment in his potential. Two extra years is plenty of time for him to become a Cougar legend. To this point, he's already a Tulalip legend.