By Shaelyn Hood, photos by Kalvin Valdillez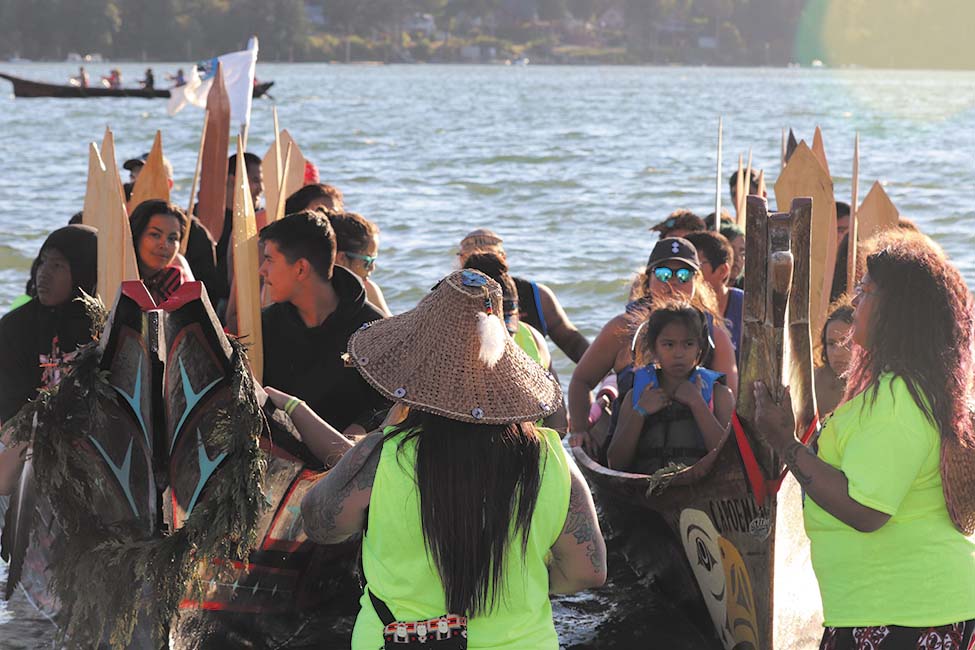 The purpose of Native American Heritage Month (NAHM) is to celebrate Native Americans' and Alaska Natives' rich culture, traditions, and historical moments in native history. This time also serves as an opportunity to educate people outside of Native American culture and raise awareness about the challenges that Native people have fought historically and are facing in the present.
Efforts to recognize Native Americans and their history began in 1916, when the New York Governor declared an "American Indian Day." Throughout the years following, many other states and local jurisdictions began to follow suit. The next action taken was in 1979, when Congress passed the joint resolution suggesting that a "Native American Awareness Week" be made. Seven years later, in 1986, President Ronald Reagan declared November 23rd – November 30th as Native American Heritage Week.
It wasn't until President George H.W. Bush approved the joint resolution to designate the whole month, back in 1990. The proclamation came after several decades of Dr. Arthur C. Parker, the American Indian Association, Reverend Sherman Coolidge and Red Fox James advocating and persisting the importance of this month. This landmark proclamation honoring America's tribal people was a major steppingstone in celebrating Native culture.
During Native American Heritage Month, there are many opportunities to celebrate the rich culture of Native Americans, including attending powwows, festivals, art shows, and gatherings; visiting with other tribes; listening to storytellers; attending presentations given by tribal elders and leaders, and reading about American Indian tribes and culture. This month gives an opportunity to reflect, and reconnect to our history, our culture, and our ancestors.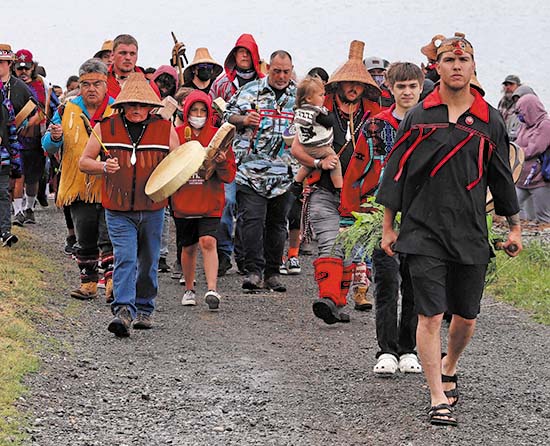 Below is a comprehensive list of some local and virtual events in November that tribal members can participate in.
November 1st

Dr. Anton Treuer discuss his latest book Everything You Wanted to Know About Indians But Were Afraid To Ask: Young Readers Edition. Dr. Treuer will address cultural myths and answer questions raised by Native and non-Native youth

November 1st

Virtual Event: 3PM – 3:45 PM

Discover PowwowFit, a unique, high-intensity Indigenous dance exercise program that targets a full body workout. Join fitness trainer and traditional hoop dancer Notorious Cree and experience Indigenous powwow music blended with easy-to-follow choreography from across the North American powwow trail

November 3rd

Native American Heritage Month Opening Ceremony with Dr. Adrienne Keene (Cherokee Nation.) Dr. Keene is a Native scholar, writer, blogger, podcast host, and activist. She is passionate about reframing how the world sees contemporary Native cultures.

November 3rd

Hilbulb Cultural Center. Weaving Gathering.

November 3rd

Virtual Event: 11:00 AM – 7:45 PM

Repatriation Conference: Accountable To Our Past, Committed To Our Future. The Conference theme – Accountable to Our Past, Committed to Our Future – will be realized through interactive, virtual panels led by experts from diverse backgrounds within Tribal governments including Tribal repatriation practitioners and spiritual leaders, museums, academia, dealers and auctions, federal agencies, foreign museums, and legal counsel

November 3rd – 5th

Virtual Event: 9:00 AM – 5:00 PM

A multi-day gathering to advance the education community's understanding of and practices around anti-racism and equity. Bringing together educators, parents, students, school board members, legislators, education advocates, and community-based organizations, this conference will thoroughly examine the intersection of racism in education and intentionally center the voices, experiences, and expertise of people of color 

November 6th

Hibulb Cultural Center. Kids Craft: Pony Beads

November 6th

Virtual Event: 10:00 AM – 11:00 AM

Join Moon Shadow Music and the WWPL for music, stories, and crafts to celebrate and honor the cultures and traditions of America's indigenous peoples

November 7th

Hibulb Cultural Center. Cradleboard Making

November 9th

Author Toni Jensen talks about her book, Carry: A Memoir of Survival on Stolen Land is a powerful, poetic memoir-in-essays about gun violence, land, and Indigenous women's lives. From the Hilltop draws on American Indian oral traditions and Jensen's own Métis upbringing to tell stories that mix many lives and voices – her characters offer fleeting perspectives on a world that reconfigures the tragedy and disconnection often found in narratives of American Indian life.

November 10th

Speaker: Tazah Rose Chavez (Bishop Paiute and Dine). She is a writer, performamce poet, and has recently turned to television media and currently works on both Rutherford Falls (Peacock) and Reservation Dogs (FX/Hulu) as a producer and writer.

November 10th

Hibulb Cultural Center. Weaving Gathering

https://www.hibulbculturalcenter.org/Events/Calendar/

November 10th

Virtual Event: 6:30 PM – 7:30 PM

American Democracy's Indigenous Roots and Future- Join storyteller Fern Renville as she shares mythic and personal stories that reframe and highlight Indigenous female power and leadership in America

November 10th

Virtual Event: 11:00 AM – 7:45 PM

Repatriation Conference: Accountable To Our Past, Committed To Our Future. The Conference theme – Accountable to Our Past, Committed to Our Future – will be realized through interactive, virtual panels led by experts from diverse backgrounds within Tribal governments including Tribal repatriation practitioners and spiritual leaders, museums, academia, dealers and auctions, federal agencies, foreign museums, and legal counsel

November 11th

Virtual Event: 1:00 PM – 2:00 PM

Veterans Day: Stories from Native American Veterans. Honor Veterans Day virtually with the Historical Society as we hear a short presentation on the history of Native American military service. 

November 12th – 14th

In-Person: 9:00 AM – 4:00 PM

Tulalip's Native Bazaar- Native Art, Cedar Baskets, Carvings, Beaded Jewelry, Native Prints, Crafts, Drums, Clothing, and more

Tulalip Youth Center, 6700 Totem Beach Rd

November 12th – 18th

The National Museum of the American Indian's Native Cinema Showcase is an annual celebration of the best in Native film. This year's showcase focuses on Native people boldly asserting themselves through language, healing, building community, and a continued relationship with the land. Activism lies at the heart of all these stories

November 13th

Hibulb Cultural Center. Rattle Making (Part 1)

November 14th

Hibulb Cultural Center. Beading Making

November 17th

In-Person: 6:30 PM – 7:30 PM

Red Sky Performance "Trace"- Trace is a highly kinetic contemporary dance work inspired by Indigenous (Anishinaabe) sky and star stories, offering a glimpse into our origin as well as our future evolution

Buy tickets at: https://www.stgpresents.org/calendar/6904/red-sky-performance

November 17th

Hibulb Cultural Center. Weaving Gathering

November 17th

Virtual Event: 11:00 AM – 7:45 PM

Repatriation Conference: Accountable To Our Past, Committed To Our Future. The Conference theme – Accountable to Our Past, Committed to Our Future – will be realized through interactive, virtual panels led by experts from diverse backgrounds within Tribal governments including Tribal repatriation practitioners and spiritual leaders, museums, academia, dealers and auctions, federal agencies, foreign museums, and legal counsel

November 18th – 20th 

Virtual Event: 2:00 PM – 6:00 PM

 National Native American Languages Summit

November 20th

In-Person: 1:00 PM/ 2:00 PM

Hibulb Cultural Center. Rattle Making (Part 2) and Kids Craft: Cedar Mat Weaving

November 20th – 21st

Virtual Event: 10:00 AM – 6:00 PM

United Indians Native Art Market

November 20th -26th

Virtual Film Festival: Pocahontas Reframed. The festival aims to raise awareness about Native American language, cultures, and societies through films that share Native American perspectives. The festival, which is the only one of its kind on the East Coast, brings together artists, authors, cineastes, and actors who share a passion for film and features experiential learning opportunities for the entire public

November 24th
November 26th – 27th

High Dive: 8:00 PM – 12:00 AM

Indigenous Heritage Day Celebration Concert- Members of the Tlingit, Haida and Blackfoot tribes, Khu.éex' is an Indigenous band full of creative members, including storytellers, activists and artists, that bring this collective energy to the stage as one powerful unit