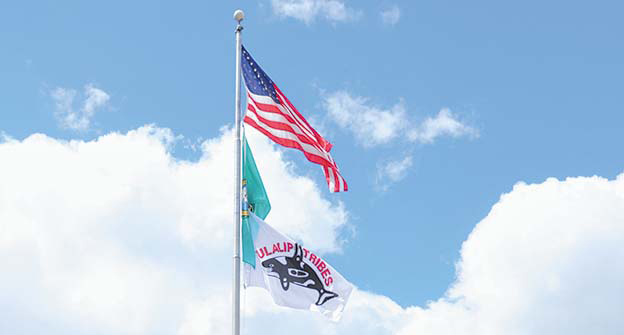 By Kalvin Valdillez, Tulalip News  
"When I was growing up we did not see ourselves in school," expressed Quil Ceda Tulalip Elementary Vice-Principal and Tulalip tribal member, Chelsea Craig. "We did not see our people, our way of being. We were expected to check who we were at the door of the school and conform to the colonized system that we were forced to participate in. This policy is the beginning stages of changing that practice. It honors the unique and beautiful communities that each of our students come from. It puts the heavy lifting on the adults to change their practice and their thinking to meet the needs of all of our kids. It interrupts the status quo, that has long-standing shown, does not work for our Native students and other students of color."
For the first time in history, the Marysville School District (MSD) has adopted an equity policy in an effort to ensure that their students, faculty and families feel safe and supported through their academic careers and time spent within the school district. November 3 marked an important and historic day, as the district took the first step in a long journey. A journey worth striving for where kids can thrive in a comfortable learning environment and simply be themselves without worrying about bullying, harassment, or experiencing educational disparities and barriers based on their culture, ethnicity, religion, gender identity, sexual orientation or socioeconomic status.
Said Eneille Nelson, MSD Executive Director of Equity and Family Engagement, "This educational equity policy was created by students, parents, community members and staff. It was very important to have the right people at the table thinking about the needs of our students, families and staff of our district. It will serve as the foundation to initiate the necessary sustainable changes for years to come. The policy is just the beginning of the work we have to do, a foundation for us to build upon."
Over numerous pages, the policy identifies five key areas that MSD will focus on to implement the Equity Action Plan; Human Resources, Teaching and Learning, Leadership and Partnership, Climate and Culture, and Responsibility/Accountability.
If executed as planned, the district will recruit and hire a more diverse workforce, whom students can identify with, relate to and confide in. Eliminate systemic inequalities in curriculums and educational materials by providing their staff with professional development training and tailoring lessons so their students can see themselves within the curriculum. Build and foster strong relationships with their students, families and local communities, namely the Tulalip Tribes, City of Marysville and Snohomish County, to ensure they have input in major decisions and that their voice is heard and well-represented. Offer a safe and inclusive learning environment where the proper resources are readily available to their students. And hold staff, the school board and the yet-to-be-appointed superintendent accountable by closely monitoring the progress of the policy through annual reports, reviews and surveys – to name a few highlights from the newly established policy.
"The Marysville School District has never had an equity policy before and we have seen the painful effects on our kids and our community," stated Liz Gobin, MSD teacher and Tulalip tribal spouse and parent. "Having a comprehensive equity policy holds everyone in the district accountable to ensure that our kids feel safe and that the biases that have existed in the larger community and educational systems will no longer be tolerated. There have been many feel-good statements about equity over the years but having a formal policy adopted means that there is finally action happening. Along with this initial policy, the advisory teams are continuing to develop the action steps that go along with it, including things like professional development to educate staff, more diverse hiring practices, evaluating discipline data, and holding every person accountable to interrupt racism and biases as they occur."
She continued, "This Equity policy was created for and belongs to each of our children. I want to encourage every family to use their voice to make sure we keep building on this policy and that we never go backward. As our school board changes and our superintendent search begins, it's important to remember that what we demand as parents and as a community makes a difference. We need to pay close attention to what is happening and work together to make sure this policy stays at the forefront of all of the work happening in the district."
As Liz mentioned, MSD is currently undergoing several changes as the school board welcomes three new directors to the five-seat panel, two of whom have shown opposition to curriculum such as Critical Race Theory and have vocalized they would not support any curriculum that places value on any race, gender or national origin above another. That is why she is urging other parents to get involved as the new policy goes into effect, to ensure that the equity policy is implemented as planned and the needs of MSD students and families hailing from various backgrounds are met. And that their students are also afforded a safe and positive learning environment, as well as celebrated for their differences.
Chelsea shared, "At QCT we have been working for many years to change the mindset of school, grounded in the traditional values of the Tulalip Tribes. We have been working to build our understanding of race and equity and the role each of us play in creating a learning environment that reflects the community we serve, that honors the beauty that each of our children bring into a very colonized space. MSD passing this policy grounds the much-needed work to heal our Tulalip/Marysville community."
Eneille added, "Our next steps will be to create an action plan that will put actions to the areas addressed in our policy. Everyone in our district and community have a part to play in the success of our policy and action plan. We all have to hold each other accountable and not expect one person or group to do all of the heavy lifting. If we work together, this policy and action plan can bring the change many have been waiting and hoping for."
To view the MSD Eduction Equity Policy please visit: https://drive.google.com/file/d/1yb3sRKRNQOil-Afud66Qxq9HXqW27zQu/view
The district's current Equity Action Plan can be found at:  https://core-docs.s3.amazonaws.com/documents/asset/uploaded_file/1312201/MSD_Equity_Action_Plan_Web_Version.pdf
For additional information, please contact the Marysville School District at (360) 965-0000.