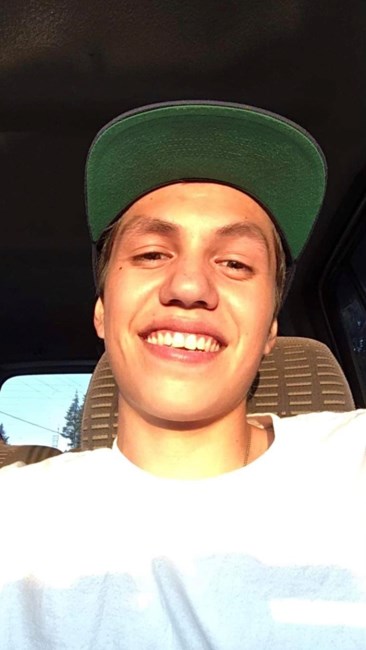 Christian Gabriel Foster was born July 5, 1996 to James Foster and Debra Barto in Everett, Washington. He went to be with the Lord and his Mom, on November 20, 2021. Christian was a member of the Tulalip Tribes and Klamath, Modoc, Paiute – Yahooksin Band of Snake Indians. He lived on the Tulalip Reservation his entire life.
Christian loved spending time with his family and friends and always seen the best in people. He always had a positive outlook on life. He influenced and inspired many others to keep trying and never give up. He had a loving, carefree and kind soul. Christian loved being an uncle and his nieces and nephews adored and looked up to him. He was always happy with a huge smile and had contagious vibes that made everyone around him bee better. Christian was adventurous at very a young age. He had no fear when it came to trying something new. He learned how to ride a bike without training wheels when he was only two years old. Christian became interested in skateboarding and it grew into a passion that continued into adulthood. He traveled to many skate parks up and down the West Coast. His skills in skateboarding and snowboarding were natural to him. Some of his favorite times were when he was outdoors traveling at the river and gaming "Fort Nite & Chill".. Christian loved animals and his culture. He loved all music, especially bumpin' Mac Dre and Christian "Triz" walking. He was so humorous, always ready for a good laugh. He found peace and comfort in chasing sunsets. Bee Strong, Bee Love, Bee Kind, Bee Compassionate – Christian Gabriel Foster, we will always bee missing you.
Christian is survived by his Dad, James Foster; Grandmothers, Nadene Foster and Linda Hill; Siblings Heather (Kris), Shane, Travis, Rayvin (Jessica), Clara (Juan); Nephews and nieces, Cory, Keegan, Jazmyn, Tahlia, Makenna, Kyleal and Immanuel; the Love of his life, Keryn Parks and also many aunts, uncles, cousins and friends. He is preceded in death by his mother, Debra Barto; Grandfathers, Robert Barto and Patrick "Pat the Cat" Foster; Uncle Ambrose Foster; Cousin, Gia Foster.
A celebration of life will be held Tuesday, Nov. 30, 2021 at 10:00 AM at the Tulalip Gym. Arrangements entrusted to Schaefer-Shipman Funeral Home.