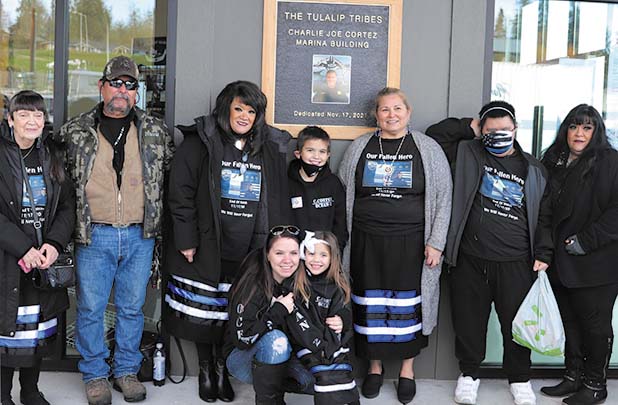 By Kalvin Valdillez, Tulalip News
One year after the Tulalip community and various law enforcement agencies scoured the open waters and surrounding shorelines, hoping to find any sign of Tulalip Fish and Wildlife Officer Charlie Cortez who was reported lost at sea while on duty, they convened once more at the Tulalip Bay Marina in his honor.
Ever since that stormy night of November 17, 2020, Charlie's family, friends, Tribe and fellow officers have been grappling with his absence and missing his presence. Charlie's infectious laughter and one-of-a-kind personality often left anyone who had the pleasure of interacting with him with a huge smile, much like his very own, a signature known by those who held him dearest throughout the reservation.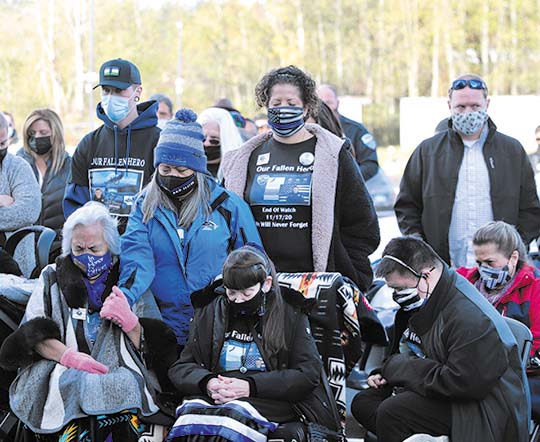 Officer Cortez's signature smile will live on forever, not only in memory of his loved ones, but at the front of the Tulalip Marina Building on a plaque that officially identifies the recently constructed establishment as the Tulalip Tribes Charlie Joe Cortez Marina Building.
"November 17th is a day we'll remember forever, having one of our officers lost in the line of duty," said Tulalip Chairwoman, Teri Gobin. "It's important to take time to heal as a community. Not only his children but his family, you are his legacy. You will be moving forward with his work, his words, bringing his memory through."
She continued, "My heart breaks for each and every one of you. To lose a son, a brother, grandson, a father, it's something that can't be replaced. But eventually every time you think about him, you'll be thinking of the happy times, the laughs and good times you had together. We know he is okay now, he's with our people, he's with his grandparents and family on the other side. It's an honor to be here today to support the family and naming this building after our fallen officer, Charlie Joe Cortez."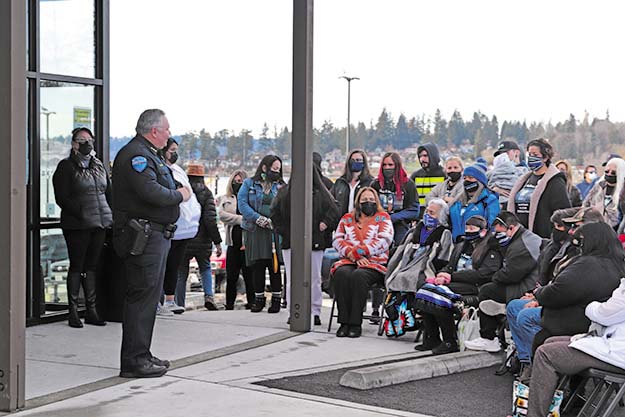 Lushootseed Language Warrior, Natosha Gobin, said a prayer in the traditional sduhubs language before Tribal members Glen Gobin (Vice-Chair), Kelly Moses and Jason Gobin offered a song and a blessing of the new building. Tulalip Chief of Police Chris Sutter also shared a few heartfelt remarks as he fondly reminisced the fallen hero and extended his love and condolences to the family. Chief Sutter then called upon Charlie's daughter, Peyton, to help unveil the plaque. On her count, they removed the blanket which covered the engraving together, much to the cheers, tears, claps and hand squeezes of the crowd of approximately one-hundred people.
Following the ceremony, Charlie's family held a luncheon at the Tulalip Gathering Hall, where they gifted the Tribe's BOD and executive staff members with blankets for the special honoring, as well as bracelets, which read Charlie's name and End of Watch date. They also offered t-shirts and candles to the community for their support over the past year.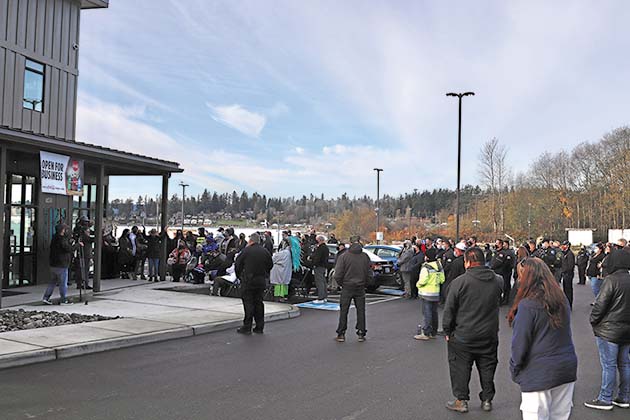 "It was very heartwarming to see the community gather together today, as well as the other law enforcement agencies that came in our support," expressed Charlie's mother, Paula Cortez. "Seeing the plaque for the first time, it was very beautiful. It warmed my heart to see the effort that went into dedicating the Marina building in Charlie Joe Cortez's name. I am deeply grateful to the Board of Directors for making the decision to dedicate the building, it really means a lot to us and the family.
"It's going to be a place where his kids can go to pay tribute to their dad on special days like his birthday or Father's Day. We haven't had a real place to go except for the memorial wall that we decorated down there. I think it's important for the kids and the future generations to see that the Tribe honored Charlie in a good way as a fallen officer. The ceremony was just beautiful and it really touched all of our hearts."