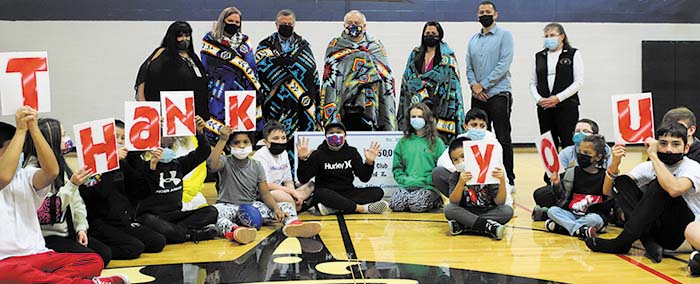 By Micheal Rios, Tulalip News
We've officially entered the season of giving and holiday cheer. In that spirit, the Tulalip Boys & Girls Club is thrilled to announce a whopping $50,000 donation received from Atlas Genomics, a diagnostic molecular laboratory based in Seattle. It's the largest single donation from outside the Tribe the Club has ever received.
"This money will be used for necessary upgrades to the building, expanding programs, and continuing our ability to offer a variety of sports and after school activities for our kids," said Club Director, Shawn Sanchey. "This donation by Atlas creates even more opportunities for our kids to grow in all aspects.
"One way to look at is not all our kids play sports, so being able to purchase new kitchen supplies, upgrade playground equipment, or develop new education programs are all pivotal to us helping them grow as young individuals," Shawn continued. "I grew up here in the Club, so it means so much to be able to continue creating partnerships outside the Tribe that continue to provide opportunities for our kids that I had growing up. Grandma Diane was here when I was a kid, and now that I'm Director of the Club I'm able to create a lasting impact on our kids just like she does. We have kids who come here daily that say they want to work at the Club when they're grownups. That's a great feeling knowing we are setting that positive example."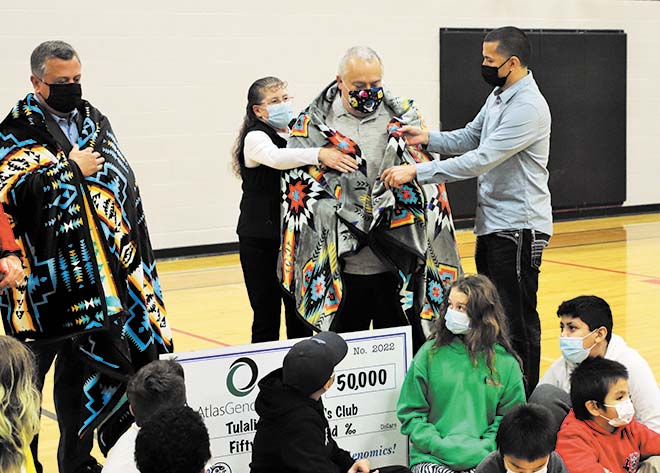 'The Club', as it's affectionately been nicknamed by hundreds of regularly attending children, is a safe place where kids can just be kids. While there, children are routinely exposed to healthy food choices, create an abundance of happy memories, and make relationships that last a lifetime.
The Club is the first of its kind to be built on tribal land in Washington State. Established in 1995, 2021 marks twenty-six years of commitment to the community. Through before and after school programs, it aims to help young people improve their lives by building self-esteem, developing values, and teaching skills during critical periods of growth.
Serving as a model for those working to improve the lives of young people in the surrounding communities, the Club is the primary beneficiary of an annual fundraising auction. With each auction building off the success of previous years, the Club has not only been able to sustain services, but to complete much needed campus expansions that add additional learning and activity space.
It was actually at the auction earlier this year that the seeds were planted for Atlas Genomic to become the title sponsor for next year's 24th annual auction. Teri Nelson, executive director of tribal services, hosted a table and one of her invitees had an amazing experience. So much so that when Teri's friend came across a company looking to make a large financial donation to a local organization, she recommended the Tulalip Boys & Girls club for all the great work they do. The rest, as they say, is history.
"I think giving back to our kids is so important because they have to recover from this pandemic, too," said Teri. "If we can continue to offer them after school programs and extracurricular activities and all the things that make it so much fun to be a kid, then what a true difference that makes for all kids who attend the Club every day. I'm just thankful that a friendship could evolve into making something as impactful as this being able to happen and truly benefit the Tulalip community."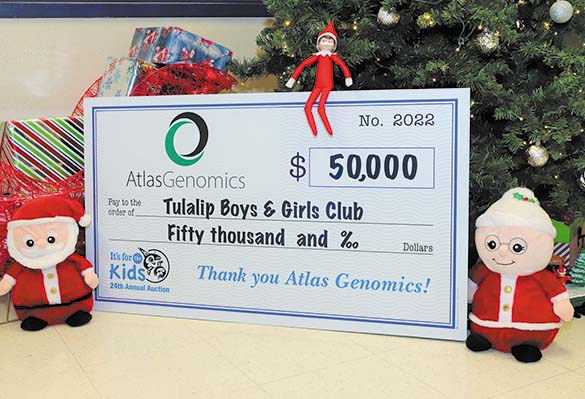 On December 10, representatives from Atlas Genomics arrived in Tulalip to meet with tribal leadership before getting an in-person tour of the Club. They marveled at all there was to offer on a reservation bound boys and girls club. They were warmly welcomed by Club kids in the gymnasium prior to writing the $50,000 check.
Shawn and Grandma Diane blanketed the group for their donation and commitment to helping Tulalip's kids, while Natosha Gobin and her partner Thomas Williams offered a song and prayer of gratitude.
"It's an honor and a privilege to be here today to meet such a tremendous group of people working to support the Boys and Girls Club organization," said Chris Destro, President of Atlas Genomics. "When this opportunity to give back was presented to us, there was zero hesitation; it was an immediate yes. A huge shout-out to Diane and Shawn for what they are doing here. As a company, we're humbled for being given the opportunity to help out and add to what's already been built here."