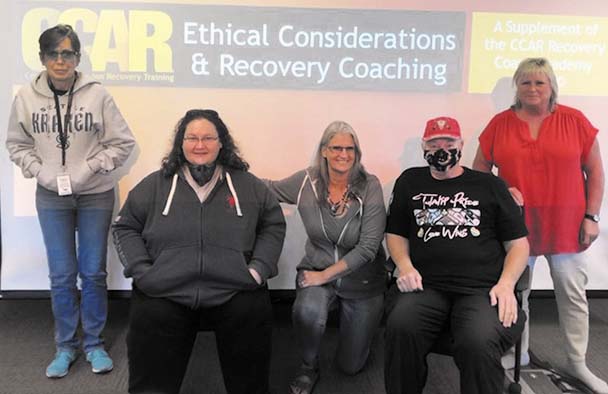 By Kalvin Valdillez, Tulalip News; Photo courtesy of the Tulalip Problem Gambling Program
"This project is important because we have nowhere for our people who are sober and clean, or want to get sober and clean, to gather," expressed Tulalip Recovery Liaison, Helen Gobin-Henson. "We have so many people who are homeless, who are hungry, they could come to the café and enjoy a meal. And the people who are sober and clean can get together as a group and connect there at the café – a safe and supportive place to gather."
Nearly two years ago, a group of Tulalip and Marysville community members met at the Tulalip Administration Building to attend a four-day training, spanning over the course of two weekends. By successfully completing the training, hosted by the Tulalip Problem Gambling Program, each participant earned certification and the official title of a recovery coach.
In a nation where opioid overdose related deaths continue to climb, the support of a recovery coach can be an effective tool for those on the road to recovery. According to the CDC, more than 93,000 people died of drug overdose in the U.S. during 2020. A near 30% increase from 2019. Last July, the Washington State Department of Health reported that there were 40 more drug overdose deaths in the first three months of 2021 than the first three months of 2020, and that the state's overdose rates were 'on pace to break another record in 2021', based on that preliminary study.
"Our philosophy is to help the community heal from within," said Problem Gambling Counselor, Robin Johnson. "The more people that we can teach to be recovery coaches, and have them in the community and available to others, that is just going to snowball. A recovery coach is someone in-between a sponsor and a counselor. They're there to help, depending on the individual's needs – finding out what those needs are, and meeting them there. This is not the first recovery coach training that we've had, but it was the most successful and we've had a better response and incorporated not only chemical addiction, but also gambling addiction."
Throughout the pandemic, the recovery coaches stayed in-touch with each other, with a shared focus and passion of helping their fellow community members, who are battling addiction, attain and maintain a sober and healthy lifestyle. While brainstorming ways on how to reach more people and better service the local recovery community with their newly acquired knowledge and skills, the coaches landed on the idea of opening a Recovery Café in the Tulalip-Marysville area.
Since 2004, Recovery Cafés have been popping up throughout the country, after the first café was established in Seattle. The cafés provide a positive environment for those struggling with addiction, and offer an opportunity for addicts to interact with others who share the same goal of getting clean. Participants can also attend group sessions at the café, which ultimately helps individuals create a strong support system for their recovery journey while also assisting others who are on a similar path. Recovery Cafés have also been a safe space for the homeless populations in multiple cities, as they offer warm and dry shelter and a place for people to grab a bite to eat.
With a desire to open up a Recovery Café as soon as possible, the group instantly began planning by scouting locations, designing a logo, raising funds and establishing a dedicated team of professionals to help navigate the process of opening up the café.
Currently, the team consists of those six recovery coaches, as well as Tulalip Tribal Prosecutor Brian Kilgore, Tulalip Recovery Liaison Helen Gobin-Henson, Tulalip ODMAP Social Worker Jackson Nahpi, and Robin Johnson and Sarah Sense-Wilson of the Problem Gambling program. The Tulalip Foundation has also lent their expertise to the project, helping the Recovery Café become a non-profit organization, as well as apply for and obtain grants.
Shortly after announcing the plans to open a Recovery Café locally, the group received a generous anonymous donation to help kick the project off.
"It was a nice surprise, we got a $25,000 donation, and it showed up in the mail actually," said Nicole Sieminski, Tulalip Foundation Executive Director. "It came with a nice letter from a company that manages private donations. It was a pleasant surprise and I think it will get the Recovery Café off to a good start as we are looking for funding sources and funding opportunities. There's actually funding available through the Recovery Café Network, but part of that funding is contingent on raising other funds. By receiving this anonymous donation, it will allow us to access other additional funding in the near future. All around it is a great benefit and a great help."
While the team continues searching for a space for the Recovery Café, they are also working to establish a board of directors, recruit additional volunteers, finalize the Recovery Café logo and raise more funds. The recovery coaches will also be doing community outreach in the coming months.
If you are interested in helping get this project started and helping people maintain a clean and healthy lifestyle, please contact the Problem Gambling program at (360) 716-4304 for more information.
Said Brian, "I think that the power of having a physical place, around which to build services, is going to be really transformative for all the work we're doing. Government, non-government, volunteers, we're all working the same problem – we're trying to save lives, trying to get parents back to their kids and rebuild families and communities and stop people from dying, but we just haven't had a physical place to do it. I'm really excited about this group of people. I think that they're going to go out into the community and they're going to create a physical space where people can come in and get wraparound support and services."