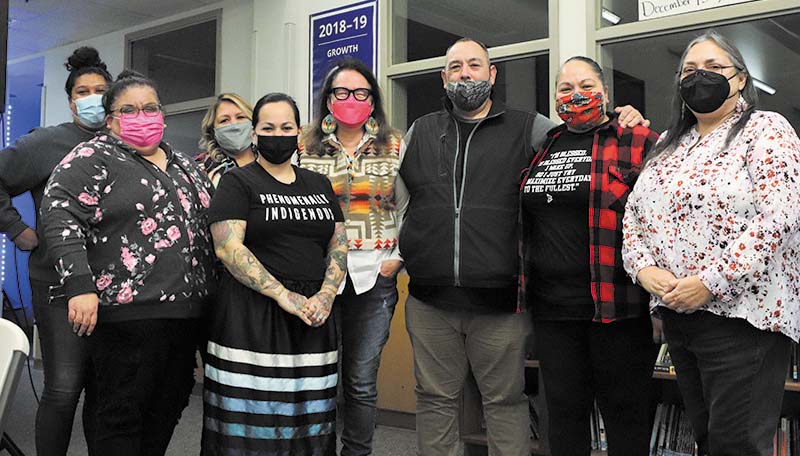 By Micheal Rios, Tulalip News
While the vast majority of students were enjoying their winter break and anxiously awaiting what would become Snowmageddon, a special gathering took place among the Indigenous educators of Marysville School District. Co-hosted by MSD's Indian Education and Tulalip's Positive Youth Development teams, all Indigenous educators within the District, and their families, were invited to Heritage High School's commons area to be honored for their united goal of decolonizing education.
Decolonizing education means to dismantle a colonial system. In this case, the specific colonial system is education, which wasn't integrated until the 1970s after decades of legal battles. So then how can a system that separated white people and people of color for hundreds of years, a system that was created and maintained by white people for the benefit of white people, all of a sudden become an inclusive system that prioritizes the success of all? Put simply, it can't.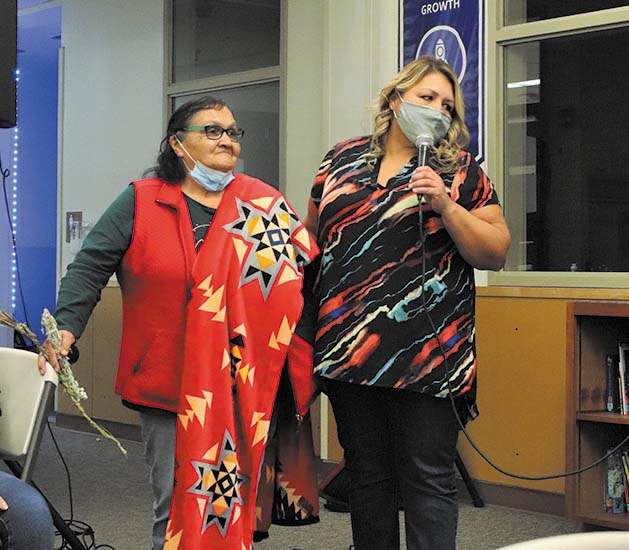 In order to achieve such a lofty goal, it'll require the tireless pursuit and often underappreciated life's work of Native culture bearers who are fully aware that they are raging against the machine and regularly feeling like no matter how much they do it's never enough. Yet, for these special few, they know the deck is stacked against them but they'll answer the call anyway. They take the college classes, get the required degrees, and receive the necessary accreditations to gain entry into colonized school systems as Indigenous educators.
Armed with traditional teachings and ancestral wisdom, and fueled by a relentless love for their people, it's the Indigenous educators who are fighting to change the education system from within. From their positions they can actively provide an environment where Native students can learn about, and be proud of, their history and culture. It is these educators who were celebrated on that December evening.
"I'm going on my eighteenth year now working in education. In my new position I'm so honored to be working with all of you, the beautiful Indigenous educators of our District. As far as I know, this is the first time a celebration like this has been held exclusively for you all," remarked Matt Remle, MSD Indian Education coordinator, to all in attendance. "The thought behind this event is simple. We want to honor, encourage, and uplift our Native educators because what you all do every day is remarkable and worth celebrating."
"I want to thank you all for being here and allowing us to acknowledge you together as our Indigenous educators," added Jessica Bustad, executive director of Tulalip Education. "Words can't express how important you are, and the work that you do to positively impact our youth is immeasurable. But we do know how important it is for us to support each other.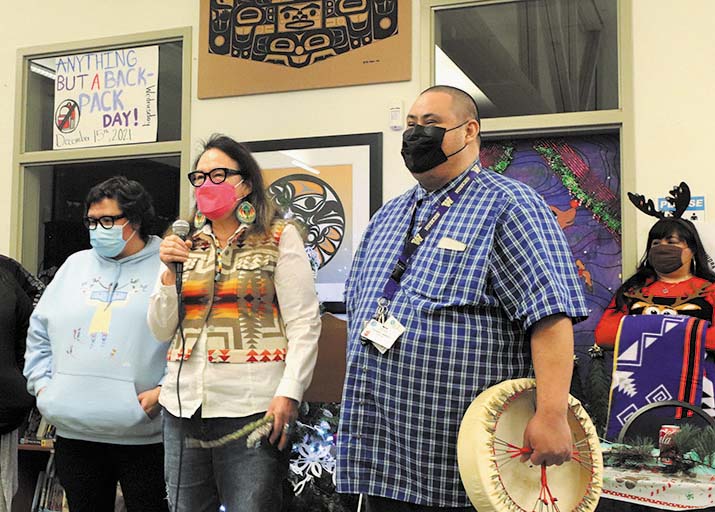 "We know that these systems we work in were not built for our Indigenous students," she continued. "Times are difficult right now, but it's never been easy doing the kind of work we do. What keeps us going is a shared dedication to our students' success and a passion to do what we can to help them thrive in and out of the classroom. The Indigenous students within the District need and depend on us. They are so fortunate to have educators who genuinely care for them, and I hope you all know how much of a difference you make."
Public education was among the first colonial institutions deployed over Native American tribes as a tactic to subordinate, confuse and debilitate. The effort to forcibly assimilate Native children through education took place all of the United States. Today, we refer to this effort as the Boarding School Era; when Native children were removed from their families and placed in faraway boarding schools to eradicate Native culture. Whether the boarding schools were sponsored by the church, state or federal government is of little difference. The Native students were stripped of their traditional languages, clothing, and teachings. They weren't able to see themselves in the curriculum nor in those individuals appointed as teachers.
Because of our Indigenous educators' efforts, the same cannot be said for Native students within Marysville School District. They have opportunity to see themselves in Since Time Immemorial curriculum, and to learn traditional teachings from their elders who unapologetically display their Native cultures in the school setting. From intricately handwoven cedar to vibrant ribbon skirts and beaded earrings, to Lushootseed words and the heartbeat of hand drums, the sights and sounds of a thriving Native culture is embodied by these educators.
During the celebratory dinner, within the commons area of Heritage High School, the sentiment was shared how fitting the location was. The high school located on the Tulalip Reservation, dreamt of by past leaders, serves as a model that can redefine and inspire Indigenous education. Nationally, many Native students struggle with low academic achievement and only about half graduate from high school. Contrast that with Heritage High recently setting records for overall student enrollment and total number of seniors earning their diploma. It becomes easy then to understand the importance of allowing Native youth to learn in a community-led, culturally-rich environment.
Marina Benally has been teaching Tulalip's youth for twenty-three years. Most recently as a teacher at Heritage where she is routinely spoken highly of by her students, past and present. Before the intimate gathering, Marina asked her son, Terrance, and daughter, Amanda, to stand with her. Her kids have inherited their mom's passion for educating the next generation, as they both work as Indigenous educators in the District as well.
"We love being here and are forever grateful to be entrusted with educating your students," said an emotional Marina. "Ray and Sheryl Fryberg recruited me to come here and help the Tulalip youth back in 1999. Since then, we've made Tulalip our home, and you all have helped make us feel like we belong. We thank the Tulalip community for upholding us. Like each and every one of the Indigenous educators out there, we stand on the shoulders of giants who came before us."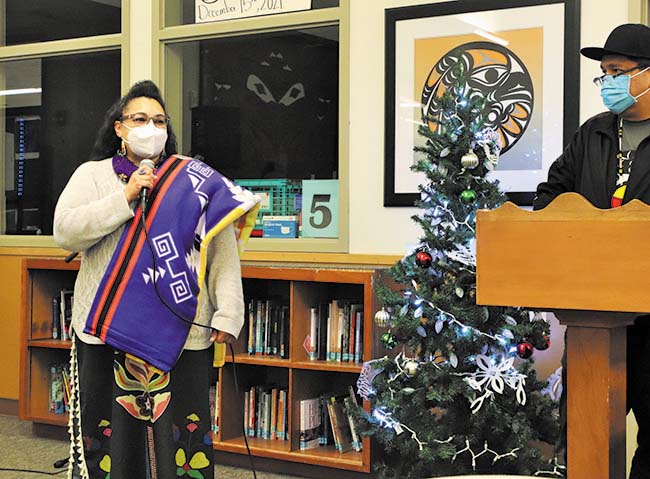 There were songs shared, traditional medicines offered, and many messages of encouragement between the group of educators. After a hearty meal, a special recognition of those who had 20+ years working in education ensued. Each offered more good words on the mic before being blanketed. Tulalip elder Dawn Simpson received a huge ovation when she announced she now has over 50 years helping her people achieve their academic goals, and she's still working.
"Dawn was the lifeline for many of us educators here today," shared Quil Ceda assistant principal Chelsea Craig. "When we were the young students attending schools within the Marysville School Districts, we may not have had much support, but we had Dawn. She was always there and some of us may not be doing the work we are today if it wasn't for Dawn paving that foundation."
Imagine how many Native students within the District these awe-inspiring educators are impacting every year. How many kids are excited to go to school and learn from teachers who look like them, or are emboldened to wear traditional regalia, even if it's just accessories, because their teachers sparked that Native pride? Now, envision just a fraction of these students being inspired to create real change because their educators made them believe it was possible. That's a kind of cultural legacy powerful enough to take down a system, maybe even to decolonize education.