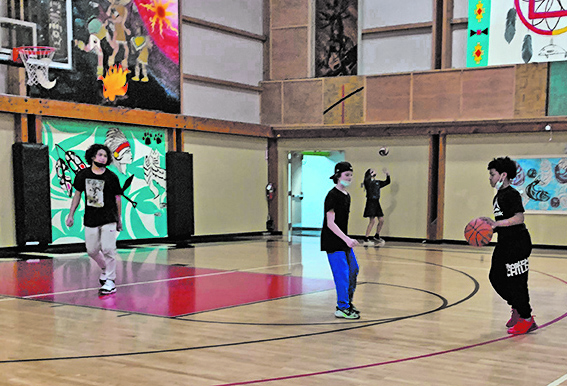 By Shaelyn Hood, Tulalip News
More often than not parents are trying to find programs and groups that are going to help uplift their children, build life skills, and let them hang with kids their age in a safe place. If you have a child between 6-12 grade, the Education Division's Youth Night might be the place for you.
Much like other gatherings, the Covid-19 pandemic has made it difficult for people to come together, and celebrate life in all its form. A social group that is heavily dependent on the voices of others, is youth. Specifically, when talking about teenagers. These years of their life are so important, because they are learning about who they are and what they want to be. They're becoming less reliant on their parents for daily tasks, and building habits of their own.
According to a 2020 survey by UNICEF, because of Covid-19, more teenagers in the U.S. are suffering from anxiety and depression, 46% of kids have less motivation to do activities they used to do, and 73% felt they needed help concerning their mental and/or physical health. Without the skills that are learned from having a healthy routine, socializing with others, and doing daily tasks like working and going to school, it has hurt teenagers in a way that could be detrimental to how they start their adult life.
As parents and community leaders, there is little to what can be controlled in a global pandemic. But as things have started to re-open, departments like the Education Division have been trying their best to seize the moment.
Primary leader for the Youth Night events, Adiya Jones-Smith said, "The first couple weeks we just want to focus on team building, and then we'll get more into interpersonal communication skills. Lastly, we want to target safe thoughts and get them outside their comfort zone, and express how they may be feeling or what they may be going through. Because who knows, they might be able to relate to one another."
She went on to talk about how it's important because these are activities and skills that kids don't normally get to experience in school. Since it is at the Youth Center, it is a perfect time to get them out of the house, and keep them engaged outside of school.
When speaking with one of the tribal youth who attended the event, she said, "Sometimes I'm bored after school. I come here once in a while. I've made more friends and I get to have more stuff to do."
Sometimes, that's all a child needs; time spent with friends, and an area to decompress.
Youth Night takes place every Monday, Tuesday and Wednesday from 3:30-4:30 PM, at the Don Hatch Youth Center. During the event, food and snacks are supplied by Uppy's Kitchen. Other than the program's organized activities, kids can hang out, socialize with one another, and play in the gym with basketballs, volleyballs, etc.
Events like this have the ability to build our adolescents, by reducing risky behaviors, helping academic development, and promoting overall physical and mental health. It is available for any tribal youth from 6th-12th grade, and there is no sign-up necessary. If you would like more information about Youth Night, please contact Adiya Jones-Smith at adiyajones@tulaliptribes-nsn.gov.