October 16, 1931 – February 13, 2022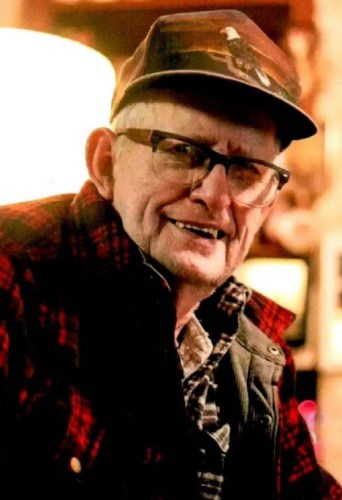 Donald Heinze Brodersen aka "Grandpa" was born October 16th, 1931 on his family farm near Arlington, Washington to Henry Brodersen and Anna Rose Kraetz Brodersen he was 1 of 8 children. 
Donald grew up on that same farm and graduated in 1951 from Arlington High School, he lettered in track and was an avid member of FFA. He then joined the Armed Service November 17th, 1952 serving as an MP for 2 years before transferring to the reserves until 1960 when he received an Honorable discharge. 
That same year of 1960 he met the love of his life Vera M. Zackuse at a cafe in Marysville Wa. Soon after they moved to Smith Island where Don worked full time on the Island until he gained employment at Weyerhaeuser where he retired serving 20 years. 
Don and Vera resided at Smith Island for 13 years and in 1973 they bought a 5 acre track in Tulalip, Wa. now known as the Zackuse Compound where they continued to raise their growing family. 
Throughout the years to follow Donald enjoyed his life of raising numerous children spending time with Nieces, nephews, grandchildren, great-grandchildren and Great-great grandchildren. 
The life of Razor Clam digging, farming, gardening, traveling to all the kids sporting events and camping were some of his fondest memories. 
Donald worked his entire life and was committed to everything he did, passing down that teaching to his future generations. 
Donald went on his Journey on February 13th, 2022 at 4:37 p.m. in the same home he had lived in for nearly 50 years, surrounded by the love and strength of his family. 
He is survived by siblings Rose Mary Ford, Bill Brodersen, Roger Brodersen and Debbie Brodersen. Children Morris Zackuse, Mitch (Karen) Zackuse, Brenda Zackuse (Richard), Leona Zackuse and Elishia Stewart. Grandchildren Jimmy Zackuse, Tory Chuckulnaskit (Kris), Shiloh Zackuse, Mitchell Zackuse, Tristin Zackuse, Nicole Zackuse (Michael), Joe Zackuse (Annie), Shawneen Zackuse (Doug), Heidi Fryberg (Marlin), Michael Addie, Leona Addie, Kimberly Addie, Juan Gonzalez, Kiana Hernandez and TyReece Hernandez. Great-Grandchildren Cheryl Mae Chuckulnaskit, Kristy Chuckulnaskit, Jalen Chuckulnaskit, Wesley Zackuse, Shaughnessey Zackuse, Elyssa Zackuse, Shylah Zackuse, Ryelon Zackuse, Deven Zackuse, Kecia'Ann Zackuse, Makayla Zackuse-Moseley, Chayce Zackuse-Moseley, Ryleigh Zackuse-Moseley, Ashlee Salinas, Cullen Zackuse, Hallie Zackuse, Aubrey Zackuse, Mekiah Phillips, Logan Fryberg, Leighton Mitchell Fryberg, Ellie Rose Fryberg, Zane Addie, Sophia Romero, Julio Romero, and Jayden Romero. Great-great grandchildren Waylin Zackuse #5, Kaliyah Chuckulnaskit. Special outlaws Doug Salinas, Marlin Fryberg, and Annie Zackuse. Special nieces Linda Hill, Kathy Williams, Sheryl Fryberg, Verna Hill, Candy Hill-Wells, Special Nephew Charles Hill, extended family and his dog Precious aka "Stinky".
Preceded in death by Vera Zackuse the love of his life, parents Henry and Rose Brodersen, Brothers Lawrence Brodersen, Ralph Brodersen and Sister Louise Brodersen.