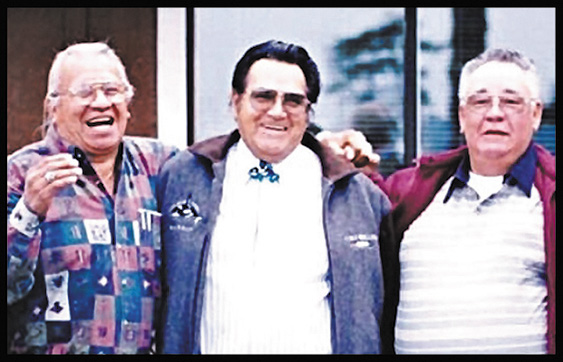 By Micheal Rios, Tulalip News
"I don't believe in magic. I believe in the sun and the stars, the water, the tides, the floods, the owls, the hawks flying, the river running, the wind talking. They're measurements. They tell us how healthy things are. How healthy we are. Because we and they are the same. That's what I believe in."
Those immortal words were said by Nisqually tribal member and internationally recognized civil right leader Billy Frank Jr. in his biography Messages from Frank's Landing. His message was visible on t-shirts proudly worn by Quil Ceda Tulalip staff members during the month of March as the school dedicated four weeks to teaching their students about sovereignty, treaty rights, and three legendary figures known as sovereignty warriors: the aforementioned Billy and local Tulalip icons Stan Jones Sr. and Bernie Gobin.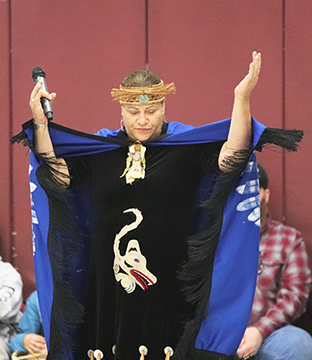 Although all three warriors have passed away, in 2014, 2019 and 2009 respectively, they continue to live on in the stories told and memories shared by their loved ones. Homegrown educators Kamiakin Craig and Toneena Gobin have both recently joined the QCT staff as cultural specialists. Kamiakin, the grandson of Bernie Gobin, and Toneena, the granddaughter of Stan Jones, wrote books about their grandfathers that were used as curriculum and read aloud by QCT students and teachers alike while learning about Tulalip sovereignty.
"It's been such a surreal experience working at Quil Ceda because when I went here there wasn't a lot of culture, but now the students are really taught to embrace and celebrate culture," said 22-year-old Toneena. "A few months back I was sitting in a meeting and heard our staff talk about celebrating Billy Frank Jr. month. I told them that's awesome, but asked why we don't have anything for the leaders who lived here, our Tulalip leaders that many of the kids benefited from. That sparked a larger conversation and I'm thankful for our QCT leaders, especially assistant principal Chelsea Craig, for not just understanding but implementing this must-needed change.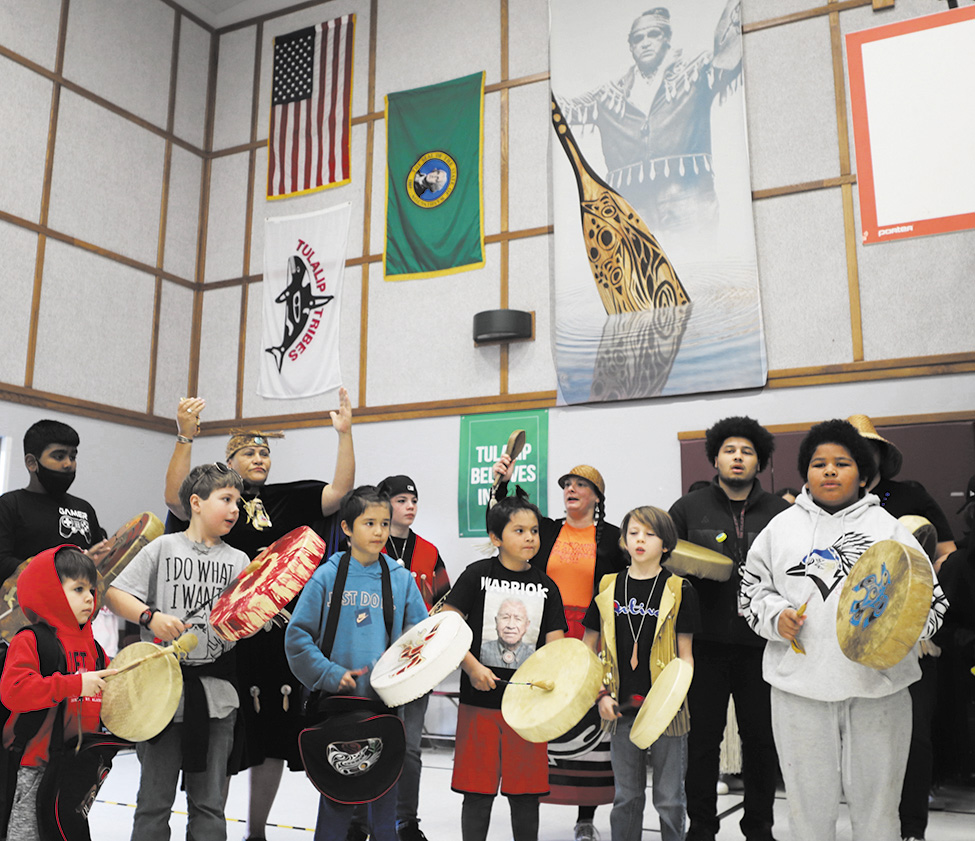 "My grandpa was a huge part of my life. He taught me so many things, like what it means to be culturally involved, the importance of sticking to your word, and to always remember that no matter how we progress as tribal members we have a responsibility to give back to our community," she added while wiping away happy tears. "Working at the elementary where many of the kids know me as auntie Neena, I feel it's my responsibility to pass on the teachings given to me about canoe journey and salmon ceremony. I want all our kids to be proud to be Tulalip and never know what its like to have to hide their culture."
While Toneena and Kamiakin shared their self-authored children books about two beloved Tulalip icons to the eager to learn K-5 students, the QCT family also enjoyed their annual journey into the many teachings of Billy Frank Jr.
Billy spent much of his life advocating for human rights for all, particularly the Coast Salish people of western Washington. He was on the front line in the controversy protecting treaty-guaranteed Native American fishing rights in the 1960s and '70s. His perseverance landed him in jail more than 40 times, a fact QCT students love to blurt out when asked about a cool Billy story, but he also helped guarantee fishing rights when the Boldt Decision was handed down in 1974.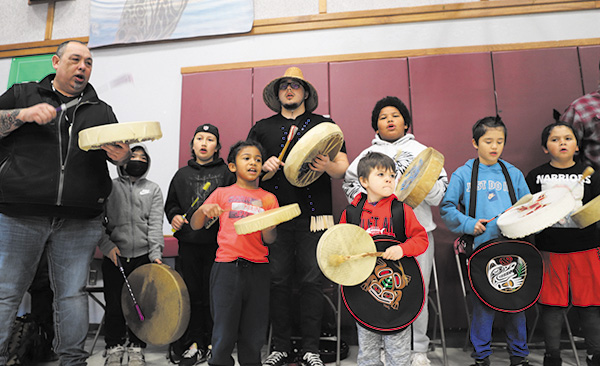 In commemorating all the valuable lessons learned and cultural teachings practiced during March, an honoring assembly was held on Friday, March 25 at the Quil Ceda Tulalip gymnasium. In a beautiful tribute to the Nisqually activist, dozens of elementary students participated in carrying a hallway-spanning collaborate art piece representing healthy, vibrant salmon swimming upstream. Then twelve students took to the center of the assembly and in unison chanted:
B believe, be bold, be brave
I  inspirational
L leadership
L legacy
Y yearn for change
"Leaders like my father Bernie, Stan Jones and Billy Frank taught us from a young age to know who you are and where you come from as tribal people and to ground yourself in traditional teachings before going anywhere else," explained Board of Director, Glen Gobin to the respectfully quiet gym full of sitting QCT students looking up at him. "Understand who you are. Understand your ancestors. Understand their values and their struggles so that together we can understand their hopes and dreams they had for us today.
"My dad grew up being a fisherman. He loved fishing above all things, except his family and his tribe," continued Glen. "Fishing was life and he did it as long as he could. Even when he lost the use of his legs, we still found a way to get him onto the top of his boat where he sat all day. Then when it was time all his grandkids would help him off the boat and into his wheelchair cart. That was how he spent his final days, doing what he loved. Nothing was going to hold him back from getting out there on the water.
"I leave you all with that thought – let nothing hold you back from following your passions. Remember your teachings. Remember what you learned about these sovereignty warriors and how they stood up for what they believed in. And most importantly, remember how your ancestors made right decisions for righteous reasons for both themselves and their people as well. I thank you all for honoring these three individuals who are very important in our lives. They showed us how to what's right by protecting our resources and standing up for the environment."
Concluding the QCT honoring assembly were a number of Tulalip songs and dances that students enthusiastically participated in, while the portraits of Stan Jones and Billy Frank looked on. Undoubtedly, their spirits rejoiced as a whole new generation of sovereignty warriors sang, danced, and drummed to their cultural heart's desire.