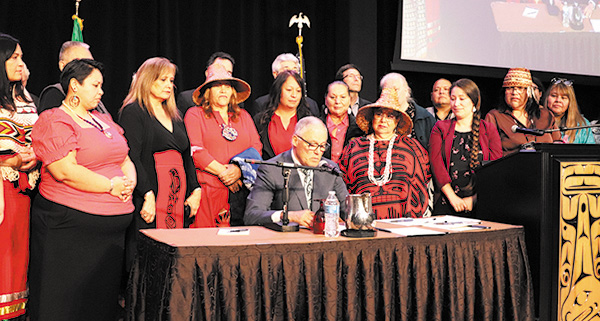 First statewide alert system is created to tackle the missing Indigenous people crisis
By Shaelyn Hood; photos by Kalvin Valdillez
A noteworthy step forward for Native Americans was taken on Wednesday, March 30th as Governor Jay Inslee traveled to the Tulalip Resort Casino to sign several tribal-related bills into law. These newly placed bills establish an overall better relationship between US government offices and sovereign nations.
One such bill is House Bill 1571, which ensures better protections and services for Indigenous persons who are missing, murdered, or survivors of human trafficking.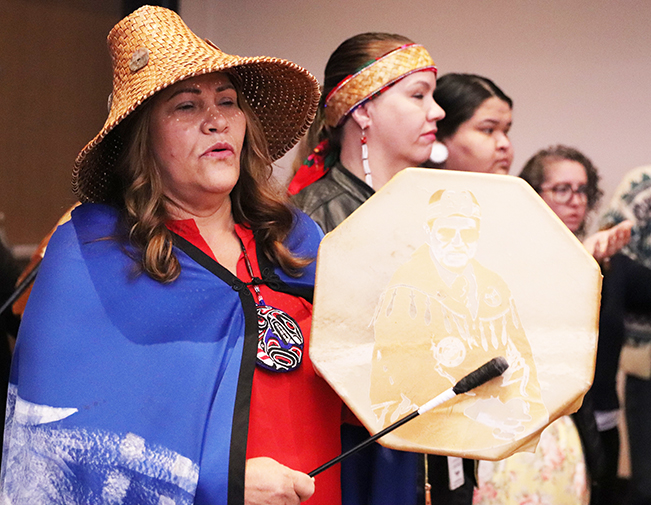 Tulalip Tribes Chairwoman, Teri Gobin, spoke of the importance of this bill saying, "Seattle is the top city in the United States with a number of missing and murdered Indigenous, not just women, but people. And Washington along with Montana are the top two states that have missing and murdered Indigenous people. The most important thing is bringing them home, whether they've been trafficked, or they've been stolen, or they've been murdered, we need to bring them home to our people. The tribes are committed to the people, future generations, coming together to draft and pass good policies for the benefit of all Indian country."
Also becoming a law is House Bill 1725. This will establish the first state-wide emergency alert for missing or endangered Indigenous people. This will be used on a variable message sign and text of the highway advisory radio message to assist in the recovery of a missing Indigenous person, similar to the Amber and Silver alerts currently used.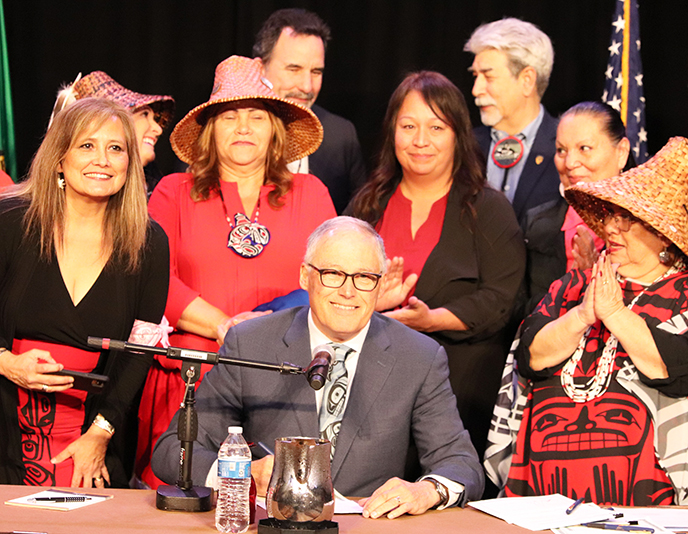 The event began with a meet-and-greet with Governor Inslee and various Washington tribal leaders, members of the Washington State Legislature, Attorney General Bob Ferguson and community members. Tulalip tribal members opened with a ceremonial song and drum.
Governor Inslee spoke about his invaluable relationship with tribal governments. More specifically, he spoke about his upbringing and his time spent at Spee-Bi-Dah. He also spoke highly of a specific Tulalip elder he had met, Don 'Penoke' Hatch, who he personally invited to attend the day's event and even honored as Washingtonian of the Day.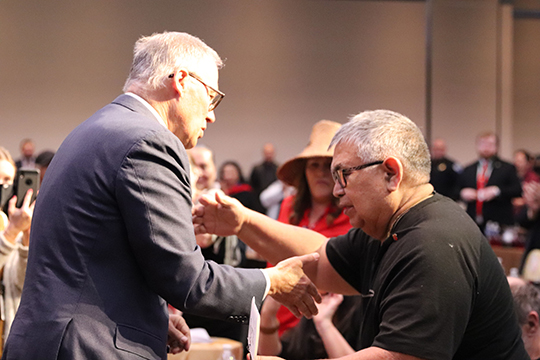 Inslee recognized Penoke's work in helping to establish the first Boys and Girls Club to tribal lands and the example that set for other tribal governments.  "He was significantly responsible for my value system, particularly when it comes to salmon. When I was about 10 or 11 years old, he would allow me to help to pull in the nets down by Spee-Bi-Dah. It was so exciting to see this life form that was concentrated in these nets. And from that, I came away with a commitment to do all I can do to keep those salmon roads in the state of Washington and it's made a difference," he said.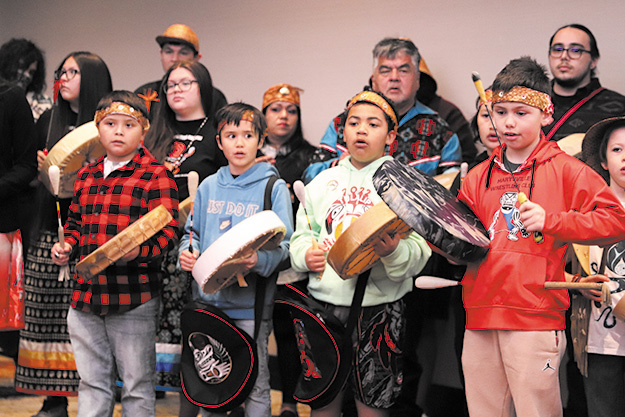 Following the signing of the bills, Tulalip leaders and community members gathered once again to sing and drum for Governor Inslee. Prayers were said for the Indigenous people that are still missing, and a blanketing ceremony took place. Leaders involved in the making of these bills were wrapped in blankets and community members were called to act as a witness to this day, to share with future generations of the works and the bills put into place.
The event showcased the unheard voices of our people, and the decades of battle between US governments and sovereign nations. Showing that with diligent effort and fortitude from strong tribal leadership and representatives, Native Americans can prevail against generations of silence and oppression.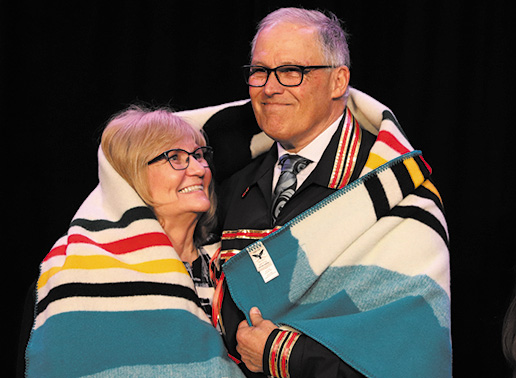 Ryan Miller, Director of Treaty Rights and Government Affairs spoke about what it means for the relationship between US Governments and sovereign nations, "The reality is, we live in an interconnected world, and neither us or the state of Washington is going anywhere. The best way to move forward is to partner and work together to deal with the things that affect our communities. We can find our mutual interests, align those values, and pass good laws that make sense for our state and for our communities."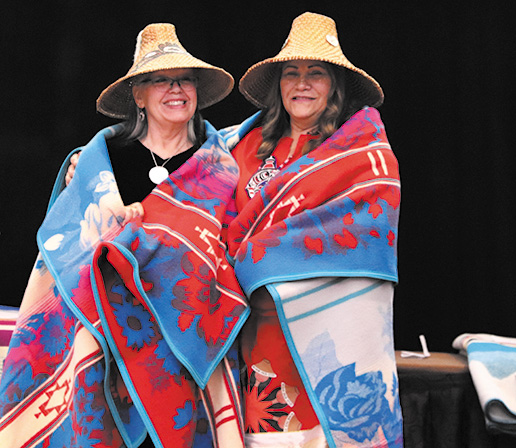 House Bill excerpts:
House Bill 1571– This bill is intended for better protections and services for Indigenous persons who are missing, murdered, or survivors of human trafficking. These efforts include immediate police and county coroner referral to the affected tribes and tribal organization when identifying the body of a missing Indigenous person. This allows the opportunity for any relatives and/or community members to see their loved one, and perform any spiritual practices or ceremony without disturbance or being interfered by outside sources. All is permissible as long as it does not directly disrupt the ongoing investigation. 
House Bill 1725– Concerning the creation of an endangered missing person advisory designation for missing Indigenous persons. With this, the legislature identified how disproportionate rates of violence occurred for Indigenous people. Because of this, they intend to provide law enforcement with additional tools to disseminate timely, accurate information to engage the public more effectively in assisting with locating missing Indigenous people, and to compensate for the unique challenges that Indigenous communities face accessing media coverage and the ability to share information. 
House Bill 1717- This further allows tribal participation regarding the Washington State Growth Management Act (GMA). The GMA helps analyze Washington's growth by identifying and protecting critical areas and natural resource lands, designating urban growth areas, preparing comprehensive plans and implementing them through capital. This amendment is on a voluntary basis, in which a federally recognized tribe can decide to or against participating. No subsection or provision or tribe's decision to become a participating tribe for planning purposes, shall affect, alter, or limit in any way a tribe's authority, jurisdiction, or any treaty or other rights it may have by virtue of its status as a sovereign Indian tribe.
House Bill 1753– Concerning tribal consultation regarding the use of certain funding authorized by the Climate Commitment Act (CCA). This new section establishes that agencies will allocate funding or administer grant programs appropriated from the climate investment account, the climate commitment account, and the natural climate solutions account must offer early, meaningful, and individual consultation with any affected federally recognized tribe on all funding decisions and funding programs that may impact tribal resources, including tribal cultural resources, archaeological sites, sacred sites, fisheries, or other rights and interests in tribal lands and lands within which a tribe or tribes possess rights reserved or protected by federal treaty, statute, or executive order. 
Senate Bill 5694– Recognizing Indian tribes as among the governmental entities with which the department of corrections may enter into agreements on matters to include the housing of inmates convicted in tribal court. The amendments made aimed to recognize tribe's sovereign nations, equitable with any another state, state agency, county or federal jurisdiction in decisions regarding the department of corrections.
Senate Bill 5866– Concerning Medicaid long-term services and supports eligibility determinations completed by federally recognized Indian tribes. Issues around Medicaid long-term services must now allow the department to contract with a federally recognized Indian tribe to determine eligibility, including assessments and reassessments, authorize and reauthorize services, and perform case management functions within its regional authority.