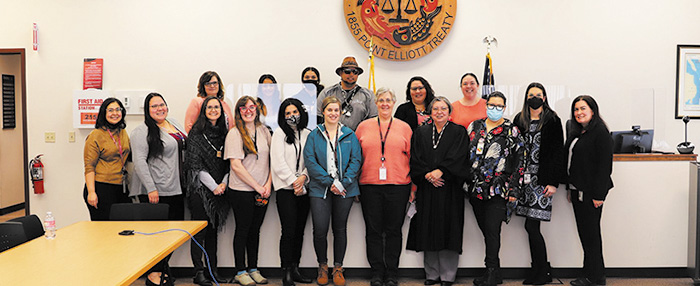 By Kalvin Valdillez
"I'm inspired by my own success," were the words shared by proud mother of young Tulalip tribal members. "I just hit thirteen months of clean time on April 2nd!" Over a year ago, this parent, whose name will be kept anonymous due to legal reasons, thought an accomplishment of this proportion impossible.
To completely escape the grasp of her addiction, after fighting hard for so many years to kick her habit. To be reunited with, and granted full-custody of, her child who was placed in the care of beda?chelh – that may have in fact been next to impossible over a year ago, or at least felt very close to it.
This determined mother, however, did not give up. While attempting to navigate the childcare system on her own, she suffered a relapse. Around this time, she also discovered she was with child. Now, she not only had to fight for her own wellness and for her kiddo in the system, but she also had to fight for her unborn child to remain in her custody after the birthing process.
When all the odds seemed stacked against her, a new program debuted in the Tulalip community, and she was one of the first to sign-up and take-part in the now award-winning tribal-based program.
"I remember looking over their pamphlet and thinking I didn't need the help," she admitted. "But, at the same time I knew I couldn't go through the court system by myself either. I remember reading that pamphlet over and over, and Amy [Lettig] (TOCLA Parent Advocate Attorney) telling me about this new program and that I qualified for it. I didn't know what else to do. My goal was always to get my child back, and so I turned to her and said help me get there."
Based on the success of the Tulalip Healing to Wellness Court, minus the criminal and time-serving element, the Family Wellness Court was established in March 2020. The first-of-its-kind court system is 100% volunteer-based and is aimed to support, encourage and assist tribal parents, or parents of tribal members, attain a sober and healthy lifestyle to ultimately reunite them with their children who have an open beda?chelh case.
"We're one of the first in the nation to do this as a tribe because we want our people to be healthy, happy and successful," said Melissa Johnson, Family Wellness Court Coordinator. "We want people to understand it's different than the standard dependency proceedings that parents involved with beda?chelh go through. With more frequent review hearings in the drug court model, they get a chance to show their progress in real-time. They tend to get their kids back faster in this type of program because of the intensive case management and the added support."
Melissa continued, "They have to have an open dependency with beda?chelh. And if they want to work on getting their kids back, they can benefit from our team approach. I think there is an advantage to the team approach – recognizing the successes, strengths and any issues that may arise in real time, rather than waiting. Because with the current dependency proceedings, months can go by between hearings. I think with Family Wellness Court, the courtroom becomes a therapeutic environment. You see that relationship with the judge and the team, it's not adversarial at all. It's so much different from when you go to court, and everything seems scary. It's an alternative to the current dependency proceedings."
The team approach plays a major role in the Family Wellness Court and in each participant's recovery journey. The team consists of multiple professionals including Tribal courthouse officials, attorneys, beda?chelh representatives, counselors and recovery specialists. The idea is that with everybody meeting on a regular basis and on the same page, the client will stay in-compliance and will make positive progress in maintaining their sobriety, if they know exactly what their team expects from them.
It has been one year since the Family Wellness Court held their first hearing and multiple parents are now electing to participate in the intensive, personalized program. And furthermore, many are seeing positive results and are well on their way to reunification with their children.
"Once I found the Family Wellness Court, I felt like they actually cared," expressed the anonymous mother. "I know that the biggest part was getting to treatment and with the help of Family Wellness Court, I was able to do that. The assignments kept me busy and focused on my recovery. It was an amazing journey with tribal court. I felt like they cared about me and the kids, and more importantly what was best for the kids. They were encouraging me the whole time. They enjoyed seeing my progress and I felt like I was doing a really good job. It really worked for me. If you do the work, and you follow through with everything, you will be successful."
On the afternoon of March 30, the Tulalip Family Wellness Court celebrated their very first graduate of the program. The very same mother whose identity will not be released, held the honor of the first person to successfully complete their individualized and intensive plan to recovery and reunification. Through the program she regained custody of her child, she had a healthy pregnancy and delivery, and she is living a completely clean life. The mother obtained housing for herself and her babies, she gained employment and is currently attending college and learning the trade of her choosing. She is also active in her children's traditions and now has a strong understanding of tribal lifeways, as she completed several 'give back' hours and participated in cultural events as a requirement to the Family Wellness Court.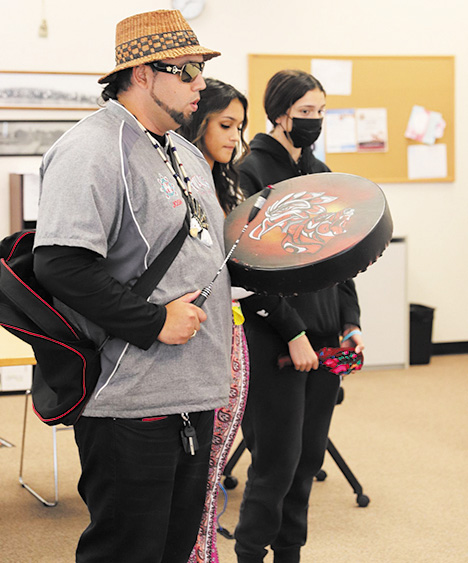 Her team and those presiding over her case were moved to tears during the graduation ceremony as they gathered in the tribal courtroom and met with the mother over Zoom. Due to both the specifics of her case and the worldwide pandemic, she was able to participate in the program remotely while at a treatment center. The courthouse sent her a cake, a number of gifts and an official certificate of completion, which she opened and enjoyed during the ceremony. Her mother, father and oldest child tuned-in to take part in the celebration. And through wavering voices and teary eyes, they shared their awe when reflecting how far she's come in just a year. Members of her team also took a moment to express their joy in seeing her complete the program.
Chori Folkman, the Children's Attorney for TOCLA shared, "Seeing her success today reminds me that the Family Wellness Court process at Tulalip can reunify families – even when it seems hopeless at times. Or a parent, who might have a history with a significant addiction, they can overcome it and get their children back. Even if it's been a long time since they had that child in their care. Even when it's really late in the case and it feels like it might be too late. She was able to commit to becoming clean and sober and she was able to get placement of her child and close her case. It shows me that these supports really do work to bring families back together."
Tribal member Josh Fryberg and two of his daughters offered medicine through traditional song to the mother, as well as some heartfelt and encouraging words. The judge, filled with excitement, showered the mother with applause, praise and compliments, and also a few inside jokes while she recalled all the memories they made together along the way.
The first Family Wellness Court graduate stated, "The Family Wellness Court made me feel like even if I really failed, or if had a hiccup along the way, they were going to help me get back up and encourage me to keep moving forward. And ever since I came to that realization, I just made sure that I did everything I was supposed to do for the Family Wellness Court, so that I could graduate the program, keep my kids and get my child back."
Continuing she shared a few words to other parents who are currently battling with an addiction, "The Family Wellness Court will help you get the help that you need. Even though you might not see that you need help right now. They will work with you to make sure you get that help, so that you can be better parents and so you can get your kids back and be good parents to them."
If you or a loved one is ready for a new approach to sobriety and reunification, and willing to take on the intensive but evidence-based model to regain custody of your child, please contact Melissa at (360) 716-4764 for more details.