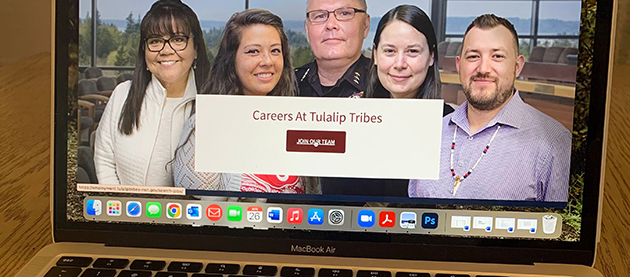 By Shaelyn Hood, Tulalip News
Tulalip Tribes currently has 39 job openings within tribal government, ranging anywhere from work in the health clinic, to law enforcement, education, in-office positions, etc. Some of these positions even offer as much as a $2,500 signing bonus, and yet filling the positions has been somewhat difficult. The Human Resources department and Employment department are working tirelessly to find the perfect candidates and provide the Tulalip community with qualified personnel to take these jobs over.
Unfortunately, during the pandemic, much like many businesses, organizations, and tribal governments, Tulalip Tribes took an economic hit and had to make some difficult financial decisions. While they fought to keep their employees for as long as they could, eventually budget cuts had to be made. Inevitably, Tulalip lost a good portion of its staff, keeping their remaining staff based on seniority, and essential workers.
Since then, Tulalip has still been trying to maintain their current staff, while still formulating a plan towards rebuilding their employment numbers.
Executive Director of Human Resources, Amanda Hegnes, spoke about a hiring issue across the nation, and how medical/behavioral health positions have become the most challenging to fill. Tulalip has felt this as well with a Mental Wellness Therapist job opening they've had available since 2020.
Though some of the available positions are part of a niche job market, Amanda says that there are some ways to promote yourself as a candidate for these positions. These include earning the highest level of education pertaining to your job market, and expanding your job-related experience.
The hiring process for a typical position starts with listing advertisements, a screening, testing, interviewing, job offer and paperwork (UA & background checks), and finally onboarding.
It is no question that tribal members are preferred candidates when applying for positions within tribal government. Amanda talked about Tribal Code – Chapter 9.25 Tulalip Employment, that allows our membership and those who may support a Tulalip household to have first opportunity at an available position. It is because of this code that allows for tribal preference. They screen applicants in the order of Tulalip tribal members, spouse, parent or child of an enrolled Tulalip tribal member, current legal guardian (with court documentation of guardianship), or a domestic partner of a Tulalip tribal member, federally recognized Natives, federally recognized Native spouses, and current employees.
The current hiring process is set up to allow tribal members a better opportunity to obtain government-ran jobs. When publishing an open position, Employment Manager Nicole Zackuse said "the TTT Employment team will post the positions every Monday on their website and tribal Facebook pages. We also share harder-to-fill and niche positions on LinkedIn."
Based on the latest tribal government employment records, of the 952 employees, Tulalip tribal members make up 450 (47%) of the current staff. 89 employees are either a spouse, parent or child of an enrolled Tulalip tribal member, current legal guardian (with court documentation of guardianship), or a domestic partner of a Tulalip tribal member. 83 employees are Natives enrolled from other tribes and 4 employees are spouses of Natives who are enrolled in other tribes. Lastly, there are 326 non-Native employees.
For more difficult and niche positions, Amanda discussed that if a tribal member does not meet certain job requirements, in an attempt to help them, they will advise the applicant to update their resume with any related job experience and education. This outreach allows tribal members a secondary opportunity to advance themselves in the interview process and further themselves as a candidate.
A misguided mentality that some people like to fall back on is the idea of favoritism in the hiring process. This concept is something that the department does not take lightly, as this would be a major ethical breach. As Nicole said, "the Employment team does not allow for favoritism or nepotism in the hiring process. All those who participate sign an agreement for fairness. If suspicion of bias occurs – the department will evaluate and possibly replace the suspected committee member(s)." Making this idea of favoritism virtually impossible.
For centuries, non-Natives have been regulating and dictating Native Americans on how to live their lives. With this oppression comes years of silence, lack of control, and forced colonization ideologies. The advantage of being a sovereign nation, is that we have the ability to apply tribal preferences for job openings. With tribal members taking on leadership roles, department positions, and overseeing day-to-day operations, we have the ability to use our voices for the better of our people.
As a tribe we value uplifting our Native brothers and sisters. We encourage our people to get an education and training in order give back to the community and work for the various departments in the tribe. This sets a precedence so that members can uphold the standards and cultural preservation of Tulalip Tribes, and establish a strong Native presence for generations to come.
If you are looking to start a new career path within tribal government, please refer to Tulalip Tribes' employment website, employment.tulaliptribes-nsn.gov.