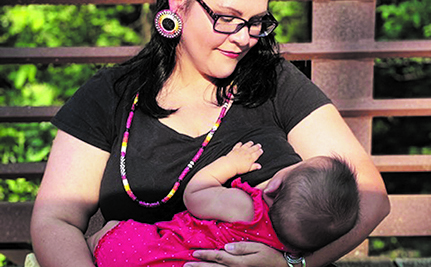 By Micheal Rios, Tulalip News; images courtesy Indigenous Milk Medicine Week
As Tulalip's membership continues to increase, growing from approximately 3,600 in 2003 to 5,100 in 2022, so too does the number of newborn babies being enrolled into the Tribe every year. This baby boom, estimated at 120 per year, led to the Tribe investing in a whole host of Community Health related programs and services geared towards creating positive health outcomes for our youngest generation.
One such program is Maternal Child Health, wherein we find health educator Erika Queen of Alaska's Inupiaq tribe. She has been working with moms and babies for nearly seventeen years. A focus of hers is helping our Tulalip mothers understand the importance of breastfeeding.
With Tulalip's baby boom in full swing, it's a critical time to understand just how important mom's life-giving milk truly is. This may seem obvious to some readers, but recent statistics show the practice of following the CDC's recommendation of exclusively breastfeeding until baby is six months is in huge decline. In fact, by this standard, just 25% of infants at 6-months-old are receiving the litany of benefits that come from mother's milk.
Making the issue even more disheartening is the notion Native mothers and babies have one of the lowest exclusive breastfeeding rates at six months of any race or ethnicity in the nation. For our Native communities, breastfeeding is a public health issue. Because of the enduring health benefits breastfeeding provides, community leaders and medical professionals are making a concerted effort to reconnect Native women to the cultural tradition of breastfeeding. This is where Erika's vital role as a health educator and advocate for both mom and baby comes in.
"The most important reasons for nursing your baby is that you want to. If you don't want to do it, that is 100% your choice, I only advocate that people make that choice after considering the pros and cons of all your options. I've cried along too many parents who were informed that they "couldn't" or "shouldn't" breastfeed, only to find out that the reason given was due to that person/provider's lack of understanding or lack of knowledge," shared Erika.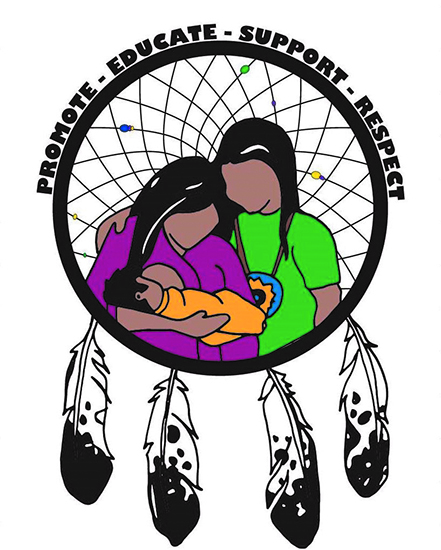 "There is a myriad of reasons that show continuing to grow your baby from your body after birth is important, and that list keeps growing: lower rates of disease for baby, reduced risks of cancers, asthma, type 1 diabetes, ear and tummy infections, SIDS, and NEC (in preterm babies). Lower rates of disease for the birthing parent, too. Breastfeeding can help lower a mother's risk of high blood pressure, ovarian cancer, breast cancer, and type 2 diabetes.
Women who practice breastfeeding and meet their feeding goals also have a protective factor against postpartum mental health problems. This means that telling someone to stop a successful breastfeeding relationship for their mental health is actually counterproductive. It also doesn't completely prevent mental health issues postpartum – it just means it lessens them and removing breastfeeding may actually make those problems worse.
Mother's milk is exactly what is needed by almost all babies. Its more than food alone, it aids our immune system in many ways – from the white cells and immune factors fed to baby (such as after baby's saliva tells their nursing parent's areola that baby was exposed to a germ at daycare) to feeding very specific gut bacteria that eat only oligosaccharides from human milk (not found elsewhere) – according to UCLA, 70% of the immune system is in the gut.
Breastfeeding/nursing can be an outstanding parenting tool. The act of breastfeeding releases hormones in parent and child that help to calm and connect – the love hormone, oxytocin – which can bring a tantrum to an end, heal more booboos than all the Band-Aids in the world, and build a bond and a relationship that is both strong and durable.
Science can tell us even more reasons that feeding babies the milk from their parent (or another human) is the ideal, but science doesn't begin to understand how breastfeeding can connect us back to our ancestors, renew our cultures, and deeply feel human in the face of trauma, and more than anything, it doesn't explain how it feels to look at your chubby baby smiling up at you with milk running down their chin rolls and think, "I made all of that."
I think the most important reason to nurse your baby is that you can and you want to," added the local health educator. "I nursed my baby because I knew it was the best possible nutrition, I knew it was more than just food, and I knew that it is how my ancestors fed their babies for eons."
If you are a new or expectant mother, or a mom multiple times over with a baby and simply want to ask questions about breastfeeding in a safe place with a health educator dedicated to a successful outcome, then please contact Erika Queen directly. She is here to assist you and eagerly awaits your questions. Her contact info is as follows: Erika Queen, Maternal Child Health Educator. Cell number 360-913-2382 (text OK), E-mail Equeen@tulaliptribes-nsn.gov