By Micheal Rios, Tulalip News

"First of all, thank you all for being here and taking part in this movement to raise awareness. Together we will make our voices heard. Today, as we honor missing and murdered Indigenous people, I want to mention the importance of building up our young people and being sure they have a voice. Some of us adults are still looking for ours.
"We have been historically underrepresented. Our people have been oppressed for far too long. We have to work to address the white, colonized, patriarchal systems that this country is founded on. We have to make sure that we count at the local, state and federal levels. We cannot tolerate being underrepresented any longer. We have to show up to spaces and represent for those who do not have a voice. Times are changing and evolving. We are strong, resilient and have a foundation that we have to hold onto and carry with us. The foundation of being Native; Indigenous to this land.
"Rematriation is a fairly new word. So new it's not even in the dictionary, yet, but it is the opposite of patriarchy. Rematriation means to return the sacred to the mother; it's a means to restore balance to the world. We will continue to reclaim and restore our natural and traditional ways of knowing and being in order to help strengthen our roots for future generations. We need to be sure that our children can walk firmly in their identity, be proud of their culture, and know where they come from. We need to be sure they know the importance of protecting one another. That's what it means to be a tribe.
"We need to be sure that women, children and all Indigenous people have a safe space to own who they are. I believe we can do it, but its going to take every single one of us working together. Only together can we protect our communities and ensure we have no more stolen sisters and brothers."
Those eloquent, heartfelt words were shared by Tulalip's own Jessica Bustad as she welcomed some two-hundred community members as they assembled in the bleachers and courtside seating of the Youth Center's main gymnasium on Tuesday, May 3. Friends and relatives from both near and far respectfully dawned an assortment of red clothing, red regalia, and red handmade signs in a united effort to recognize the national crisis of Missing and Murdered Indigenous People (MMIP).
 Our women, girls, and young men are being taken from us in an alarming way.  As of 2016, the National Crime Information Center has reported 5,712 cases of missing American Indian and Alaska Native women and girls. Strikingly, the U.S Department of Justice missing persons database has only reported 116 cases.  The majority of these murders are committed by non-Native people on Native-owned land. The lack of communication combined with jurisdictional issues between state, local, federal, and tribal law enforcement, make it nearly impossible to begin the investigative process.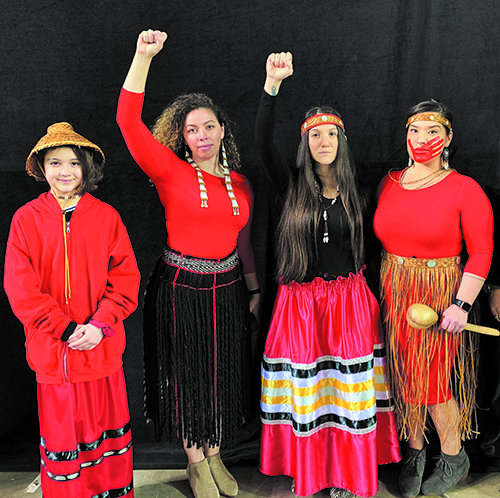 Sobering Statistics
Indigenous women are murdered and go missing at a rate higher than any other ethnic group.
Indigenous women are murdered at a rate 10x higher than all other ethnicities.
Murder is the 3rd leading cause of death for Indigenous women.
More than 4 out of 5 Indigenous women (84.3%) will experience violence in their lifetime.
More than half of Indigenous women experience sexual violence (56.1%).
More than half of Indigenous women have been physically abused by their intimate partners (55.5%).
Nearly half of all Indigenous women have been stalked in their lifetime (48.8%).
Indigenous women are 1.7 times more likely than white American women to experience violence. 
Indigenous women are 2x more likely to be raped than white American women. 
Murder rate of Indigenous women is 3x higher than white American women. 
*source: National Indigenous Women's Resource Center
To understand the complex and ongoing MMIP crisis one must first admit the current systemic response to violence against Native people is immensely inadequate. Then one must realize the rate at which Tribes are losing their life-giving women is devastating to not just the tribal communities, but to the entire nation as a whole. Insufficient resources on the state level and lack of clarity on jurisdictional responsibilities on the federal level combine to severely hinder efforts to locate those who are missing.
Furthermore, the current legal framework for persecuting crimes committed on Native citizens by non-Natives is exceedingly complicated and creates many barriers for victims and Tribes working to protect their membership.
Despite a federal trust obligation to protect Native American communities, violence against Indigenous women in the United States continues at epidemic proportions. It greatly exceeds that of any other demographic of women across the country. While many issues need to be addressed to confront this human rights issue, it is clear that limitations placed on tribal government jurisdiction by the federal government are a contributing factor. Often resulting in non-Native perpetrators falling through the cracks in the system time and time again.
"A huge thank you to each and every one of you joining us in the circle here today. We know that we come with our prayers and that's the strongest medicine we have. The thoughts we have in our mind create reality," previously shared Deborah Parker, board of director for the National Indigenous Women's Resource Center. She is nationally renowned for her critical role in the passage of the Violence Against Women Act (VAWA). "When I was a young girl I witnessed violence in our community, and I said a prayer then that when I get older I'd like to be a person to help change the laws to protect our people.
"If we speak forward with our voice and with our truth and with all of our strength, then we can move mountains. And truly there are others who believe in our words and will stand beside us," she continued. "These are our lands. We've been taught we are caretakers of these lands. That's a big responsibility for us as Indigenous people. Each and every person in this circle, from youth to elder, can fulfill this responsibility and bring about change that benefits us all. We need our women to be safe. We need our young people to be safe. We need our future generations to be safe. By standing together and working together we will make this prayer a reality."
By learning from the experiences of surviving family members, the MMIP movement can work to achieve the changes needed to safeguard the lives of Indigenous people and strengthen the authority of Native nations to protect their citizens. Exemplifying this notion are Tulalip tribal members Udora Andrade, Veronica Jimicum and Lynette Jimicum who sat unified at Tuesday night's MMIP awareness event. They serve as constant reminder of the ongoing search for Mary E. Johnson, a Tulalip woman who went missing on December 1, 2020.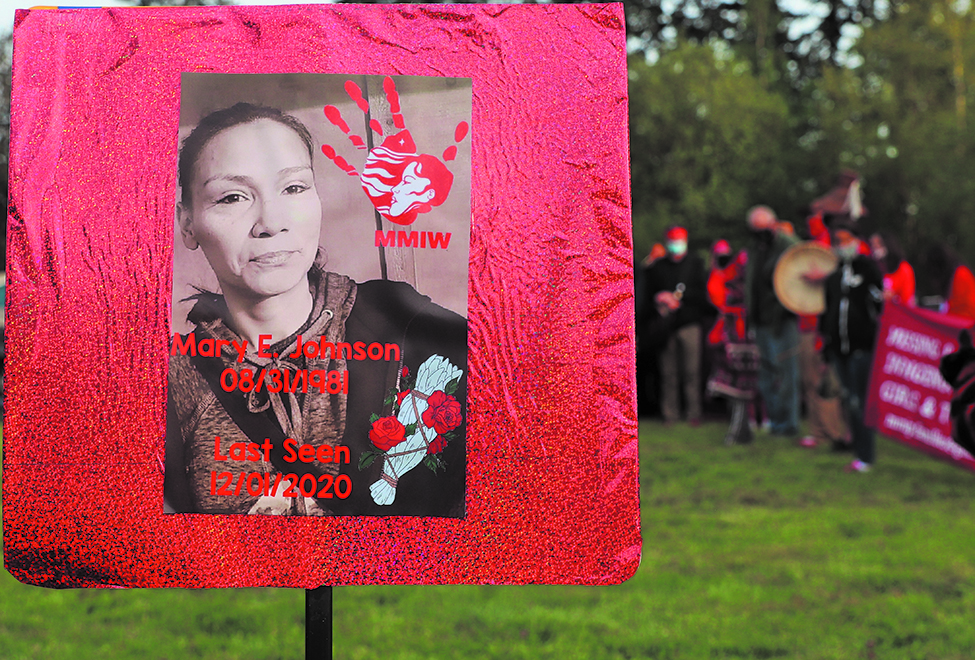 Police Chief Sutter expressed to Mary's family and those gathered in community, "We are very actively working on Mary's case. We want to bring her home and give her justice. Its grassroots activism and events like this happening all across the country that put immense pressure on the legislators in Washington, DC. Here in Tulalip we've developed a tribal response plan with four components to help curb this crisis locally. It includes a victim's liaison that strengthens family support and opens better lines of communication, tribal-led community resources spearheaded by concerned Tulalip citizens, use of local and regional media to increase awareness, and developing better protocols to serve our community as best as possible."
Following a series of speakers from all levels of Tulalip leadership and enrichment programs, Josh Fryberg and Antone George led a large contingent of singers and drummers in coming together for a spirit enriching coastal jam, which well into the twilight hours.
"Our hands go up to each and every one of you who attended and helped make this moment possible," said event coordinator Josh Fryberg. "Our thoughts and prayers go out to all in need. It will take each and every one of us to continue to be the difference, not just for us but for our future generations. By living in a good way that honors our ancestors we will continue to bring unity, to raise awareness, and strengthen our culture, together."