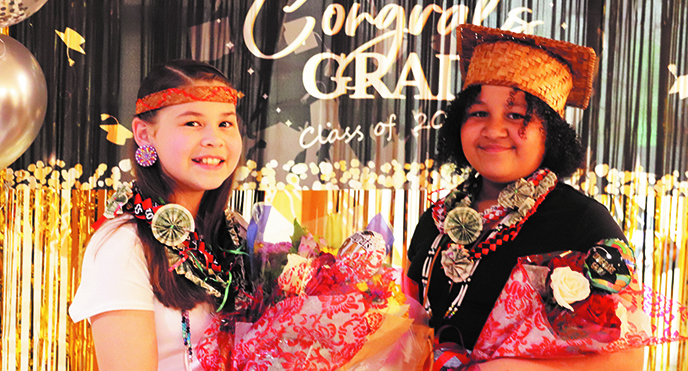 By Kalvin Valdillez, Tulalip News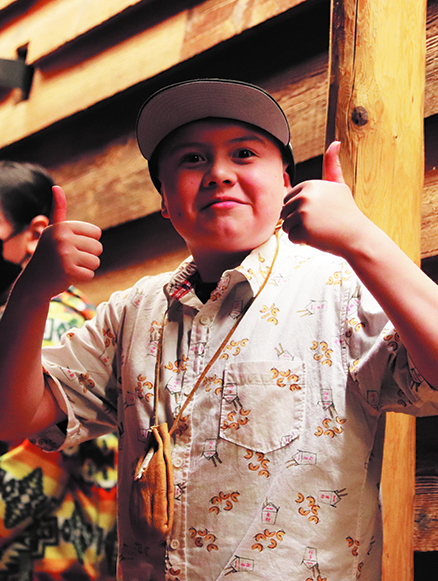 It is that time of year again. Sometimes referred to as cap and gown season, the beginning of summer marks the end of yet another academic year. Young students are often filled with optimism and pride as they close their school year strong before the summertime break, and look forward to a new opportunity come Fall as they begin the next grade in their education career. High school and college graduates are celebrated for their major achievements before they move onto the next challenge and phase of their lives. 
There are a few other transition periods that young students go through in the pursuit of diplomas and degrees, including the completion of elementary and junior high school. Big changes lay ahead for this year's group of 5th and 8th grade students, and the community showed their love and support for the local students who recently leveled-up in their educational journey, moving up to middle and high school respectively.
5th Grade Honoring: Next Stop – Junior High
Nearly 40 young Native American students will be taking the next step in their education journey next Fall as they move on from elementary school to middle school. A handful of students gathered at the Hibulb Cultural Center on the evening of May 25th and the young learners were recognized for all their hard work and academic achievements.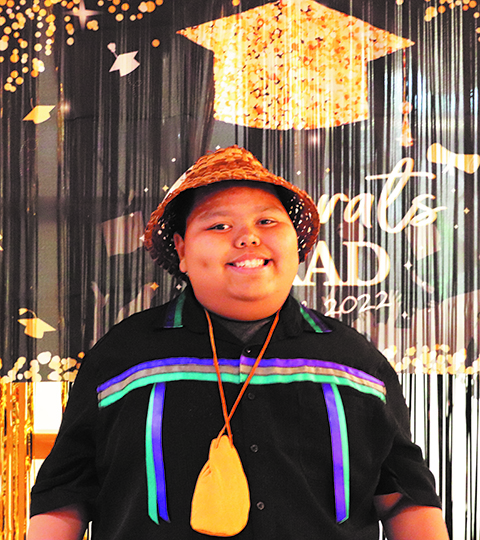 "I graduated from Kellogg Marsh and I am going to Cedar Crest," said 5th Grade Graduate, Marco Garcia. "Going into middle school, I am most looking forward to art!"
The annual 5th grade honoring was co-coordinated and funded by the Tulalip Education Division and Positive Youth Development team. The honoring united students from over ten different elementary schools throughout the district.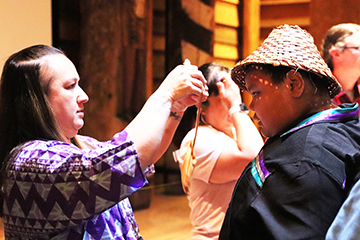 The new middle schoolers formally met the Marysville School District Native liaisons as well as some of their future classmates. The Tulalip Youth Council was in attendance and invited the recent graduates to participate in local events for the youth, and also encouraged the kids to run for the youth council during next year's elections.
Both Tulalip tribal leaders and MSD officials shared inspiring words with the students about the value of a good education as well as the importance of continuing to learn and practice their cultural teachings. Pixie Owyen was also honored for her work with the Native MSD students over the past 28 years.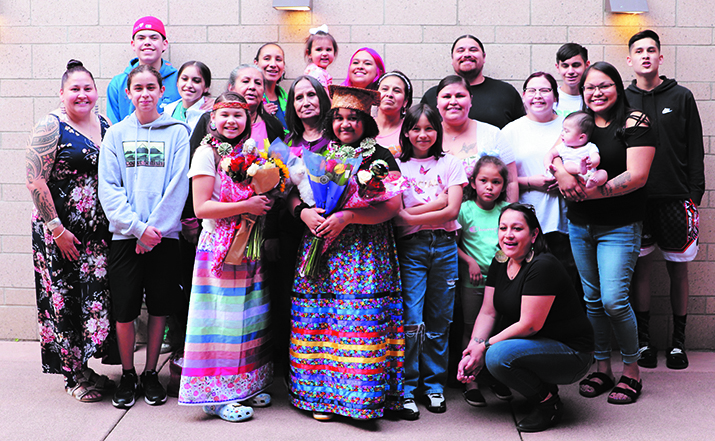 Young Madison Sheldon proudly expressed, "Today was a day of honoring, when 5th graders graduate from elementary school. I'm coming from Liberty elementary. I'm trying to go to 10th street middle school, and I am on the waiting list. I'm looking forward to getting good grades and trying to meet my goals."
8th Celebration: On to High School
On May 31st, the Tulalip Education Division and the Marysville School District Indian Education department held a special ceremony at the Greg Williams Court gymnasium.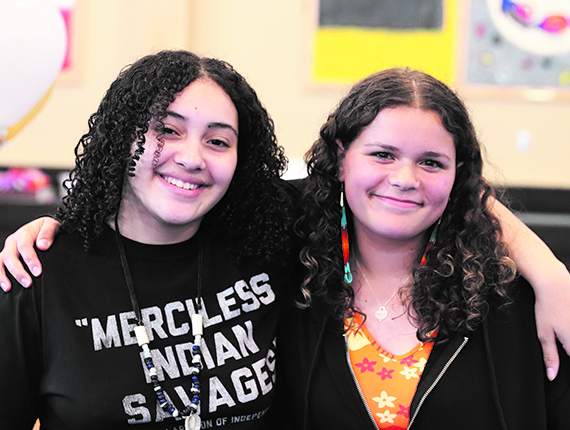 Proud parents, grandparents, aunties and uncles celebrated approximately twenty local youth, consisting of both Tulalip tribal members and other tribal members, who completed their journey in junior high this year.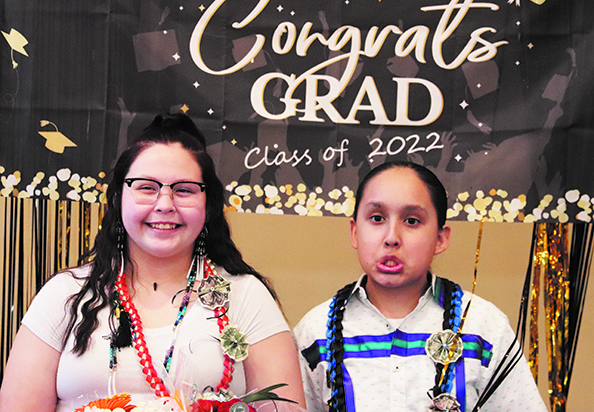 "Today was good, I feel really happy," stated 8th Grade Graduate, Amaya Hernandez. "I am graduating from Immaculate Conception and Our Lady of Perpetual Help and I am going to Archbishop Murphy High School. I am looking forward to sports the most – volleyball, basketball and softball. And my long-term goal – I want to be a doctor!"
Moving on to high school from middle school is a big step and a number of tribal leaders offered words of encouragement to the students, including Chairwoman Teri Gobin, the MSD Native Liaisons, and Montana State University Hooper RaeQuan Battle. The Marysville-Getchell Native American and Friends club attended the celebration and introduced themselves to the soon-to-be freshmen while inviting them to join the club.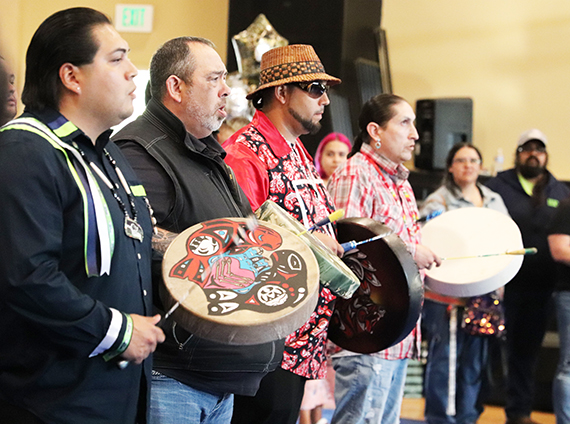 Lushootseed Language Warrior Maria Rios was honored as well for her dedication to revitalizing and preserving the traditional Tulalip language and passing on her teachings to the students of MSD throughout the years.
Following the moving ceremony, the celebration closed with traditional song and dance. The kids were dressed in their regalia. Wearing ribbon shirts and skirts, they took to the floor as everyone gathered in a circle and drumbeats echoed through the gymnasium. 
Said young graduate, Raylee Lewis, "We celebrated our years through school tonight by using our cultural teachings. We did the honoring song, the welcoming song. We all got to eat and celebrate with our families and teachers. Connecting with my roots is really important, and I've done it my whole life. As I've grown older, I realized the significance of it and being with my community, and how it will help me grow and everybody else grow. This makes me feel really happy because I knew a lot of these kids since preschool. I am going to do running start, that's my biggest goal for high school – and learning Lushootseed!"
Congratulations to all the graduates!