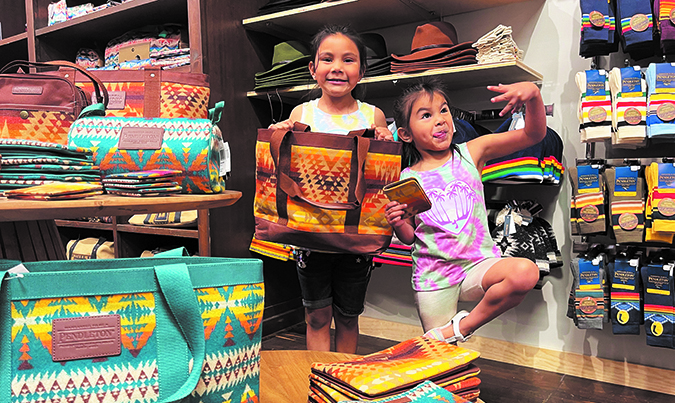 By Micheal Rios, Tulalip News
Uniquely woven into Native communities, Pendleton Woolen Mills continues to partner with and share traditional Native design and artistry with the world. Known for their vibrant colors and distinctive patterns, Pendleton blankets and jackets have been embraced by the Tulalip Tribes for generations. From graduation gifts to burial shrouds, from decorative wall hangings in tribal member homes to staple items in gift shops of both the Tulalip Resort and Hibulb Cultural Center, Pendleton is synonymous with Native pride and heritage.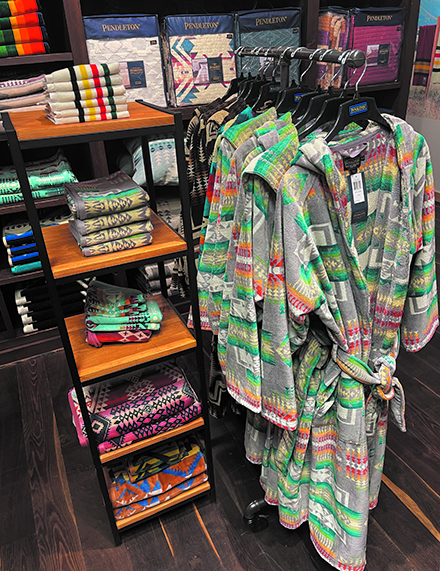 The connection with Tulalip will continue to grow and evolve now that a Pendleton store has officially opened at Seattle Premium Outlets. The iconic wool wears have never been more accessible to the local community with huge discount savings and exclusive tax exemption for Tulalip citizens.
Seventeen-year-old tribal member and soon to be Marysville Getchell graduate, Alaqua Spencer, visited Pendleton on its ceremonial grand opening. She perused many of the store's offerings before falling in love with a signature zip-front wool jacket. She shared, "This was my first time ever inside a Pendleton store. Seeing all the cool Native designs on so many different items was amazing. I bought a gray and black jacket that I absolutely love."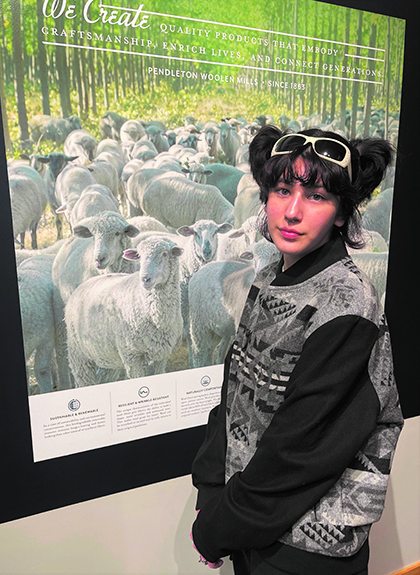 Fellow Tulalip citizen Udora Ceja was excited to visit the outlet's latest addition as well, while her 6- and 5-year-old daughters scurried around, checking out all the colorful purses and handbags. They could be heard arguing over which bag was prettiest, but before coming to an agreement, the 5-year-old darted off after catching a glimpse of a cute pair of baby booties.
"We were walking around the Outlet and saw the sign saying 'Pendleton: Now Open' and we had to check it out," shared Udora after coming away happy with several purchases. "It was a good opportunity to pick up some cool Father's Day gifts. I was surprised to see they have so many nice designs and stunning graphics. I didn't know Pendleton made so many products outside of blankets and jackets. And the prices are really good, too."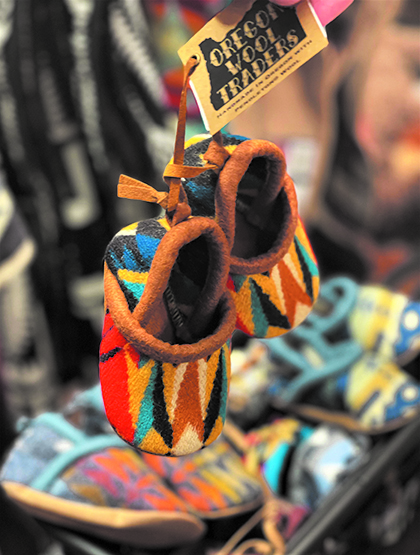 Pendleton has long held connections with wool ranchers across the nation, with some providing wool to Pendleton for nearly a century now. Not only is much of their wool grown in the U.S., it's also milled in Pendleton's Oregon and Washington factories. Adding another layer of connectiveness to past Tulalip generations that wove every day garments from mountain goats and the legendary wooly dogs.
Wooly dogs were a specialty breed that the Coast Salish held in high regard, to the point their caretakers kept the coveted source of fur on nearby islands to prevent crossbreeding. The dogs were sheared every summer and their warmth generating wool was used to make protective layers during the winter months. According to local historians, the wooly dog breed went extinct in the early 1900's.
In the absence of the wooly dog, sheep quickly became the alternative wool of choice as it's a natural, durable fabric that can better withstand the natural elements associated with the Pacific Northwest. Modern wool is one of the most sustainable sources for textile use as fleece regrows every year. Plus, sheep wool naturally resists odor, stains and soiling.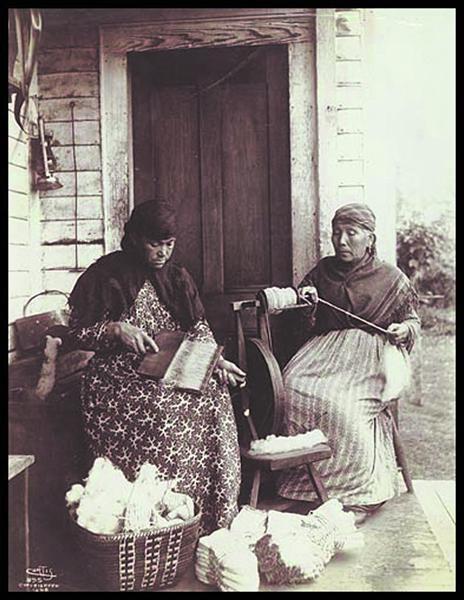 Since 1909, Pendleton has produced Native-inspired blankets, robes and shawls for tribes across the continent. Today, Pendleton maintains its connection to the Native American population by uplifting Native artists and supporting a variety of Native causes that make a real-world impact.
In partnership with the American Indian College Fund, Pendleton creates wool blankets whose proceeds are collected and disbursed as college scholarships for the next generation of Native scholars. In fact, Pendleton has provided nearly $1.65 million in higher education support for Native students to date.
Self-taught ledger artist, beader, graphic designer and painter from Montana's Fort Peck Reservation, Chelysa Owens (Fort Peck Assiniboine & Dakota Sioux) is an American Indian College Fund scholar and 2021 Tribal College Blanket Contest winner. Her art is represented by Pendleton's 'Unity' pattern.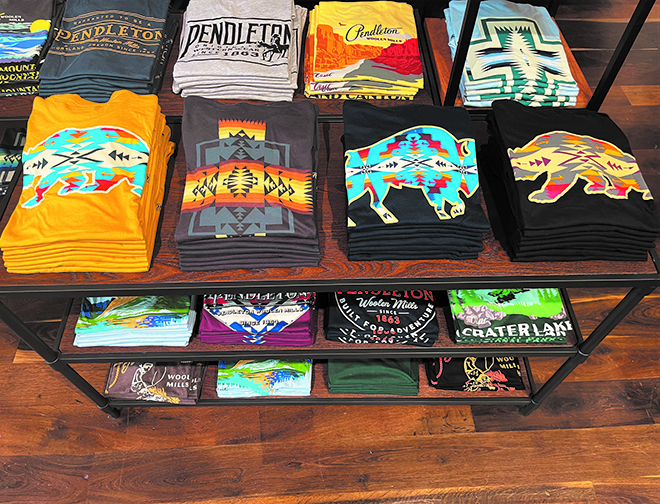 "Pendleton is one of my favorite brands," she said. "They work with the artist to get the work as close to our vision as possible. I'm living the dream at such a young age because I have always wanted to be a graphic artist. This just adds to my art journey, which is a good feeling. I would like to give a huge thank you to Pendleton Woolen Mills and the American Indian College Fund for giving this amazing opportunity to tribal college students and allowing others and me to showcase our talents and share our visions with you."
Pendleton is also tied to the Water Is Life movement with their most recent Native artist collaboration. Emma Robbins (Diné) is an artist, community organizer, and Executive Director of the Navajo Water Project. This community-managed utility alternative brings hot and cold running water to homes without access to water or sewer lines. The blanket she designed, the Gather Blanket, costs $279 on the Pendleton website. A portion of each sale goes to support the Navajo Water Project.
"This is a dream of mine, to work with a company like Pendleton. We grew up with Pendleton all around us, and even though the company isn't necessarily traditional, it's such a big part of our tradition," said Emma to the Navajo Times. "And it's exciting that we're working with Pendleton because not only is it good to get those proceeds and get them back home to do running water systems, but also spread the word about the project and water issues and solutions that are being implemented by our people."
The Northwest based manufacturer of everything wool offers a variety of products that prominently feature Native-inspired designs. Pendleton elevates the voices, work, and representation of tribal college students, artists and impact makers, while providing scholarship opportunities and a variety of products associated with important events.
For the Tulalip community, the long-awaited arrival of a Pendleton store at the local outlet mall means the highest grade of locally sourced, sustainable woolen blankets and jackets will continue to be associated with ceremonial giveaways and rites of passage. Like the tradition of gifting newly minted Tulalip seniors a Pendleton blanket or gifting a high school graduate a Pendleton jacket to rep with pride. This is a relationship sure to thrive even more going forward.