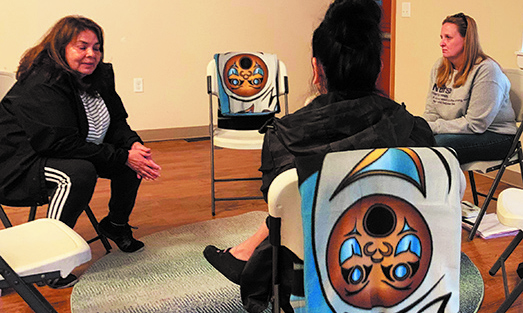 By Shaelyn Smead, Tulalip News
With a total of around 164 deaths from January 1, 2019 to June 13, 2022 within the Tulalip Tribes community, Director of Community Health Verna Hill, and Community Health Nurse, Margarett Agudelo, recognize how much of an issue the rising death toll within the Tulalip community is. Averaging 45-50 deaths per year, with varying reasoning for these deaths, they wanted to find ways to help the community.
"We want to create a space where people can come and be heard." Margarett said.
That space is a grief support group to help assist with the amount of loss. The group is called Support Circle and serves as a safe place for community members and their families who have lost a loved one, to join together and support one another through their grief and loss. The loosely structured group is designed to create a relaxed atmosphere and a fluid space for exercises, possible art therapy, and simple conversation.
In their efforts to help, Margarett and Verna began sending out grievance cards to the impacted families. A practice that typically isn't seen within tribal communities, they initiated the effort to help show support to families during such a hard time. They wanted to let the community know that their loved one's life meant something, and they will honor them, even if it's with a simple card.
Grief is such a complex and debilitating feeling. And even though people experience grief in many different ways, it is often a long time before anyone can start to feel any level of normalcy. Without any additional mental and emotional support, that journey often can be a much longer one.
The American Psychological Association listed several steps that a person can take when experiencing loss: talking about the death of your loved one, accepting and acknowledging your feelings, taking care of yourself and your family, reaching out and helping other dealing with loss, and remembering to celebrate the lives of your loved ones. All of these steps can be taken and assisted with in the new support group.
Knowing and understanding the importance of getting help is essential, and it can help keep yourself from traveling down a path of unhealthy habits and destructive outlets.
The Hazelden Betty Ford Foundation released an article stating, "There is a relationship between grief and substance abuse in a bidirectional way: people with complicated grief have a higher risk of substance abuse, and people with SUD (Substance Use Disorder) have a higher incidence of loss-related experiences such as death of a loved one and loss of significant relationships."
In accordance with this information, the Substance Abuse and Mental Health Services Administration (SAMHSA) disclosed that in 2019, 20.4 million Americans battled with substance abuse disorder, with the CDC reporting 70,630 reports of drug overdose related deaths that same year.
"Death is exceptionally painful. And people have to talk about it. If you have a safe place you can go, where you can support each other, and be there for each other, and make that happen, maybe we can avoid some of those destructive habits." Margarett said.
One of the Support Circle attendees talked about how the death of her mother was one of the most heartbreaking experiences of her life. She spoke of the days when even the distractions she used couldn't supplement the grief she was feeling.
A variety of stories were shared, similar and contrasting to each other. Every person was able to share what they've been through, and the mourning that they've felt and still continue to endure. Finding someone to share your experiences with, and knowing that you're not alone in these hardships brings a sense of comfort that is often hard to find during these times.
With this vicious cycle of grief and substance abuse, you have to wonder what sort of measures the group leaders have taken to fight this. The Support Circle team traveled to California to learn materials to better prepare them for the group and help guide this community and its grief. The Curricula is established from grief counselor, author, and creator of the Centers For Loss and Life Transition Dr. Alan D. Wolfelt, called: 'Understanding Your Grief' and 'Understanding Your Grief Companion Journal'.
Margarett and Verna talked about their new understanding of grief. They know that with complex grief, there is an importance to get help and seek out therapy. But also, with any level of grief, the importance of having a support system. "We learned so much from the course. The idea is that people have to feel their grief, and they have to walk through that process. We're not treating them, it's not a medical problem. It doesn't need a diagnosis, it doesn't need medicine, it doesn't need my advice, people just need to be heard. We just have to be there for them" Margarett said.
At every meeting, each new member is given a copy of each of the books so that they can either work on it with the Support Circle, or have them in the comfort of their own home.
When discussions surrounding mental health come about, it is important to understand how it also directly affects our community. We have to find a healthy and honorable way to acknowledge the lives that have been lost, and find a way to move forward for ourselves and our community.
If you or anyone you know is suffering with grief or loss, and think the Support Circle will be helpful, please contact Margarett at 360-926-3764, or Verna at 360-722-6819. The group takes place on Mondays from 12:00 p.m.-2:00 p.m., and Thursdays 6:00 p.m.-8:00 p.m., in the Mission Highlands Community Building at 8226 21st Ave NW Tulalip WA 98271. Sign up for the Support Circle is not necessary and drop-ins are welcome.
Margarett finishes with, "I will be here. Even if no one else shows up, I will be here for whoever wants to come."