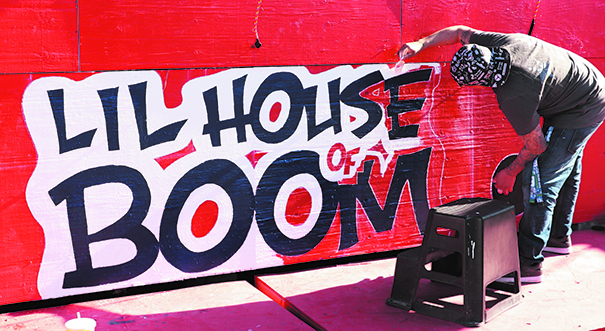 By Kalvin Valdillez, Tulalip News
"It is that time of year again," exclaimed a young teen, wearing a huge grin as he greeted his group of friends at the gravel lot behind the Tulalip Resort Casino. As he finished exchanging high-fives and daps with his peers, a loud boom rocked the entire area. "Whoo! That's what I'm talking about. You guys ready?" One of his friends chuckled and replied, "we were just waiting on you!" And with that, the group of four young adults hurried down a row of stands, looking to find the best deal on their first purchase of the holiday season.
The Northwest pyrotechnic capital known as Boom City officially opened on June 22nd this year, to the excitement of many firework enthusiasts, die-hard American patriots, and business-minded tribal members alike.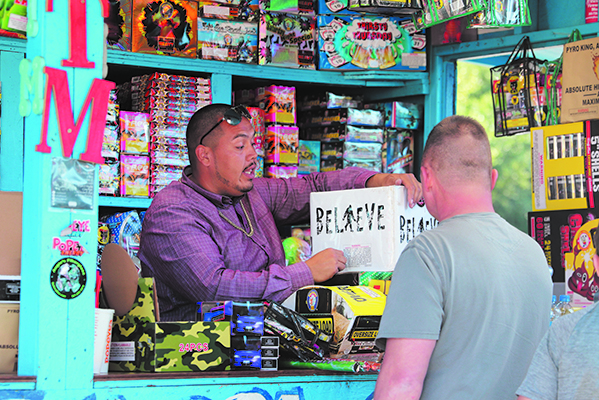 If you grew up locally, then Boom City is practically synonymous with summertime fun. Each summer, for nearly the past fifty years, Boom City has been the go-to place for people to purchase their favorite fireworks in the Snohomish County region. And of course, thanks to tribal sovereignty, Boom City vendors offer many fireworks that are not available to the public at stands located off reservation.
By permitting their membership the right to buy and sell federally legal fireworks at Boom City, Tulalip has provided an opportunity for tribal entrepreneurs to earn another source of income for their families. And not to mention, gain some experience in commerce and business ownership.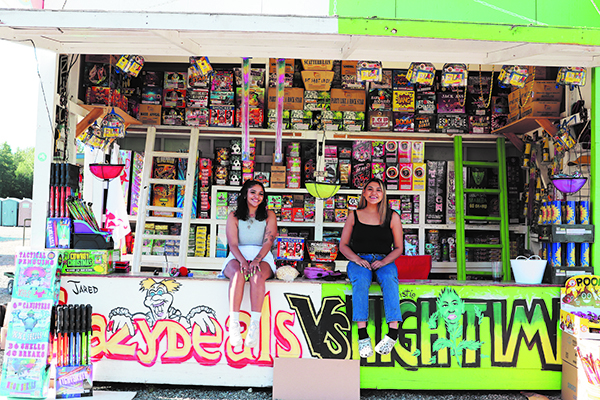 Close to one-hundred stands are currently open for business at Boom City this year. The stand owners have innumerable types of fireworks available for purchase including cakes, firecrackers, bottle rockets, sparklers, Roman candles, fountains, smoke bombs, pop-its and many more, sure to make your Independence Day a blast.
This year, we asked a handful of stand owners about the theme behind their vibrant and creatively designed stands.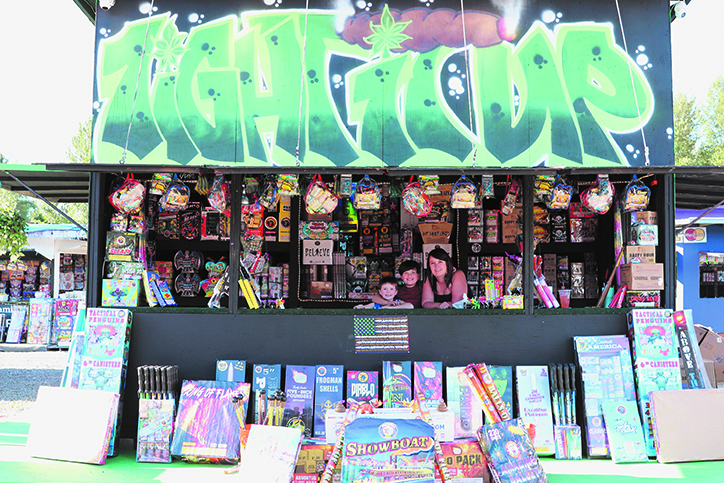 "My theme is 'Light It Up', which means a few things," explained Jennifer Ashman, who is also the manager of Tulalip Remedy. "I love lighting fireworks and I sell cannabis. I had Dalton Shay do my art, he's a tribal member and he also did the art at the [Remedy] store and that's how I knew his work. I love it. I had all these cool ideas and he brought them to life."
Eli Ruiz, who helps run a jungle-themed stand with his wife Danielle, said, "Our stand was painted by an artist named Lou. He did it back in 2018. He painted it twice. The first time we liked it, but it was called Wildthing. I wanted to change it because I felt that it was not just about the stand, I wanted it to also be about our products which are Wildthings. Our zebra-print is our signature, and we are the very first ones with the zebra-striped countertop."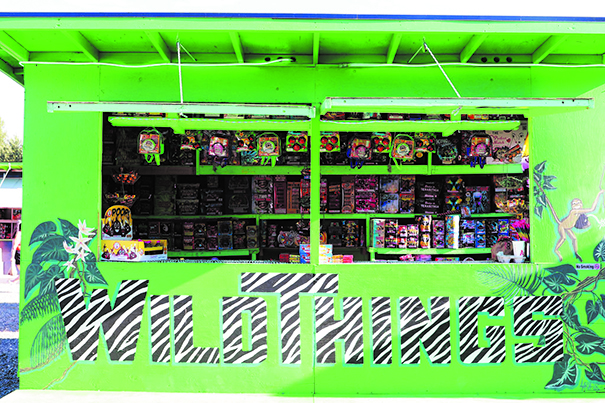 One stand owner, William Moses, proudly showed-off the back of his stand. Painted at the center is a Native man, donning traditional regalia. The most prominent article he is wearing is a headdress made of feathers. "It really is a good name," he expressed. "War Bonnet Fireworks. It is famous, I think it's cool and it is a part of our tradition. One of my buddies painted it, I probably had it for about seven or eight years now. It looks real good!"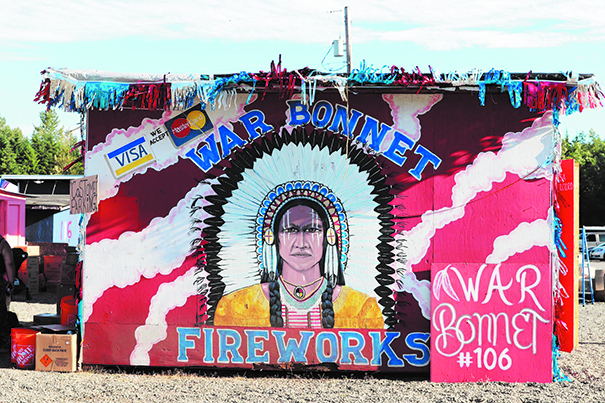 Near the center of Boom City, is a red stand with a cupid theme and a downward slanted roof. When asked about her stand, Sylvanna Brinson shared, "I'm the only backward stand with a metal roof. My younger brother had some crazy wild idea that it would be better for me because I'm short. I still have to use a ladder on the inside, but I can maneuver my own shelves and I know where everything goes."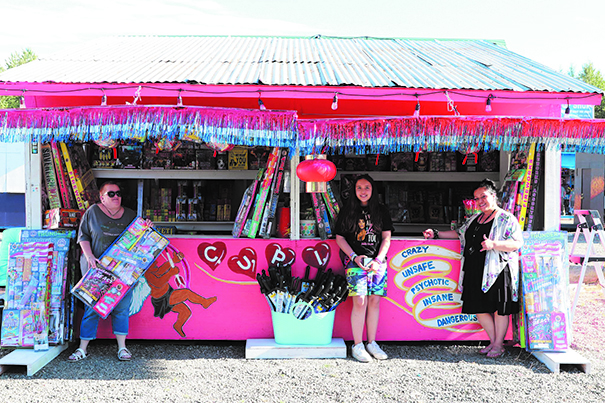 Sylvanna also has five words painted on the front of her stand: Crazy, Unsafe, Psychotic, Insane and Dangerous. Each word represents a member of her family. "When I was younger, my mom Theresa had a firework stand that was called Unsafe and Insane. One day, when we were painting this stand, I realized I didn't have a name. I said, well I'm crazy, everyone calls me crazy. My brother was there, and he said he was psychotic. And dangerous is Sophia because she is young. Crazy, unsafe, psychotic, insane and dangerous – I always say those [words] describe the fireworks, not people. But really, that's how we came up with our name."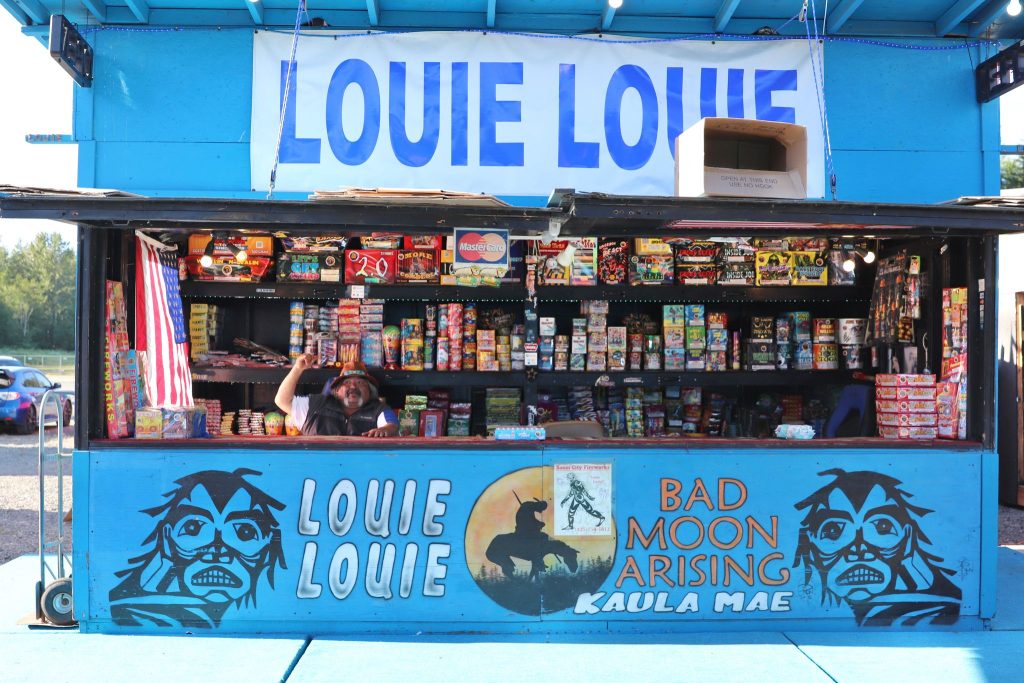 Many of the stand owners at Boom City have a unique and entertaining story behind the artwork, name, and theme of their stands. And hearing those stories and seeing all the hard work that goes into decorating the stands, is almost as much fun as sticking a punk to a wick and running a safe distance before your fireworks burst into the sky – almost (wink emoji)!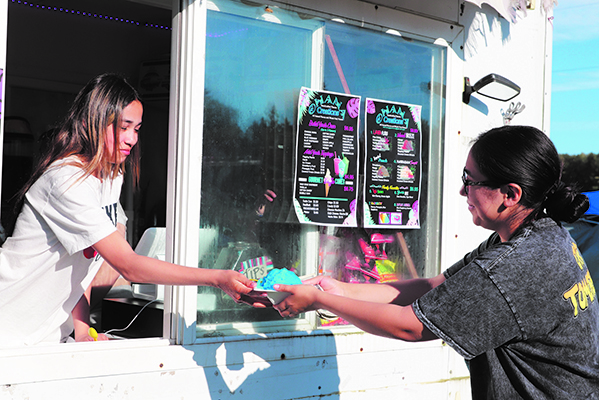 Boom City also offers a designated area so you, your family and friends can enjoy those fireworks safely and legally. Several food vendors are stationed at Boom City as well, serving up treats such as kettle corn, Hawaiian shaved ice, frybread and tacos!
Boom City is open daily, 8:00 a.m. – Midnight, until July 4th.