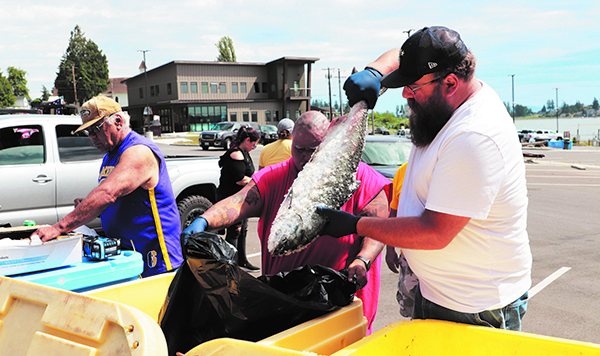 By Kalvin Valdillez, Tulalip News
"The salmon is an important part of our upbringing, we're people who relate to the water," expressed Tulalip elder, William Williams. "This distribution is helpful to me, my family, to everybody. A good way for all of us to get in touch with each other, by getting a hold of, and sharing, this salmon."
Nearly one month ago, Tulalip tribal members engaged in a ceremony to honor the yubəč, the king salmon. This important traditional event is held at the start of every fishing season to thank the salmon for providing sustenance to the people and to bless the tribal fishermen. Salmon are a key element to the Salishan diet and have been for generations, stretching back to the start of time. It's no wonder the Tulalip people hold the delectable and nutritious species in such high regard.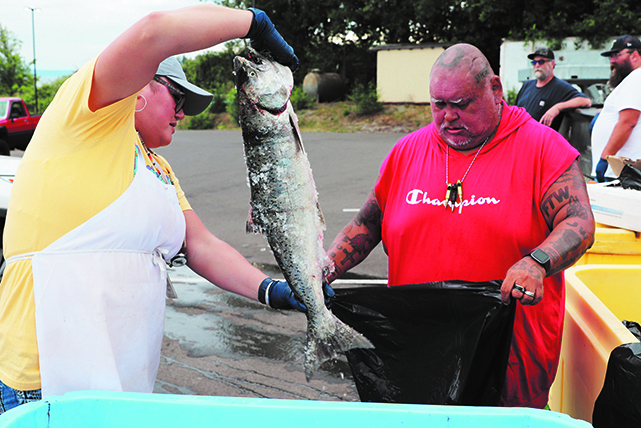 "It's what we lived-off of," said tribal member, Melissa Gobin. "It's coming back to our original diet and helping our tribal fishermen at the same time."
In an effort to provide traditional foods for the people and connect the community to the tribe's way of life, Tulalip purchased hundreds of pounds of king salmon for its membership. And to make a wonderful gesture even greater, the Tribe bought the salmon directly from the tribal fishermen.
Tribal members over the age of 18 were eligible to obtain one whole salmon each. Distribution days were held on June 30th, and July 5th and 7th from 3:00 p.m. to 5:00 p.m. Elders were offered preference and were also encouraged to go to the front of the line to receive their salmon.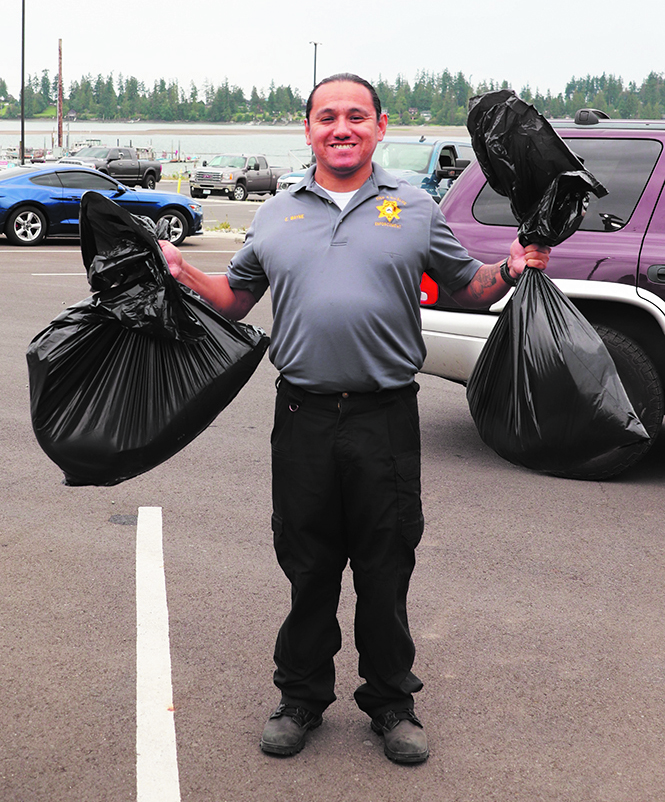 "This is something the Tribe has been wanting to do for a while," explained Tulalip's Natural and Cultural Resources Executive Director, Jason Gobin. "We were able to get some funds this year. We've done smaller distributions in the past, of hatchery surplus fish and whatnot, but this is the first big distribution. Hopefully we'll be able to continue this on a yearly basis for the membership."
The salmon were distributed to Tulalip tribal members at the parking lot of the local marina. A steady line of cars trickled-in throughout the cloudy, yet warm, summer afternoon of July 5th. The people happily exchanged good-humored banter with the crew handing out the fish and conversed about the recent holiday. The salmon were in large crates of ice, and one-by-one they were scooped out and placed in strong plastic bags for the people to transport to their homes with the least mess possible.
Numerous families traveled to the marina together and picked up their fish in bulk, and many people got out of their vehicles to check out all the salmon in the crates.
"I came out to get fish to share with my mom, that way she can eat some healthy fish. I think it's really awesome and cool that the Tribe is giving back," exclaimed Joseph Hatch as he waited patiently in a line of cars, tribal-ID ready in-hand.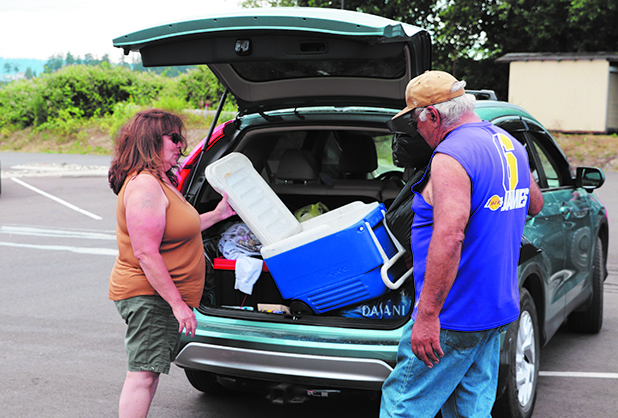 While getting his personal cooler out of the back of his pick-up, Tribal member Alan Cortez shared, "I used to work at the hatchery and bring salmon home all the time. Now that I'm retired, it's a blessing to get this. It's an important part of our diet, it's just like me going out hunting."
The salmon distribution is a great way to feed the community at large and in-turn is creating an opportunity for families to pass down traditional teachings, in regards to preparing the salmon for consumption.
"My husband seasons and broils it, we just love salmon!," said Sonia Sohappy. "I believe it's more healthy for you than the stuff we usually eat, and I'm trying to get my family to eat more healthy, so it helps us out. Win-win."
After picking-up her salmon, Katie L. Jones stated that she knew exactly what she was going to do with her share of the distribution. "I am going to teach my boys, and other people who want to learn, how to can. I learned through Gayle Jones. We're going to can salmon and give to people who need it, and keep some for ourselves. This helps feed our Indian and gives us traditional foods that we can enjoy at home."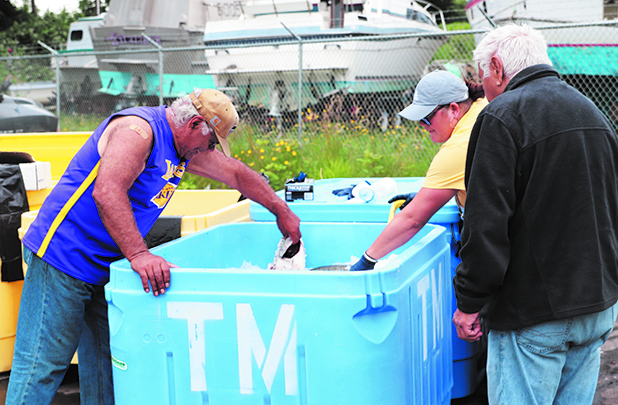 Jason explained that the fish distro is a good opportunity for non-fishing families to indulge in an integral piece of their traditional diet, as salmon may be a little more challenging to acquire for those who don't have the ability, means, or necessary teachings to go out on the water.
"I'm fortunate enough to go out and catch my own. But this distribution, this salmon we've been able to get, is important to the community because it brings traditional foods to the table," he said. "Especially for the elders who don't have family members who are fishing. It's important to be able to share with the community and share with the families. The salmon is not just for that one person, they're taking that home and they're going to share with their entire family. This really brings the community together – sharing in that salmon as they eat it, smoke it, use it, and do whatever they're going to do with it."
As Jason stated, this is the first major salmon distribution and it is something that the Tribe hopes to continue going forward.
When asked how he felt after receiving his salmon, Tulalip elder Marvin Jones simply put, "It feels real good anytime that you get a fish, because this is such an important part of our culture."