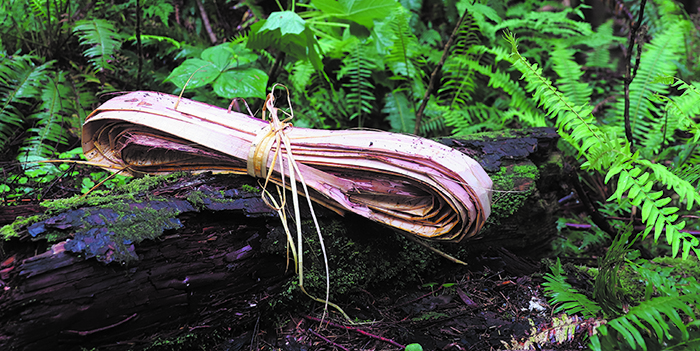 By Micheal Rios, Tulalip News
Since time immemorial, Coast Salish people have maintained an interdependent relationship with the luscious, green forests and powerful, blue waterways of the Pacific Northwest. Treating the natural environment as a shared resource revolving around the needs of community make it impossible not to have a deep respect for cultural traditions and Creator's many gifts.
The Tulalip Tribes teach their citizens at a young age how the Creator gave them Cedar to sustain their lifeways. Out of respect for that everlasting connection, prayer is offered to honor the tree's spirit before harvesting its sacred bark, branches and roots for traditional medicines, clothing, and various crafts.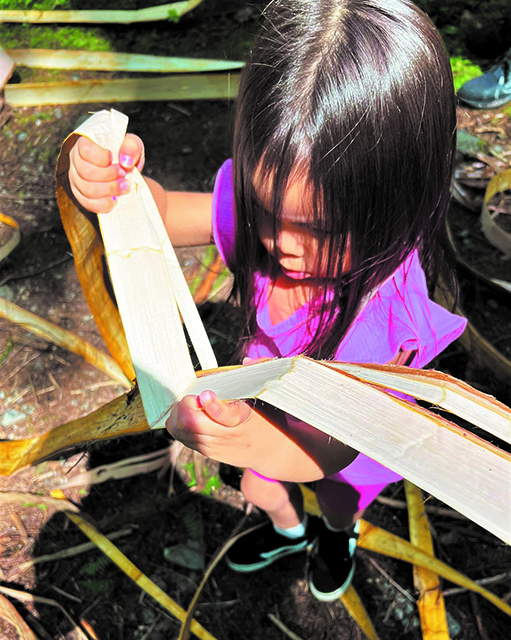 "Pray, pull, peel …it's so peaceful being out [in our traditional homelands]. Being disconnected from the busyness of daily life is refreshing and the silence is healing," reflected Natosha Gobin after her time spent walking in the shadows of her ancestors in the dense Pacific Northwest woodlands, harvesting cedar. "It's amazing to watch the experienced ones of the group pull strips and separate them with ease. This is just one of the many ways to stay connected with not only each other but our ancestors. This is how we keep their teachings alive."
Cedar is an evergreen tree that grows with towering abundance in our local forests. It is viewed as a strong medicine as it nurtures and protects many properties associated with our modern-day ceremonies, such as Salmon Ceremony, Treaty Days and coastal jams.
For countless generations, Cedar was the perfect resource; providing the means to create tools, baskets, carvings, canoes and, yes, even baby diapers to our ancestors. That's without mentioning its robust use for medicinal and spiritual purposes, as used to in purifying essential oils, tasty teas, and healing balms.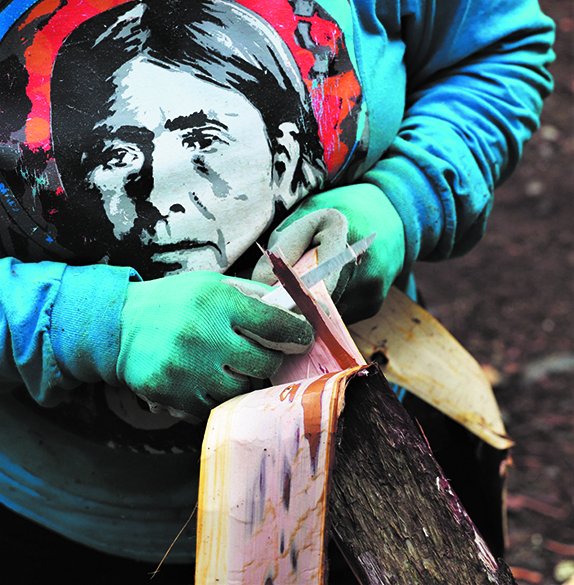 The teachings of the Cedar tree have survived genocide, colonialism and forced assimilation. Even now, as our communities are still healing from traumas inflicted by a global pandemic, many tribal members look to their cultural foundations for hope and strength. Armed with ancestral knowledge, we know regardless of the adversary, our traditions will persevere.
"I love being in the forest because it's my second home," said Cedar weaver virtuoso Jamie Sheldon. "As Tulalip, nature is our number one priority. Being in the forest calms the spirit, with all the sights and sounds of the forest bringing a peace of mind like no other."
After 20+ years of perfecting her basket weaving craft, Jamie still speaks about learning the intricate basket making process from her mom and aunties like it was only yesterday. Similar to a beloved holiday, she and her family look forward to Tulalip's annual Cedar harvest coordinated by the Tribe's Forestry Division and Washington State's Department of Natural Resources.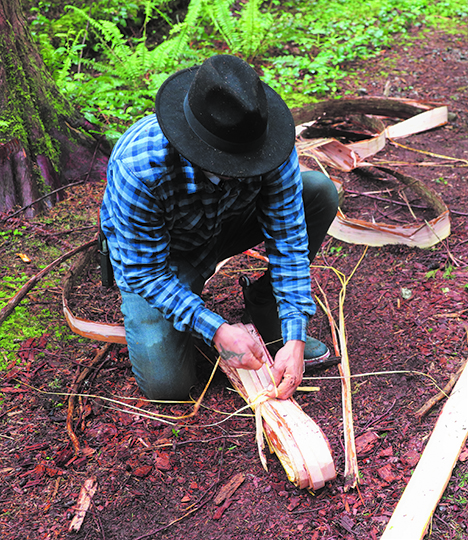 Although the circumstances of the past few summers may be unusual, the expectations remain the same – those whose lifeblood is woven with golden strips of Cedar must have their Treaty-protected time in the forest to harvest.
Mid-June to mid-July is ideal harvesting season because that's when Cedar sap is running with a consistency of water, making the bark pulls easy for Elders and kiddos alike. Tribal members of all ages know the wondering feeling associated with a beautiful 70-foot Cedar pull.
Master weavers, elders, and youth alike echo the same Cedar harvesting techniques employed by their ancestors. With an axe or saw and carving knife, they skillfully remove strips of bark from the tree. They then shave off a small section of the rough bark, revealing a smooth, golden inner layer that is then further separated into strips or shredded for finely used weaving material.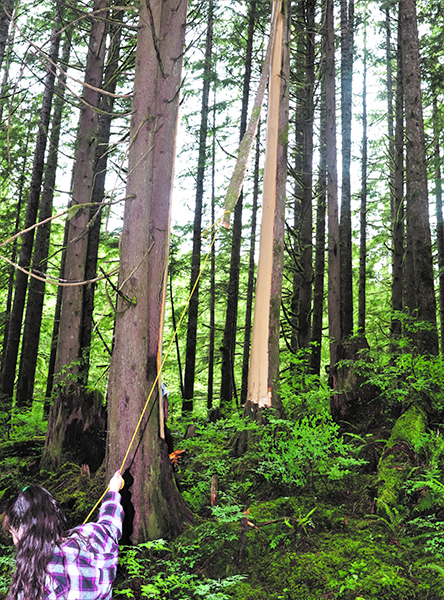 After harvest, the Cedar strips are typically laid out to dry for six-months to a year before being utilized for skillfully crafted baskets, hats and other ceremonial regalia, like capes, skirts and headbands.
"It's beautiful getting out of the house, getting out into the woods, and listening to the forest. Hearing the rain fall, the gentle breeze as it rustles the tree leaves, and the birds chirping just calms my spirit and gives me energy to continue on," described Sara Andres. She uses her harvested materials for naming ceremonies and donations to Hibulb Cultural Center's weaving Wednesdays.
A contingent of local Natives from surrounding Tribes were given the opportunity to learn the essentials of Cedar harvesting this year thanks to the nonprofit Indigenous Beginnings and their support from Tulalip artists Mike and Rae Anne Gobin.
Many Native youth also participated in this season's harvest, gathering Cedar strips for Elders and learning invaluable techniques for separating the smooth inner bark from the rough outer bark. For some it was their very first trip to gather Cedar, while for others it was another step in the continual journey to reconnect with spirits of past generations.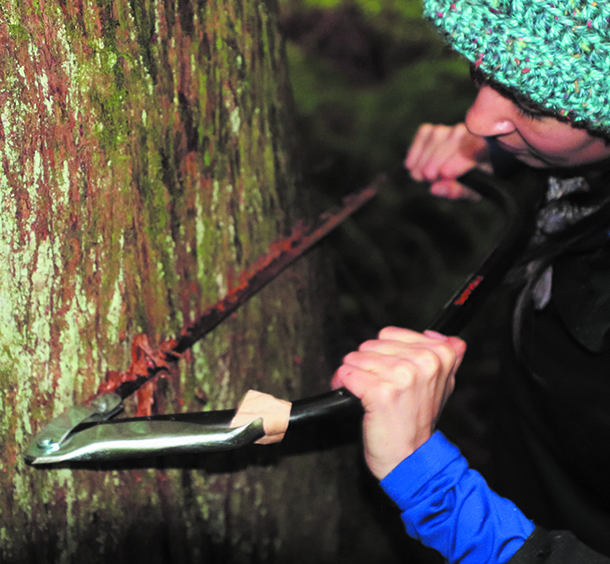 "So thankful for Natural Resources and the Rediscovery Program who constantly advocate and work hard so we can have access to gathering locations," said Theresa Sheldon while using a carving knife to meticulously strip her Cedar. "Their work is appreciated and much needed as more and more traditional areas are being gated off and made harder to access.
"Taking our children out to learn how our people harvested Cedar is a gift," she continued. "We are able to share with our young ones that our people have always cared for the grandmother Cedar trees and in return they care for us by providing clothing and protection from the elements. Appreciating each other, sharing our energy together, and respecting our ancestors by teaching our children how to value nature is who we are as a people."
Those same traditional teachings are practiced today and continue to thrive being passed down to from one generation to the next. Teachings of the powerful Cedar tree remain obtainable to the Coast Salish peoples as they continue to journey into their ancestral woodlands and gather red and yellow cedar.
Our annual cedar harvests are made possible by collaborative efforts between multiple parties and agencies, both internally within Tulalip Natural Resources and externally with Washington State's DNR. To ensure continued opportunities for the Tulalip citizenry and our local partners, arrangements are typically made a year in advance to properly plan and secure harvesting sites.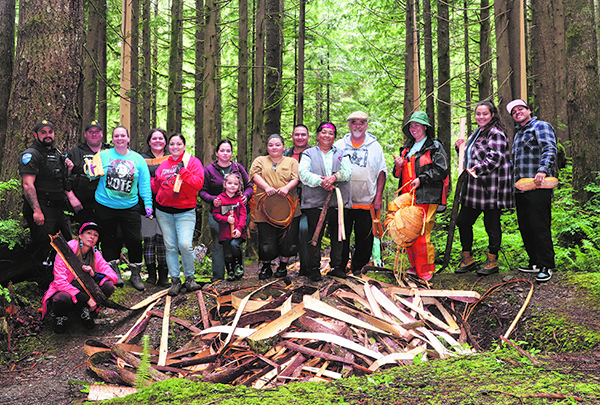 Coast Salish tribes' cyclical relationship with Cedar cannot be understated. Our ancestors relied on the magnificent tree as an integral part of life on the Northwest Coast. From birth to death, Cedar trees provide generously for the needs of the people – materially, ceremonially and medicinally. These teachings have not been lost. They are thriving.