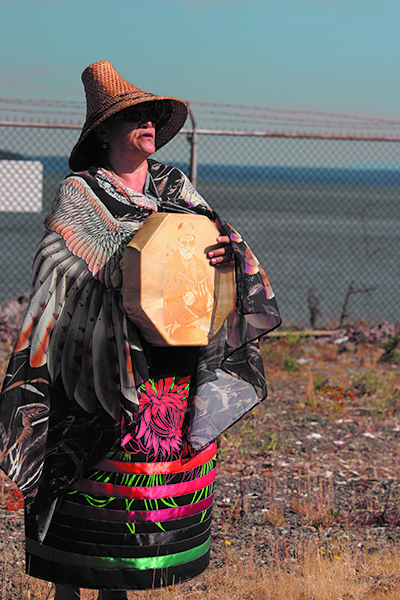 By Kalvin Valdillez, Tulalip News
"On my drum is my father Scho-Hallem, Stan Jones," said Tulalip Chairwoman Teri Gobin. "Les Parks' family does this, and they lasered his picture on. I have two drums with his picture on there. I love it! I'm very proud of what my dad has done for the Tribe for so many years. He fought for treaty rights for so long – it was his whole life.
He even has his owl headdress. He was buried with that owl headdress. Kelly Moses made it, and Kelly made me a woman's version of this, so I have one to match his. My house is filled with my dad. That's one thing I can say – I have no regrets because I spent so much time with him. I was his traveling partner. We enjoyed a lot of time together.
When he was getting ready to pass, it was quieting down and people were going to sleep. Me and my mom were with him, and I was talking to him. I told him it was okay and we're going to take care of mom, and his heart stopped. It was a peaceful moment. And in my vision, I could see his mother coming down and grabbing him. I couldn't talk about it because it usually brings tears to my eyes, but I have no regrets. He knows how much I love him and he's here with us. I'm glad that I can be here to represent him."