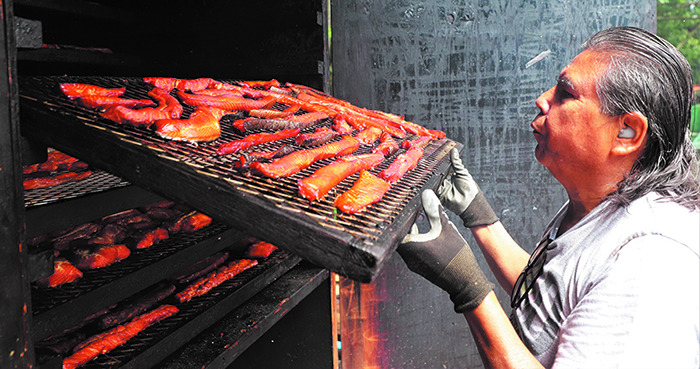 By Micheal Rios, Tulalip News
Tulalip elder Kirk Jones sat patiently next to his homemade, ten-foot smoke stack. The savory aroma of King salmon being slow cooked at 225 degrees Fahrenheit gradually filled the air. In his chair, he reminisced about his earliest days as a splash boy working alongside handmade seine nets in the 1960s, while his then-elders fished to provide for their people.
"Growing up, most of the elders either fished or logged to make a living. Either way, they were handling and collecting wood to keep the fires going all year long," remembered Kirk. "We'd usually eat the fish as fresh as can be, right there on the beach as the fisherman beach seined. Whatever fish was leftover they'd smoke and hang on Cedar sticks.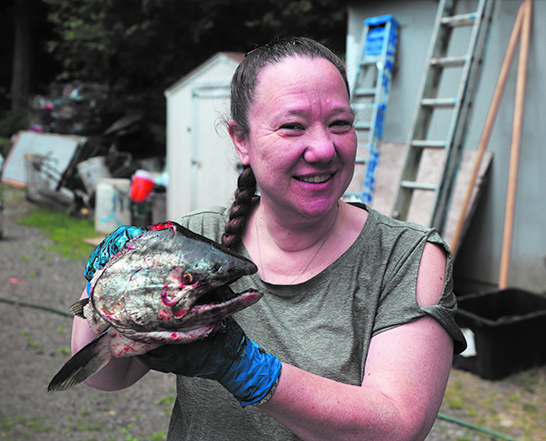 "Back then, when I was learning to smoke, all we had was salt…process the fish, salt the fish and then let them dry. It was hard chewing for sure," he chuckled. "But they were preserved to be ate throughout the year regardless of weather. We didn't have freezers or stoves or nothing fancy like today. Just our teachings passed on from one generation to the next intended to make use of what we had available to us and keep our people fed."
Today, the 65-year-old smoked salmon savant credits Glen Parks, Les Parks, Rocky Parks and Bernie Parks for becoming his secondary family after he got clean and sober in 1986. Under their guidance and skill with their family smoker, Kirk learned to take his ancestral teachings and add a touch of his own flare. Small technical changes like the use of a particularly gauged chicken wire and addition of brown sugar in the seasoning, Kirk has perfected his technique for creating golden-colored 'Indian candy'.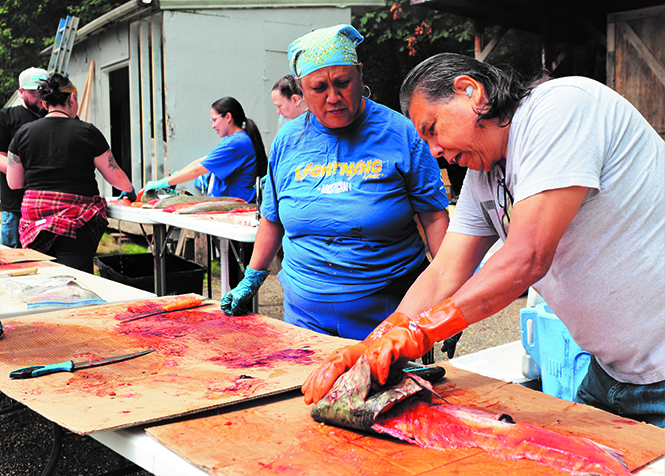 Kirk's Smoked Salmon is a prime example of Tulalip's entrepreneurial spirit. Known for its high quality and sweet salmon offerings, Kirk created a business that is flexible enough to be sold on the side of the road along Marine View Drive or from a makeshift blue stand often seen between Cabela's and Home Depot in the spring/summer time. Its also become a family operation as his children, nieces and nephews are frequently doing the sales, so Kirk can focus on making his primary source of income: smoked deliciousness.
"My passion for the salmon is still the same as when I was a little kid filling the role of splash boy to maneuverer fish into the elders' nets," said Kirk. "You know what, maybe my passion is even stronger now. Being older, I have a greater sense of appreciation for what those who came before me managed to accomplish and pass on. It's my responsibility now to make sure their teachings aren't forgotten."
With that sentiment in mind, Kirk lent his lifelong expertise with a fillet knife and 25-pound freshly caught King salmon to a cultural workshop coordinated by local nonprofit, Indigenous Beginnings. For an afternoon in late July, the Tulalip culture bearer did his best to impart practical skills and guidance on the double digit, all-Native group who were eager to learn the ins and outs of fish filleting.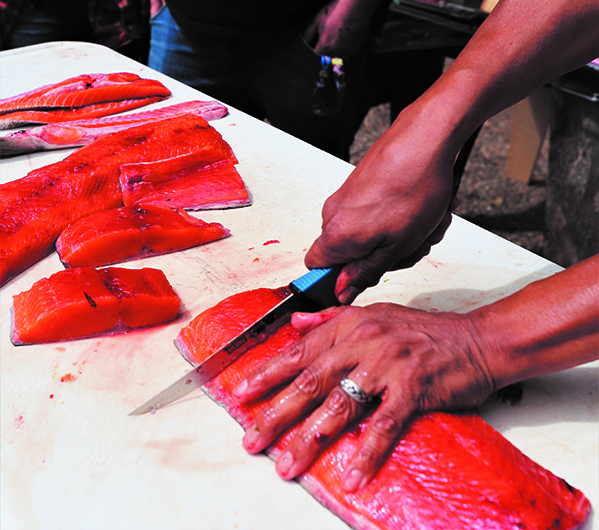 Over the course of two-hours, the group received up close and personal instruction on proper technique to clean a salmon, including the conventional fillet and butterfly fillet methods, how to remove the jaw for making fish head soup, and some general advice from their elder on best practices to smoke, can or cook their fish at home.
Along their way, the group of learners shared many laughs as they attempted to mimic Kirk's proficiency with a fillet name. Most failed miserably, but it was in that failure where Kirk was able to step in and offer gentle words of encouragement; often reminding them that we all gotta start somewhere. Luckily, there was more than enough whole salmon provided that those choosing to rework their fillet skills could give it another go. Some even shrieked with excitement when opening their fish and finding eggs to be used for homemade sushi, stew or as a simple caviar side dish.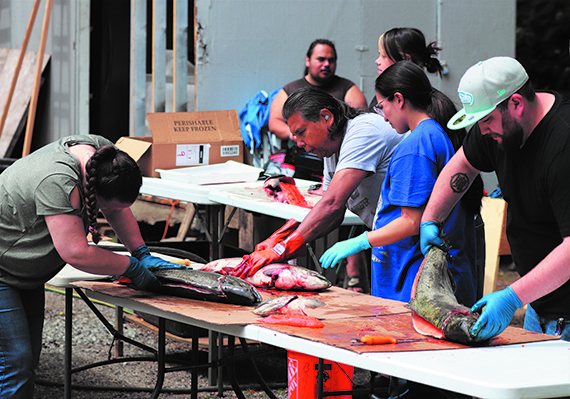 For their commitment to learning cultural traditions, the group was rewarded with jumbo sized bags of salmon fillets and all the 'Indian candy' they could eat. With tummies full, Kirk thanked everyone for participating and helping him grow as an instructor.
"I love fishing. A goal of mine has always been to learn to smoke salmon," shared Tulalip citizen Sara Andres after the workshop. "Getting an opportunity to learn from Kirk was super exciting and I'm so happy to have participated. With the fish heads I'll be making my grandma Katie's fish head soup that I remember fondly as a kid. I also bought a small smoker so that I can brine the salmon filleted here and smoke my fish for the first time."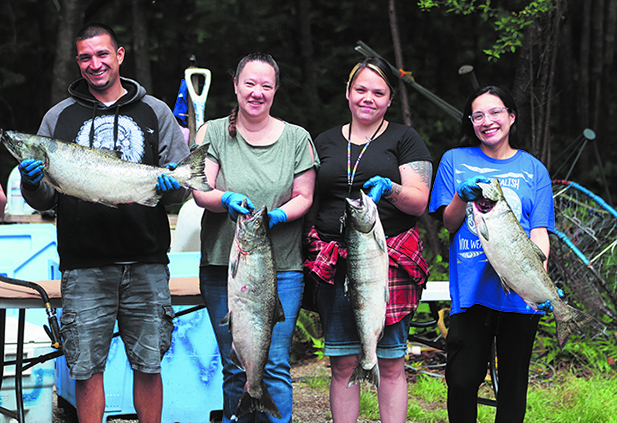 "We are so thankful to Kirk for sharing his home and teachings with us to learn the basics of filleting and smoking salmon together," added Stephanie Cultee, Indigenous Beginnings founder and chairwoman. "Originally, this workshop was only going to be focused on smoking salmon, but then we received such a huge number of requests by people who admitted to not even knowing how to clean and fillet a fish. By being vulnerable and admitting to not knowing this tradition, we were able to fulfill a big need. Ultimately, this workshop got such good turnout and positive responses already that we plan on hosting another workshop with Kirk at the end of summer."
For those who missed out on this amazing opportunity to receive hands-on learning from a Tulalip elder and are interested in participating in a similar workshop in September, please email Indigenousbeginnings@hotmail.com or text 425-418-2346 for more information. You can also follow Indigenous Beginnings on Facebook or Instagram to stay up to date with a variety of teaching workshops intended for first-time learners and those desiring a safe place to ask questions about our shared culture.