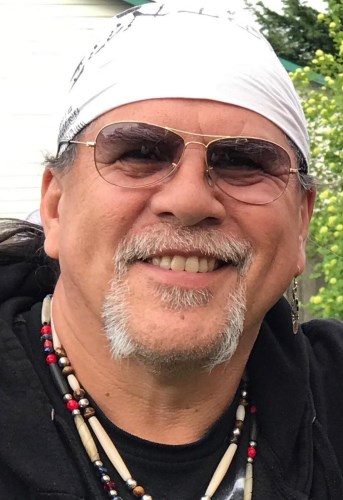 February 17, 1959 -August 6, 2022
Robert Wade Monger, WHAAKADUP from Tulalip, went to the be with his creator in Eternal life on August 6th 2022. Whaakadup was 63 born on February 17th 1959 to Hirontimus Monger and Magdalene L Cladoosby in Everett Wa. 
Robert gained his Indian name Whaakadup from his Aunt Beverly Grant Cladoosby, who raised him for the first 3 yrs. of his life. Whaakadup continued his younger year in Everett with his parents and siblings, traveling back to Tulalip visiting friends and relatives. Whaakadup at 14 met and married Darla Imhoff Perry where they moved back to Tulalip living next to the Taylors and they had Jennifer. Whaakadup worked with his Uncle George building Dock on beach for the fisherman, where he learns from his elders the love of the water that lasted his whole life. 
Whaakadups #1 love was Fishing with his partner Rodney and Glen Simpson on the Fishen Magician he referred to as a high liner. 
Whaakadup later met Brenda having his second daughter Danielle, in 1982. 
In 1994 Whaakadup did his tour of duty (as her referred), in Washington State corrections, this is where the story begins with the Love of his Lisa A Monger Stakiyote meeting at Pine lodge prerelease, a program for first time offender and a chance at a new life, Whaakadup became the drum carrier for the Native Circles, running sweats and drumming. This is the start of his passion for helping other offenders find a new way to live, once release from prison. Whaakadup was the Native American Chaplin from 2006 to 2012, in this year starting the battle to bring back the rights of the Native Americans incarcerated. Whaakadup stated this fight with Gab Galanda to advocte the right of Natives to have their Ceremonies and Tobacco other medicines, returning Frybread and other culture foods to the Powwows along with the families and Children. This was the birth of the HOYT foundations, Whaakadup ran sweats, drumming and beading circle as part of the culture. 
Whaakadup and Lisa became very well known in the Native Circles around the State of Washington as those to protect the rights.
Whaakadup worked with Skipper Jones on the Skipper J for many year digging Ducks, where he almost lost his life. This is when he retired for Gooey ducken.
Whaakadup worked for many years for the Tulalip Tribes in different areas including, Casino, Boys and Girls Club, and the Tulalip Government. Whaakadup worked for the Healing Lodge as a Recovery Coach sharing his passion and life and Culture in the teachings. Mentoring many young men and women on the road to recovery. Whaakadups current position was spiritual recovery at Family Service, where he continues sharing the passion of stay clean and sober through life. 
Whaakadup was also the Native American Roadman for The Fireplace of Man, caring songs and prayers to many. Whaakadups love for his Culture and sharing the gifts of Songs, Drum making, jewelry making, paddles, actually what ever it was he would learn and do it well. 
His life and love are his girls, Jennifer Marie, Danielle Ruiz Monger (Eli) Brittany Monger (Joel) son Caleb his grandkids, Wesley, Autumn, Julie, Kiara, Lexi, Izzy, Sajali, Leondra, Nathan, Ryan, and Dylan, Journey, Adela, Madalina, Caleb Jr, Dekota, Tony. Great Grands, Emily, Brexley, Royce, and Champ. Many more kids calling him Grampa. 
Whaakadup is survived by his Wife of 27 years Lisa anne Monger, brother Chuck Vasser, sisters, Lucina Jo Cladoosby and Rose Webb (Kevin) , many nieces and nephew, great nieces and nephew, and great great nephews and nieces with extended family and friends he called family.
He was preceded in death by his patents Hirontimus and Magdaline Monger, brothers, Joey, Daryle, Richard, Jack, Robert, Jim, Totums, Ernest and Mark sr. sisters Anita and Tina louise and son Dylan Dale Monger. 
Remembering the words of Whaakadup: 
Its better to speak with less Thunder in your mouth and more lightening in your fist, in other words don't talk about it, be about it! Say what you mean and mean what you say or don't say it at all, cuz words don't impress, the world is full of Betty Crockers, Big Talkers. 
We have been Blessed for many Generations with The Man The Myth The Legend.
Whaakadup Monger 
A celebration of his life will be held Wednesday, August 10, 2022 at 10:00 AM at the Tulalip Gathering Hall with burial to follow at Mission Beach Cemetery.