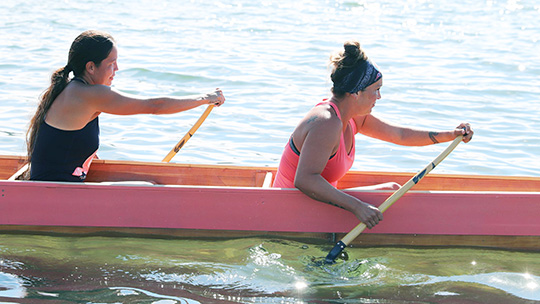 By Kalvin Valdillez, Tulalip News
With binoculars at the ready, numerous spectators sat in lawn chairs near the edge of the bluff overlooking Tulalip Bay on a sunny August afternoon. "Back it up" a voice instructed over a loudspeaker, as sleek canoes began to slowly creep forward in anticipation of the air horn which signaled the start of the race. Four canoes, each guided by eleven Indigenous athletes, were guided back to a line of floating buoys. As soon as the long canoes were behind the starting line, the airhorn blasted and echoed across the bay, and forty-four paddles simultaneously struck the water.
Moving at high speeds through the local Salish waters, the competitors pulled the entire length of Tulalip Bay, and passed through the inlet before journeying out into the sea. For a while, the canoes were out of sight, and then they came back into view, and raced back to the Hermosa side of the bay before making the last stretch of the race back toward the longhouse.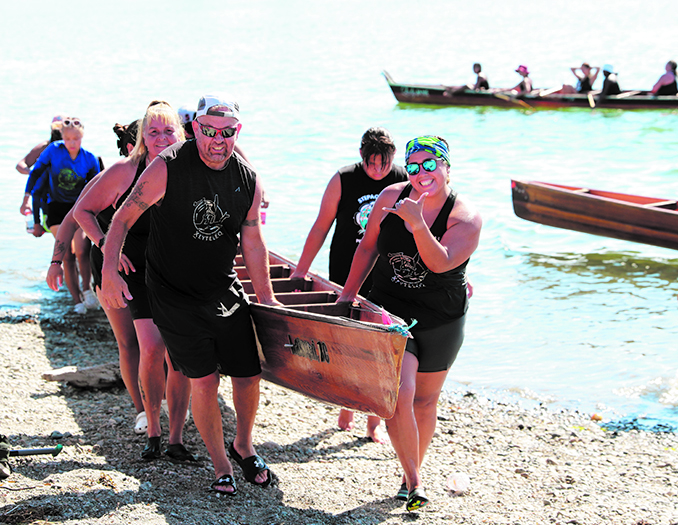 "Tulalip has always been one of our favorite races," said Karlie Kinley (Lummi) of the Merisa Mae Canoe Club. "It's one of the newer courses to the circuit, and it's on the US side. A lot of times we have to travel far away, because many of the canoe clubs are from Canada. Tulalip is close to home, and we can bring more of our families. The hospitality and everything is always really good here. And it's saltwater, and we're saltwater paddlers so we get a little bit of advantage in the water – it's definitely one of our favorite places to come."
For the first time since the pandemic hit, the annual Canoe Races returned to Tulalip Bay during the weekend of August 20. The tribal athletes were excited to get back out on the water and visit with friends and family hailing from other nearby tribes.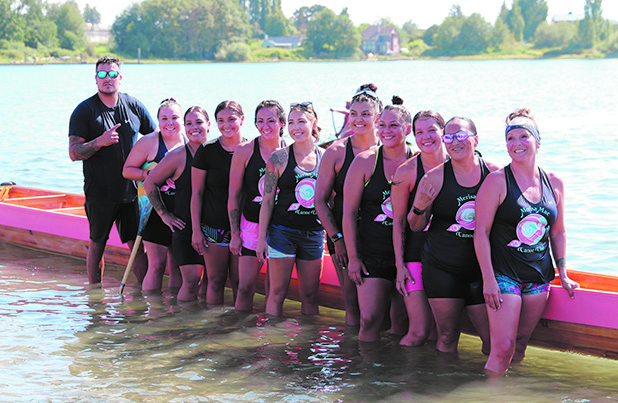 "We started in 2015 at the direction of one of the elders of our family," said Natasha Fryberg, Tulalip Canoe Races organizer and hostess. "They thought it was very important to bring it back to Tulalip, we used to host it many years ago. We really wanted the canoes back on our waters, on our land. My favorite part of the races is everyone coming here, seeing everybody who we haven't seen in a while, hearing all the laughter and stories, and seeing the participants on the water. You get to see so many different athletes who bring so much to the canoe circuit."
You may already know that traditional cedar dugout canoes were created as a means of transportation, so that the Salishan ancestors could navigate from tribe to tribe or harvest from the sea. The canoes utilized for the races, however, are much different than those seen every summer at Canoe Journeys. Sometimes referred to as war canoes, this speedy canoe variation is narrower and much lighter in comparison. Developed centuries ago, many traditional stories claim that these canoes were created so that people could travel quickly to and from other tribal nations to conduct raids during wartime between tribes.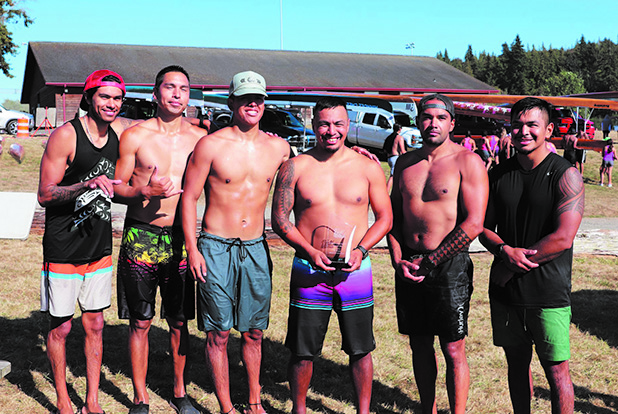 "This goes all the way back to the beginning of time," explained Willie Jones Jr., Lummi tribal member and skipper of the Lady Rose Canoe Club. "Of course, through the years the stories change. But what these races evolved from is when our ancestors started racing the canoes just for something to do at our potlatches. This is part of our teachings – we've been racing canoes for as long as I can remember."
Participants of all ages pulled in a number of competitions throughout the weekend including singles, doubles, 6-man and 11-man races. Several Coast Salish tribes, bands and canoe families were well represented during the event.
Vivianna Thomas and Kieneshia Dominic James, young pullers from the Scowlitz First Nation, reflected on returning to Tulalip Bay and participating in the races.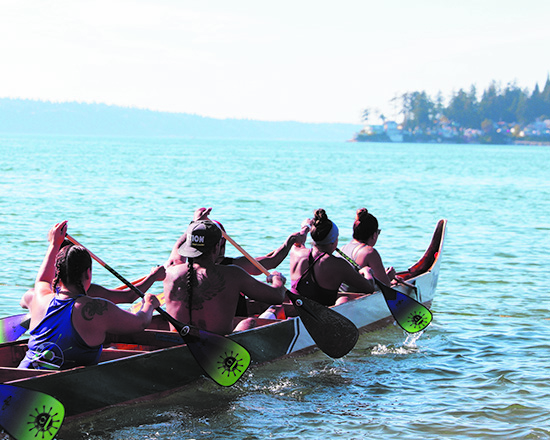 Said Vivianna, "I pulled in the women's six, thirteen and under six, women's eleven and thirteen and under eleven. We got fourth in both women's. And thirteen and under, it was a bunch of little kids and I felt happy to take them out. Coming out to Tulalip is always really fun and I enjoyed everything we did this weekend.
Kieneshia added, "It's really fun to do, especially throughout the summer. You get to meet and see a lot of people and compete against other kids. And being out on the water gives me peace and a strong mind. And I always send up prayers for all my people in need."
The Canoe Race circuit consists of several waterway courses located at tribal villages throughout the Pacific Northwest region. As Natasha mentioned, the Tulalip Bay course was recently unlocked during the summer of 2015 and has been a racer favorite ever since.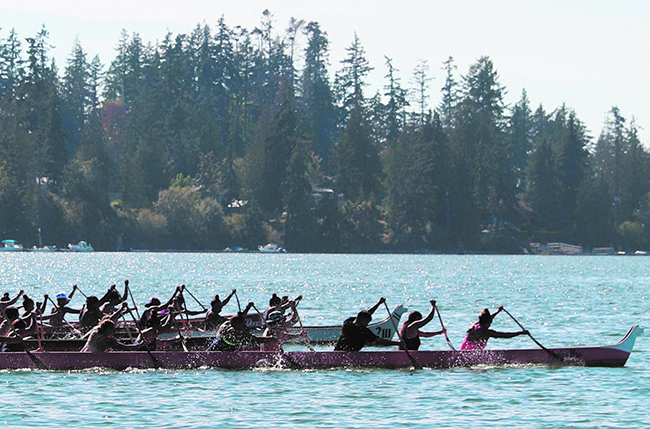 "I love the scenery here," expressed first time puller, Kendra Jefferson who also belongs to the Marisa Mae Canoe Club. "This is my first-year racing and it felt amazing. I really enjoy canoe pulling and being with friends and family. This is something that I grew up with, and it's been in my family for years. To me, it's very important and I know it's important to my mom, my dad, and my grandparents to carry on the tradition, and I hope my kids follow along."
Passing on the tradition, along with various techniques, is something that every racer looks forward to. In fact, many of the young competitors belong to a longline of canoe racers, and often race alongside their parents, grandparents, uncles and aunties during the team races.
"I like getting to race with my kids," said Nooksack tribal member, Jeremy Roberts. "I have three kids who are ten and under and it was fun to get to race with them this weekend. This is important to the culture – to keep our traditions going, passing on our teachings, and just getting out there and having fun. It was a great weekend with good weather, good water, it wasn't rough. It's been a great season and I am thankful to be back on the water with family."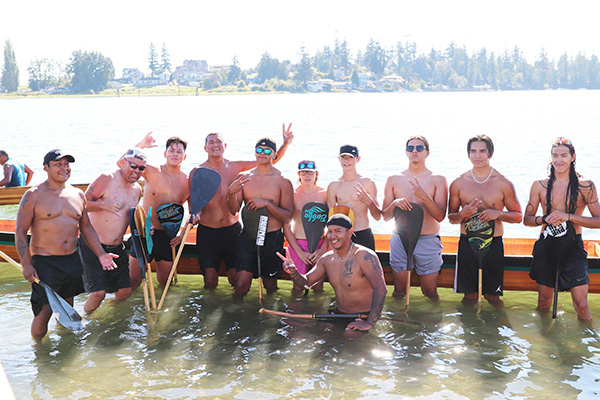 In addition to keeping the canoe racing tradition alive, the summertime event serves as a great way to keep the youth away from destructive activities and behaviors, while engaging them in a positive and cultural experience.
"The Canoe Races gives our people a place to go," Natasha stated. "People participate for many different reasons, whether it's cultural, or their looking for their own self-healing. This is also a prevention tool for our kids. A lot of different clubs use it as a prevention tool for their club members."
"These races are important to our people, especially for our youth and younger people nowadays," Willie agreed. "We're losing a lot of culture, values, and teachings in our school systems – they're not teaching it there as much as they should. This is vital to teaching our youth a cultural way of life, showing them a good way of life, and keeping them away from all those things that get kids in trouble. We're fighting a lot of drugs and alcohol on all of our reservations up and down the coast. Prevention plays a huge role, and this is a good way to keep our kids busy and support our youth."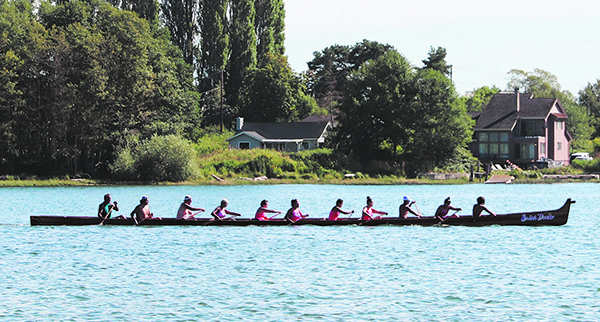 The last stop on the Canoe Race circuit will take place during the final weekend of August at Neah Bay. And although there were a handful of young sduhubš racers this year, Natasha expressed a desire to start a canoe club from Tulalip to participate in next year's circuit.
For more information, including how to get involved in the races, please follow War Canoe Races page on Facebook.