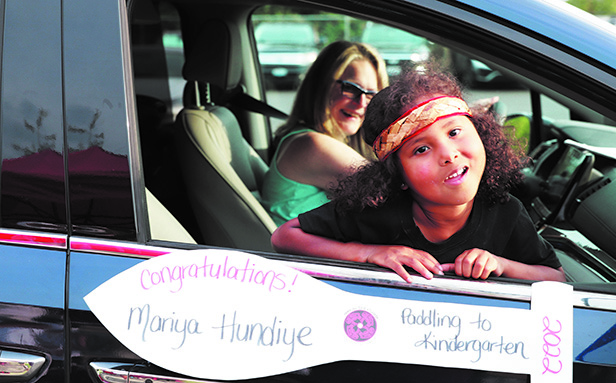 By Kalvin Valdillez, Tulalip News
On the warm summer evening of August 18, over seventy young students made their final journey to the Betty J. Taylor Early Learning Academy (TELA) campus after successfully completing the preschool program.
Instilled with all the necessary knowledge to make the transition from TELA to the elementary school of their choosing, as well as equipped with many traditional and cultural teachings, the little scholars of Tulalip took part in a parade-style graduation ceremony to celebrate their latest achievement.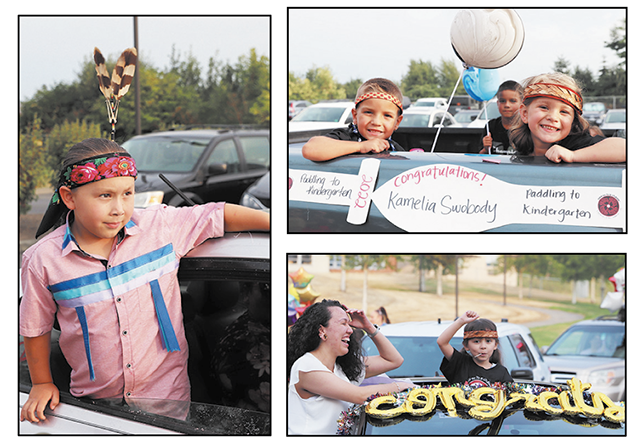 "This is our third year of doing the parade because of COVID," said TELA Montessori Manager, Tami Burdett. "We could've had a regular graduation this year, but our staff and families really enjoy this, so I think we're going to continue doing the parade."
The students entered the TELA parking lot inside vehicles decorated in their honor and were gifted large magnetic paddle cut-outs to display on their cars. Each paddle had the student's name written alongside the cut-out as well as the young leader's respective classroom. 

TELA also scheduled professional graduation photos for each student prior to the moving up ceremony. Leading up to the graduation, the students had the opportunity to create their first headbands with their families, so they can wear their traditional cedar weavings for their grad photo and the ceremony as well.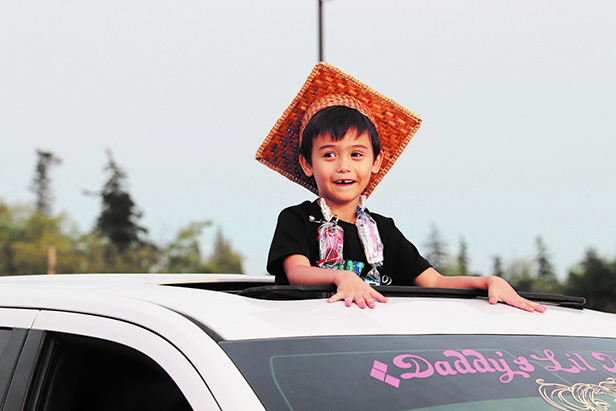 Said Tami, "Katrina [Lane], our Family Events Coordinator, made headbands with each of the families. They use that headband for their preschool poster and then they also wore their headbands tonight. On their t-shirts we also incorporated the canoe. For instance, the paddling to preschool shirt has three paddles and the paddling to kindergarten has five paddles, representing the years that they spent with us. Katrina designed the t-shirts, and this is our second year of t-shirts."
  As they rode through the pick-up/drop-off zone of the academy one last time, the students were cheered on by all their friends, families, and teachers. The teachers showed an outpouring of love to their students and presented them with gifts to commemorate their time spent at TELA.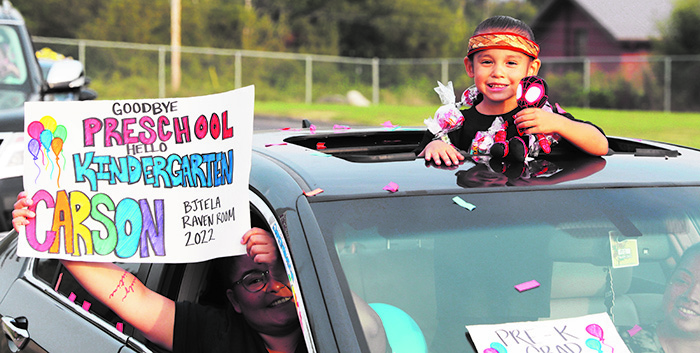 "It warms my heart," Tami tearfully reflected. "This is important to celebrate because this is one of their first academic milestones. It's a milestone for the families, and it's a great way for the kids to see their families excited about their achievements at school, so that they know school is important. All of their teachers have done a fantastic job of preparing them for kindergarten, and it was great to see everyone cheer on each of our students today."
Congrats to all the young graduates.