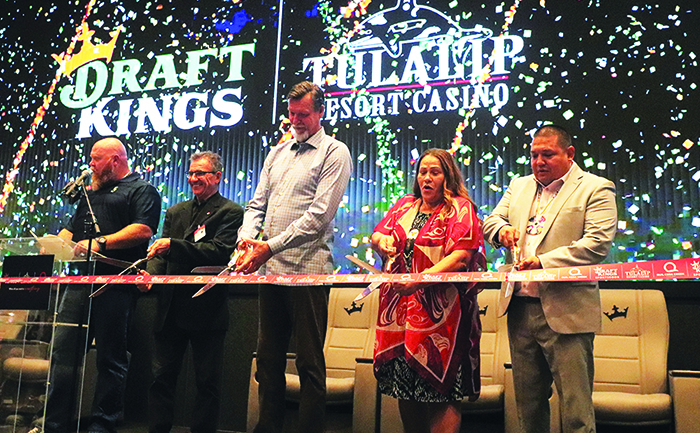 By Micheal Rios, Tulalip News
"When we decided to go down this path of sports betting, we knew it was going to be a long and grueling process in Olympia. Our lawyers worked hard finding the right legislation and gaming compact language so we could bring our goal to fruition," explained Tulalip Chairwoman Teri Gobin. "With all the Washington tribes working together, we earned our legislative victory a year ago. It did take a while to make our vision a reality, but in the end we did it the Tulalip way. And as you can see, it's a grand way."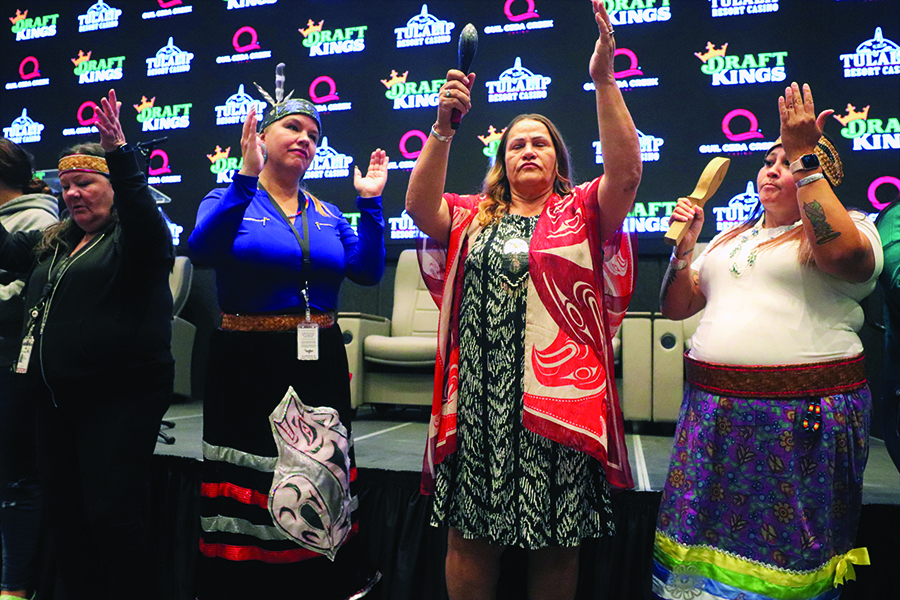 Moments later, Chairwoman Gobin beamed with excitement as she stood next to fellow board member Hazen Shopbell, Seattle Mariners legend Randy Johnson, and DraftKings representative Johnny Avello for a ceremonial ribbon cutting. While the red ribbon fluttered to the floor, a sweeping thrill of energy radiated through the largely Tulalip crowd, announcing Tulalip's sportsbooks are officially open for business.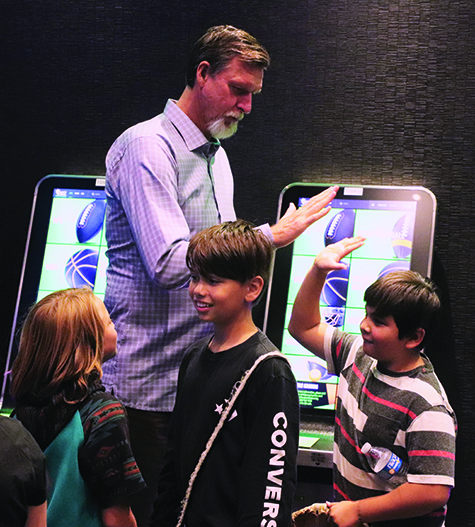 A large contingent of Tulalip culture bearers were on-hand to open the event in a traditional way. The voices and thumping drum beats of adults and children echoed through the casino gaming floor, reminding everyone they are guests on Indigenous land.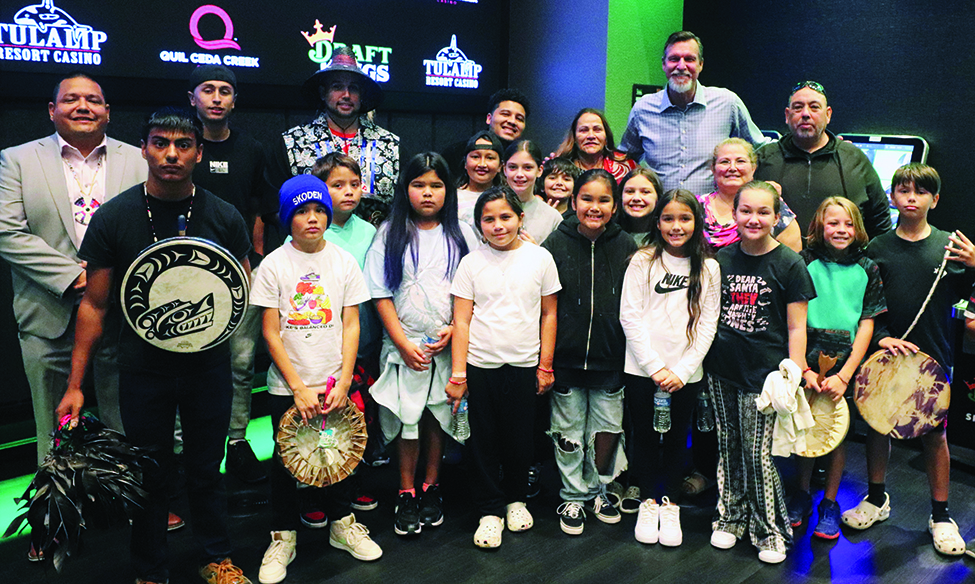 "I've opened a number of casinos and sportsbooks in my career and want to thank the tribal members for their songs and prayers because I've never encountered that before. That was fabulous," said Johnny Avello, DraftKings director of race and sportsbook operations.
Tulalip Resort Casino and Quil Ceda Creek Casino both celebrated their grand openings simultaneously on Tuesday, September 20. The much-anticipated events featured celebrity guests – former Mariners pitcher, the towering 6'10" baseball hall of famer Randy Johnson at the Resort and Seattle Seahawks former wide receiver and hall of famer Steve Largent at the Q.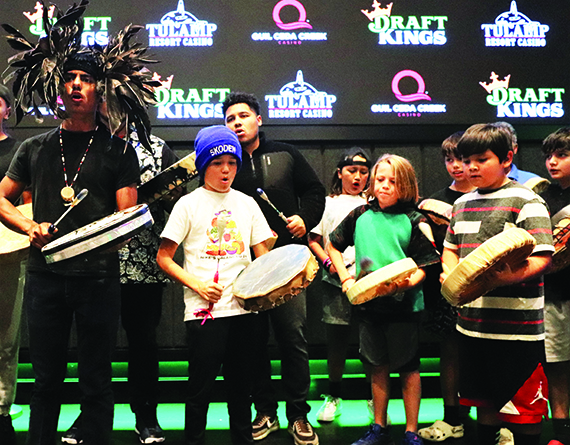 The retail sportsbooks feature live in-game sports betting and other engaging wagering options, with viewing of a multitude of sporting events at the same time possible via jumbotron-like LED screens. The Resort's sportsbook is over 5,000 square feet and offers sporting enthusiasts the opportunity to watch up to 10 live sporting events while placing bets at 20 touch screen kiosks and 4 over-the-counter ticket windows. Another ten sports betting kiosks are located throughout the Resort's gaming floor.
The state-of-the-art sports betting venue is managed by Tulalip citizen Brandon Jones. Impressively, the 35-year-old has 17 years of gaming experience. He started his gaming career in the cage at just 18-years-old and hasn't looked back since.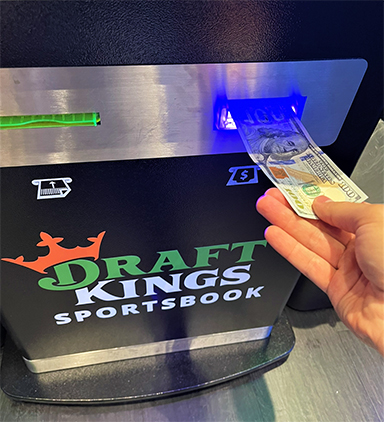 "Gaming and the casino life are all I know, it's all I've ever done," shared Brandon, sportsbook manager. "It means so much to be a Tulalip tribal member and be able to build something all-new from scratch that adds so much value to the reservation, from both a business and community perspective.
"We've designed this sportsbook for the new generation. A lot of people my age and younger aren't interested in bingo or keno, but are super engaged in all forms of sports entertainment, whether it be professional or college level," he continued. "We'll continue to evolve our sports betting and are already working towards facilitating e-gaming betting in the near future. To my fellow tribal members, this venue offers a new place to gather and enjoy the Seahawks, Mariners, or Huskies and Cougs games with all the high energy of a local crowd." 
Meanwhile, the Q's new sportsbook features 20 sports betting kiosks and 3 over-the-counter ticket windows located on the gaming floor. The four video walls in The Stage, the Q's entertainment venue and nightclub, span nearly 900 square feet, comprised of 13 million pixels that can also display up to ten different games simultaneously. Both of the sportsbooks are outfitted with a variety of betting resources, including odds boards, scrolling tickers with live-score updates, statistics, and player information.
In development with Tulalip's newest partner, DraftKings, a digital app is in the works that will allow gamers of either casino sportsbooks to place bets from their mobile devices while on casino property. Future announcements are planned when the app is ready for launch.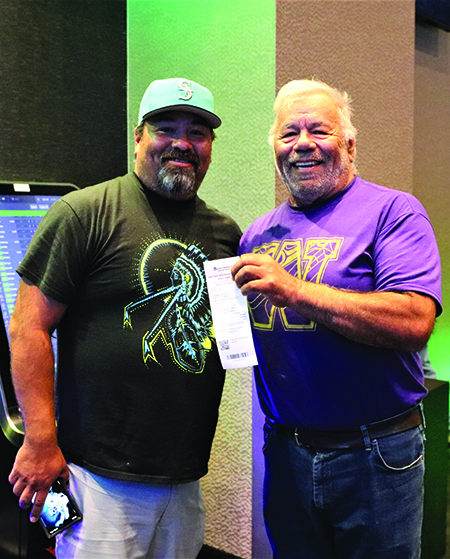 After the grand opening ceremony ended, several tribal members eagerly waited for a picture opportunity with former Mariners, the Big Unit and Bucky Jacobsen. Others quickly took to one of the new sports-based kiosks to place their first-ever sports bet. Father/son duo Cyrus Fryberg Sr. and Jr. were spotted putting their combined sports knowledge together for a wager or two.
"As an avid sports bettor, I know this is going to be huge for Tulalip. The atmosphere around sports is different than our other revenue streams because the younger generation is so involved with sports," said Bubba Fryberg. "We can definitely anticipate many new people coming to Tulalip on Saturday for college football, Sundays for NFL games, and throughout the weeks for marquee matchups and primetime games. Also, it's cool for everybody to have a new spot where family and friends can come together to root for their favorite teams."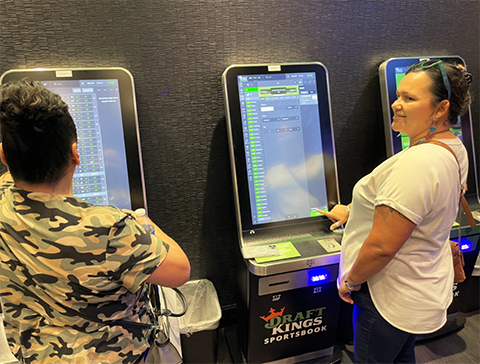 Both of Tulalip's sportsbook offerings are open 24/7. All sports bets are cash only, so there's complete anonymity. Unless, you were one of those attending the grand opening and wanted to share your sports bet ticket, like councilwoman Marie Zackuse who placed a $10 wager on the Mariners money line.