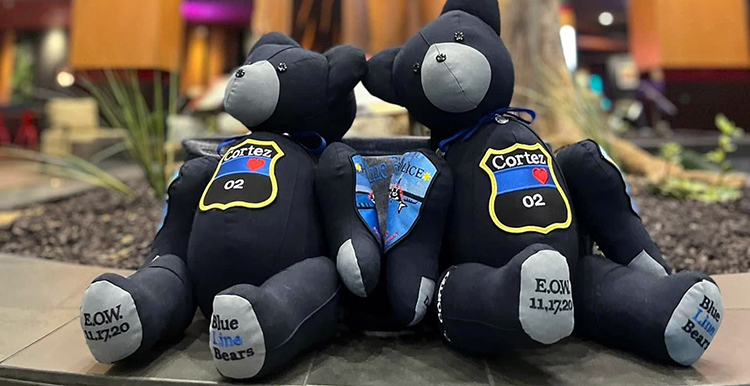 By Kalvin Valdillez, Tulalip News; Photos courtesy of Blue Line Bears and Paula Cortez
It has been nearly two years since fallen Tulalip Fish and Wildlife Officer Charlie Cortez was pronounced lost at sea while in the line of duty. His absence is still felt amongst the nation of Tulalip, as his bright smile lit up any room that he stepped in. Countless friends and family members often take the time to honor and remember the man who dedicated his life to protecting and serving his people, ensuring that his memory will live on throughout both the tribal and law enforcement communities for generations to come.
On Friday September 23, a non-profit known as Blue Line Bears paid a visit to the Tulalip reservation to present heartfelt and customized mementos to Charlie's children, Dominic and Peyton.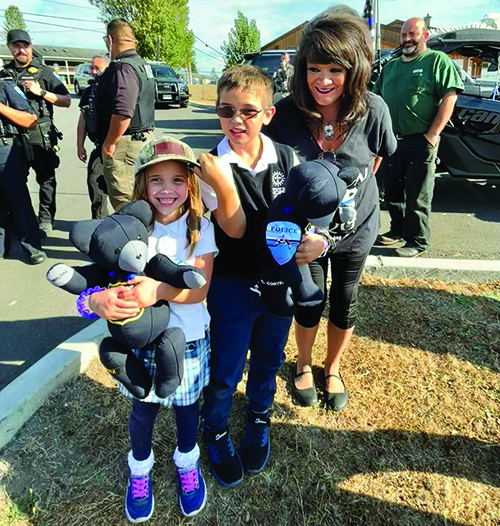 According to their official website, "Blue Line Bears is a nonprofit organization with the goal of helping the children of fallen law enforcement officers cope with the devastating loss of a parent. Blue Line Bears is the creation of the 14-year-old daughter of a police officer whose goal is to help the children of fallen officers through the difficult loss of their parent. Children of law enforcement officers grow up realizing that their parent's life is at risk every day they go to work. Add to that the fact that there is much public ridicule of law enforcement officers, and deaths in the line of duty are sudden, shocking and violent. With all of this in mind, Blue Line Bears will not only provide a lasting keepsake to help keep the officer's memory alive but will also help their child to see that there are caring individuals who respect and appreciate men and women in uniform. Children of officers killed in the line of duty are oftentimes young, perhaps too young to remember the parent who died. For those children, a bear from Blue Line Bears will provide a tangible reminder that their loved one will always be with them."
The stuffed teddy bears are designed from the uniforms of the fallen officer and is adorned with the officer's badges, patches and ranking stripes. In a photo that shows both Peyton and Dominic clutching their new bears closely, you can make out the customizations made in Charlie's honor including his end of watch date, the Tulalip Police Department patches, as well as a badge that reads Cortez across the center.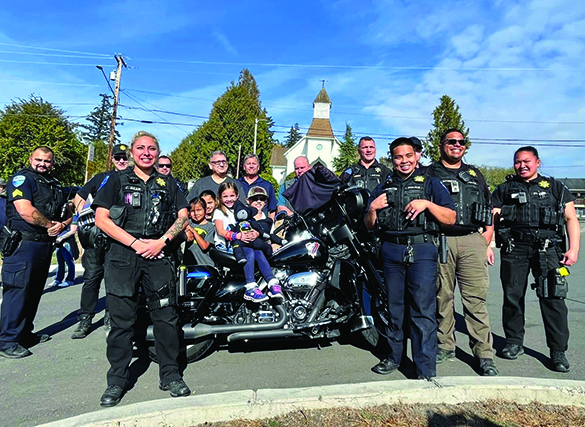 The Blue Line Bears hand delivered the teddy bears to Dominic and Peyton at the Tulalip Marina, next to Charlie's memorial wall and just yards away from the new Charlie Joe Cortez Marina Building, that was recently dedicated in his memory. In the summer of 2021, a motorcycle procession traveled the length of the Tulalip reservation to pay tribute to Charlie in a project called End of Watch – A ride to remember. The organizers of the nationwide project created a custom motorcycle with Charlie's name, bio, police department and end of watch date, that was driven across the country. The motorcycle was brought out once more to Tulalip for this special occasion, providing the opportunity for Charlie's loved ones and fellow TPD officers to take a photo alongside the bike during the Blue Line Bears' gifting ceremony.
Following the special day of honor, Charlie's mother Paula Cortez said in a Facebook post, "Back in January I was looking through my packets of information from Washington D.C. Police Week. I came across the Blue Line Bears brochure, and I noticed that they make the bears out of the fallen officer's uniform for the officer's survivors. I contacted them by e-mail with my inquiry on how to order bears for Charlie's children. They returned my e-mail right away and they remembered Charlie's tragic story. They do the bears at no cost for the family. The delivery of the bears was yesterday at the Tulalip Marina. A wonderful addition to the day was a visit from Allison McCarter and the Harley Davidson bike dedicated in honor of Charlie for anyone who wanted to see it. Once again, thank you all for making the day special and honorable, and thank you Jobey Tom Williams for the beautiful closing song and blessings."
Tawnya Stout, Dominic and Peyton's mother, shared, "The kiddos love their new bears and will cherish them forever! The kids are loving having a piece of their dad's uniform to keep with them, in a way that is useful to them. Thank you, Blue Line Bears."