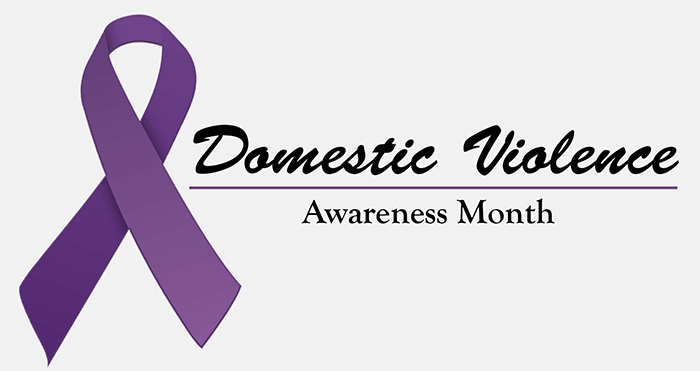 By Kalvin Valdillez, Tulalip News
"We want our community to realize that domestic violence (DV) has many layers," said Legacy of Healing (LOH) Victim Advocate, Marisa Chavez. "Typically, people who are victims of domestic violence think that if they call law enforcement it's because it's something physical. But usually it starts emotional, then it goes to psychological – financial abuse, threats, and then becomes physical. So, this month, it's about educating and providing information for people to realize that this is not okay that this is happening."
A small building located on the corner of Waterworks and Marine Drive, next door to the Tulalip Bay Fire Station, is much more than meets the eye. Standing as a symbol of hope for many fleeing an abusive relationship, the building, which many people pass by on their everyday commute, is the home of the Tulalip Legacy of Healing, a program designed to support and uplift Tulalip tribal members, parents and spouses of Tulalip members, as well as other Natives who live on the reservation, through difficult and challenging times.
Upon entering the building, and meeting with the team's staff of advocates, many DV victims and survivors begin to see a way out and are able to safely plan to escape their unhealthy partnerships.
A quick Google search will show that the Native American population are at an extremely higher risk for experiencing domestic violence than other races. According to the National Institute of Justice, 84% of Native women have experienced violence in their lifetime as well as 81% of Native men. That same study stated that 'more than four in five American Indian and Alaskan Native women and men experienced DV in [2016] alone'.
It is important to keep in mind that the statistics from this particular study have been referenced in many publications since it was released, and that this is the most up to date study. Tulalip LOH and Child Advocacy Center (CAC) Director, Jade Carela believes that although these numbers are shocking, they may be much higher. Citing conversations with other advocacy center directors, she gathered that there has been a recent influx of victims since the pandemic first hit. Another reasons these stats may be inaccurate can be credited to underreporting.
Said Jade, "One misconception that we want to make sure to clear up for our community is that a lot of people have been taught that domestic violence equates to physical violence. That's not what domestic violence is. Domestic violence is many other things. To me it's important for people to understand that, because I feel there are a lot of people in very unhealthy relationships that crossover into domestic violence and they might not realize that's the type of relationship they're in or that there is help when they're in those type of relationships. A lot of domestic violence isn't physical, and by the time it gets physical, there's an end to it because they kill their spouse. Because they don't recognize it as domestic violence, the victims don't reach out for help."
For this reason, it is important to understand what DV is exactly, that way if victims are able to identify that they are in a DV relationship, they can get out before it ever reaches an extreme scenario. Below is list of red flags curated by the LOH that serves as an indicator of an abusive partner.
Wants to get serious right away.
Humiliates you – calls you names or puts you down to break your confidence.
Treats you better when other people are around
Screams at you to intimidate you.
Follows your or calls/texts repeatedly to check up on you.
Pressures you to go along with what they want.
Bullies or tries to humiliate you via text, social media, or e-mail.
Throws, hits, or breaks things to make you afraid.
Gets overly jealous when you spend time with friends or family. 
Tags you in posts, even though you have asked them not to.
Insists that you give them your passwords to your voicemail, social media or e-mail accounts.
Physically or sexually assaults you.
Denies their abusive behavior. 
Gaslights you.
All their exes are crazy except you.
The LOH extended their list to include red flags that increase your chance for being seriously hurt or even killed.
Uses or threatens to use a gun, knife or other weapon.
Threatens to kill your or themselves if the relationship ends.
Tries to choke or strangle you.
Forces you to have sex or physically assaults you.
Is violently or constantly jealous. 
Cassandra Rae, CAC Education Outreach Family Advocate, stated, "Often times part of the abuse is isolating you – cutting you off from family, friends, support systems. Having an advocate who is 100% there for you is such a huge part to finding the strength and the courage to leave an abusive situation. Often times there's a lot of gaslighting. Part of the abuse can be cutting your self-esteem down – 'people aren't going to like you, people aren't going to believe you, you're making this up, you're so emotional – that type of stuff. Sometimes people get so eroded, it's so hard to have that voice to make that call. But that's another really important part of the awareness work, to lift people up, to recognize how important and valuable our people are."
Added Marisa, "Sometimes if an abuser is using kids against their partner they'll say, 'if you go to the cops, you're going to lose the kids.' That's a real barrier to why people don't leave because they're trying to stay connected to their children. It's so much more than hitting, it's asserting power and control over someone, taking their choices away, taking their money away. If you don't have access to money, or you have to get permission from your spouse, or you're not allowed to see your family, those are some examples. Multiple texting in a time frame, calling to see where you are, putting trackers on your car, these are all tactics that people will do to control their partner. Those are things that a lot of people don't recognize, they just think 'oh he just wants to take care of me and know where I'm at' – that's not a healthy relationship."
Nationwide, communities are taking part in an initiative to raise awareness about DV during the month of October. Over the past several years, both prior to and after the pandemic, the LOH team has been active during DV Awareness Month and held events to provide resources and information to those in the community in need of assistance.
"One of the core focuses with DV Awareness Month is the importance of breaking the silence," expressed Sydney Gilbert, CAC/LOH Coordinator and Forensic Interviewer. "If people are not talking about and it's not coming to light, it lives in the shadow. The more we can talk about it, the more we can bring it to attention, the more we can normalize the conversation around it, I think it increases comfort for folks coming forward. It's pervasive in the community. We know that there's higher rates of intimate partner violence in communities that have experienced trauma. Another focus we have for this month is addressing that trauma, and not only bringing attention to intimate partner violence but bringing attention on how we can heal from that as a community."
This year, the LOH is proud to announce that they will be hosting a number of events throughout October, with the goal in mind to open up discussion about what DV is within the community. Below is the list of events that the LOH will hold during the month. An event will be held every Thursday, beginning at 5:30 p.m., in room 162 of the Tulalip Administration Building.
Thursday, 10/6:  Resolving Trauma Workshop
Thursday, 10/13: Self-Defense Class (ADULTS ONLY – limited to first 20 people only. E-mail CRae@TulalipTribes-nsn.gov to register)
Thursday, 10/20: Sisters Rising Film Screening (ages 14+)
Tuesday, 10/25: Beading as Healing Class
Cassandra described what the DV Awareness Month events entail, "We're doing a resolving trauma workshop that's all about the latest research on trauma, so you can understand how it impacts your life, as well as how understanding your trauma is the first step to healing that trauma. We're doing a beading as healing class. Connecting with traditional cultural practices are huge resiliency factors, and it's connecting with your community, having an opportunity where you are beading together, and you can have those conversations. We're also doing a self-defense class, and a film screening of a film called Sisters Rising."
Noting that each situation is different, LOH understands that leaving an abusive partnership is extremely difficult and can sometimes involve the court systems. LOH wants to inform the community that if you are in a situation where you do have to go through tribal or state court, they will be there to support you emotionally throughout the entire process. Additionally, LOH is careful not to pass any judgements and allows their clients grace and understanding, because statistically it could take a victim multiple times to leave an abusive relationship.
"Typically, it takes a survivor seven times to leave an abuser," Marisa explained. "Talking to someone who can work with you, and help you be safe in your household so there's not another incident, and help you plan to get out safely, that's something that an advocate you can help with."
Jade agreed, "Because it does take them so many times to leave, if someone comes to utilize services through us, we know that they might go back. They're always welcome to the LOH because we know that's how it works. We don't want community members to feel bad, or like they are stupid or weak. Those are definitely things that we never think about people because we know that this is the cycle, this is what they go through. And when they leave, it's also the most dangerous time. It's a huge risk for them. So, if they can just reach out to start doing some safety planning and talking to one of our advocates privately, they can start preparing and working up to what they need to do."
The LOH stressed the fact that DV can happen to anybody regardless of race, gender, sexual orientation, gender identity, and social status. The team invites you to come out to show support and help raise awareness at the events throughout DV Awareness month. And if you or anybody you know is experiencing an abusive relationship, please do not hesitate to call the LOH at (360) 716-4100 or assistance. And if you are in a crisis or an emergency situation, the LOH provided a list of three additional hotline numbers that you can utilize during your time of need:
The National Domestic Violence Hotline 1-800-799-SAFE (7233)
Strong Hearts Native Helpline: 1-844-762-8483
Domestic Violence Services of Snohomish County 425-25-ABUSE (22873)
"This is still happening in our community," Jade stated. "It's something that we see happening every single day. If you are experiencing an abusive relationship, the first thing you need to do is call us. By calling us, it doesn't mean the police need to get involved, it doesn't even mean you have to work with us. You can just call and say you are interested in talking to an advocate, and you can have a private conversation with an advocate about what you are experiencing. From there, we can offer our services, and it's important to have that connection so when do become ready to leave, you can come back and see us later on."