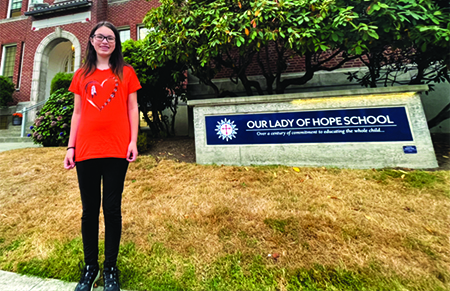 By Micheal Rios, Tulalip News
Youth-led. A common catch-all term used to describe events, efforts, or movements where youth are the face and first point of contact. However, it's become rarer and rarer for such a thing to actually be true. More often than not, its adults pulling the strings from the background and projecting their virtues onto youth who are unable to describe the enormity of such grandiose concepts that their string bearers have bestowed upon them.
That isn't to say youth-led efforts, in the truest sense of the term, don't happen. Because they do. And when they occur they are usually noteworthy stories full of inspiration. Such is the case with 13-year-old Audrina Bumgarner and her commitment to seeing her school, Our Lady of Hope, recognize the National Day for Truth and Reconciliation.
More commonly known as Orange Shirt Day, September 30th has propelled itself into the mainstream because of Indigenous efforts all across North America. As Indigenous lore tells it, the day was created by Phyllis Webstad (Canadian First Nation) who tells the powerful story of having her orange shirt taken away when she attended a residential school, as well as being stripped of her language, culture and childhood joy.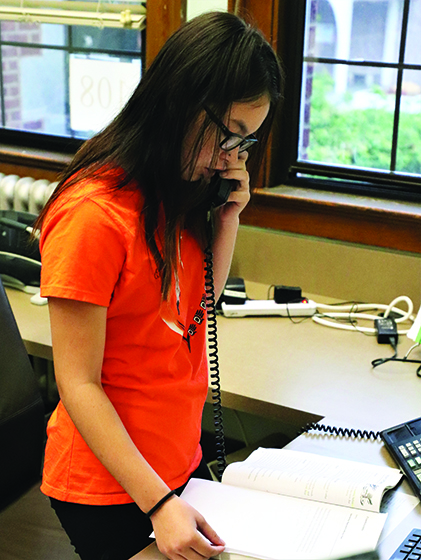 "I went to the Mission for one school year in 1973-1974. I had just turned 6-years-old," explained Phyllis. "I lived with my grandmother on the Dog Creek reserve. We never had very much money, but somehow my granny managed to buy me a new outfit to go to the Mission school. I remember going to the store and picking out a shiny orange shirt. It was so bright and exciting…just like I felt to be going to school.
"When I got to the Mission, they stripped me and took away my clothes, including the orange shirt. I never wore it again. [Since then] the color orange has always reminded me that my feelings didn't matter, how no one cared and how I felt like I worthless. All of us little children were crying and no one cared."
Phyllis's words put literal truth to power as National Day for Truth and Reconciliation has since been adopted by both Canadian and U.S. governments to support the stories and memories of the children and generations lost during the Boarding School Era.
With this powerful sentiment in mind, young Tulalip citizen Audrina approached her catholic school's leadership staff several weeks ago with a simple request: formally recognize Orange Shirt Day by allowing the school's Tulalip students and their fellow student allies to be exempted from the school's uniform dress code in order to proudly wear orange. After consideration, the school honored the request.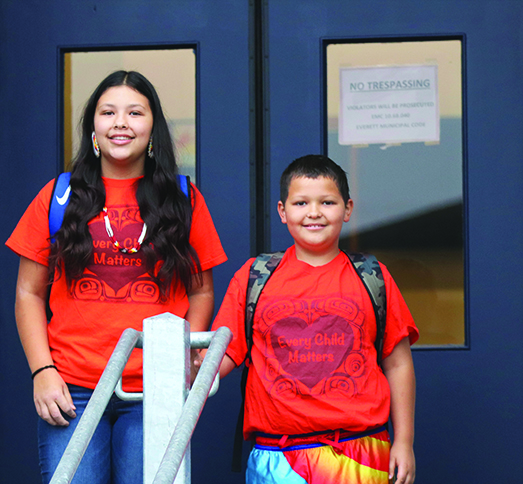 "Our student council has been focused on several projects this year. One of those projects was created by Audrina who wanted us to recognize Orange Shirt Day in a bigger way than we have ever done in the past," said Our Lady of Hope principal Kathy Wartelle. "She came with a complete plan that felt empowering to her and her community, while also being beneficial to teaching others about the day's significance.
"It's incredibly important that we, as a school, support our students of multicultural backgrounds," she added. "We love the diversity that our school has and have develop a great relationship with the Tulalip Tribes. We have close to 50 Tulalip students attending this year, so it's important that we continue to learn from one another and our families. This means recognizing the impacts of past discretions have had on all cultures and using our faith to lift each other up."
With the support of Our Lady of Hope's leadership, Audrina elevated Orange Shirt Day to new heights and led her fellow Tulalip peers in proudly wearing their culture on their impossible to miss, bright orange shirts. For students who wanted to support the movement but didn't own an orange shirt, the administrative staff hand crafted orange ribbons that could be pinned to the students' uniform.
As students took to their seats in preparation of the school day, Audrina took to the school-wide microphone with a heartfelt message intended to educate those within the private catholic school who may have been unaware of day's significance.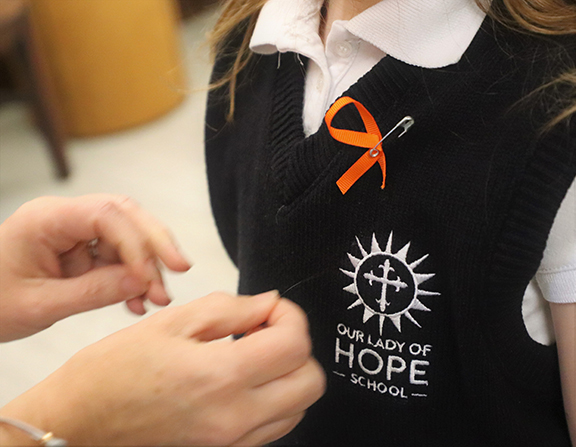 "Orange Shirt Day is in recognition of the lasting trauma these Indian Residential Schools caused to survivors and their families and Native Americans to this day. This is a day for healing and to remember the children who didn't come home. On this day we pray for healing," declared the inspirational Tulalip youth.
While her words resounded throughout the classrooms and hallways of the Everett-based school, her well-intentional effort came to fruition in the hearts and minds of her peers and teachers who not only took in her message, but also weren't afraid to showcase their support by wearing orange.
"Last year, only me and a handful of other students wore orange. The awareness wasn't really there, so I wanted to make it more recognized and bring more awareness to the day this year," explained the 13-year-old while. "Orange Shirt Day is a day of remembrance to honor the children who didn't come home and also the children who did come home because the survivors and their families are still affected to this day."
Following Audrina's school-wide announcement, Dion Joseph, father of Our Lady of Hope students Gia and Kingston Joseph who rocked their Every Child Matters orange swag to school, summed up the day's youth-led development perfectly. "It means a lot because not only are our kids honoring their ancestors by going to school to get an education, but they also are educating and bringing awareness to others about the true history of our people and the true history of European people. It makes me proud to know those truths are no longer being swept under the rug."