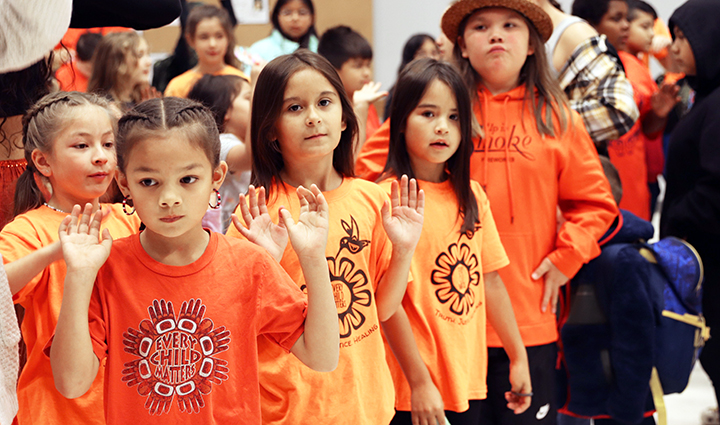 By Kalvin Valdillez, Tulalip News
The color orange was the prominent hue on the morning of September 30th at Quil Ceda Tulalip Elementary (QCT). The color was visible everywhere you looked around the school's gym during their morning assembly, as students and teachers alike proudly showcased their orange t-shirts, hoodies, and traditional regalia. The majority of the orange clothing displayed Salish formline designs accompanied with the message, 'Every Child Matters', the official slogan of Residential Boarding School Awareness Day, also known as National Day for Truth and Reconciliation.
"How many of you are learning a little bit about orange shirt day?" asked Tulalip Youth Advocate, Deyamonta Diaz once the kids were situated, and he had their full attention. Dozens of hands raised in the air in reply to his question. "Wow! Okay, that's a lot of you," he replied with a grin of astonishment.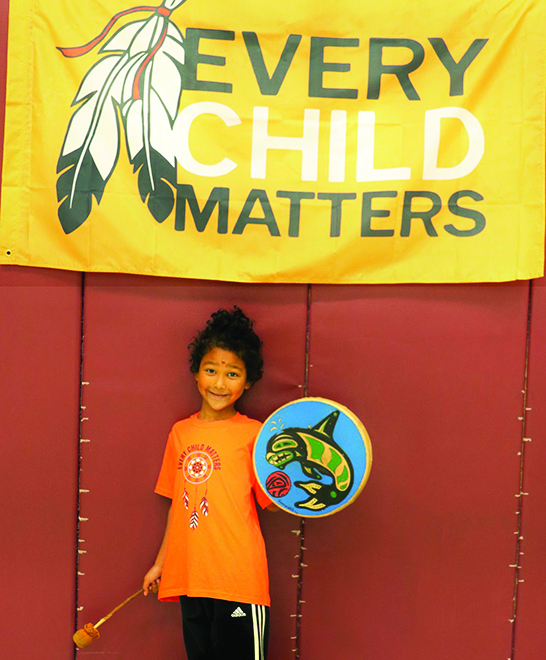 He continued, "The intent of orange shirt day, for us as Tulalip people, is to give remembrance and honor to boarding school survivors and also the children who were lost in the boarding schools throughout history. We have the Tulalip boarding school historical site, that is now the Tulalip dining hall. Today, we give remembrance to our ancestors, the people who went through the boarding school. That's why today we wear our orange shirts, to give truth and to shine a light on those things that have happened in history. I'm happy that you are all learning about boarding schools, and specifically what happened here at Tulalip."
In 2021, the Marysville School District released a proclamation officially declaring September 30th as Orange Shirt Day, bringing attention to the lives lost and trauma gained from the early 1900's Indian boarding schools. Children between the ages 5 and 18 were forcibly removed from their families and traditions to attend these horrific boarding schools during the assimilation era.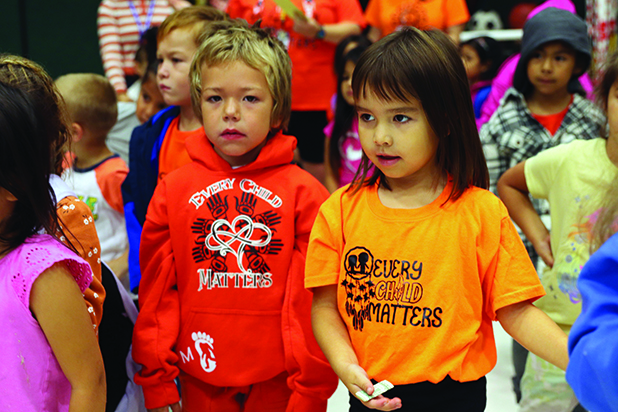 After last year's proclamation, schools across the entire district participated in the awareness day by teaching their students about residential boarding schools and encouraging everybody to wear orange. Located on the Tulalip Reservation, QCT is mindful about the traditions of the sduhubš people and incorporated the culture into both the curriculum and everyday activities, such as the morning assembly. Students at QCT acquire first-hand knowledge about the tribe's lifeways through collaboration with Tulalip's membership, and they learn phrases and words from the Lushootseed language as well as several Tulalip songs, dances, and stories each year.
"It's an honor to serve the Tulalip people every day," said QCT Assistant Principal, Yolanda Gallegos. "One thing we [QCT principals] think about as a leader is how do we create spaces to make sure we're not making decisions about Tulalip people and the education of Tulalip people, and how can we do it right, as a family and staff at QCT, to listen, support, and serve our community. That's one way of reconciliation, instead of just saying sorry – it's what are the actions and what are we doing to make sure we're creating spaces to get out of the way and repair the harm that has happened to our people through boarding schools. This is a part of that, and a good example of our healing."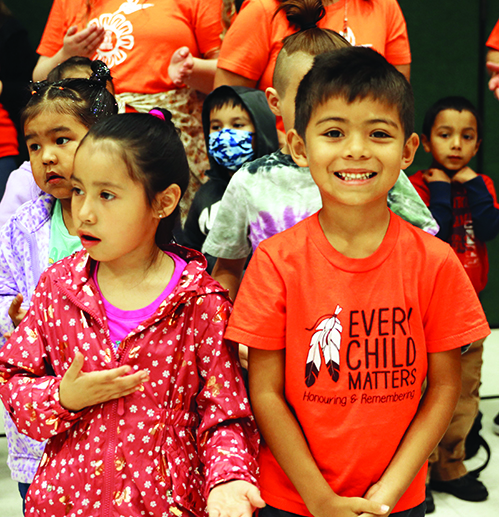 The children were asked to remain seated and quiet while the Tulalip Youth Advocates, a select few QCT student drummers, and Heritage High School student drummers, offered a song in remembrance and recognition of all the kids who experienced the trauma of the Indian boarding school era, and those children who never made it home.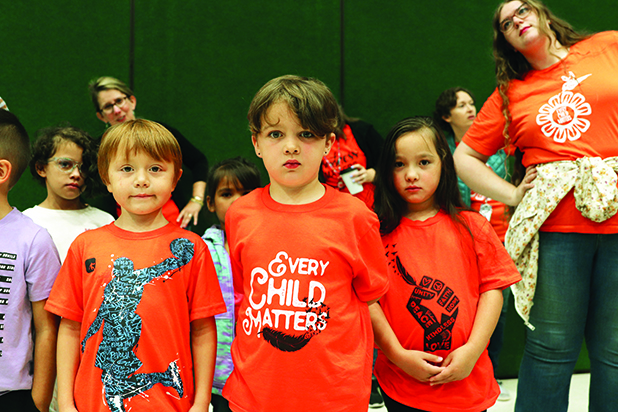 Though a large portion of the song is in the Lummi ancestorial language, a few of the lyrics are sung in English during the bridge of the song:
When they came, they took you from us. No remorse. Stripped away, never see you again.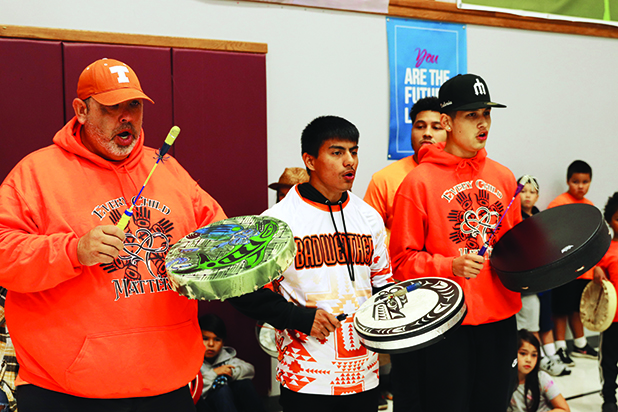 Tulalip Youth Advocate and cultural bearer, Tony Hatch, shared the origin and meaning behind the song, "That song was composed by our relative Antone George, from Lummi and the West Shore Canoe Family, to recognize Orange Shirt Day and the survivors of the boarding schools, and also the ones who passed away when attending those schools. It's important to remember all of those children and all those things that happened. A lot of people like to think that's ancient history, but it's not that far back. We have a teacher at Heritage and her mother was in one of those boarding schools. That's one generation for her. We always want to remember those things, especially since we had a boarding school right here in Tulalip. Look at all the spirit we have in this room, it's a lot of orange shirts. Today is a very important day for us, and we thank you for wearing your orange shirts."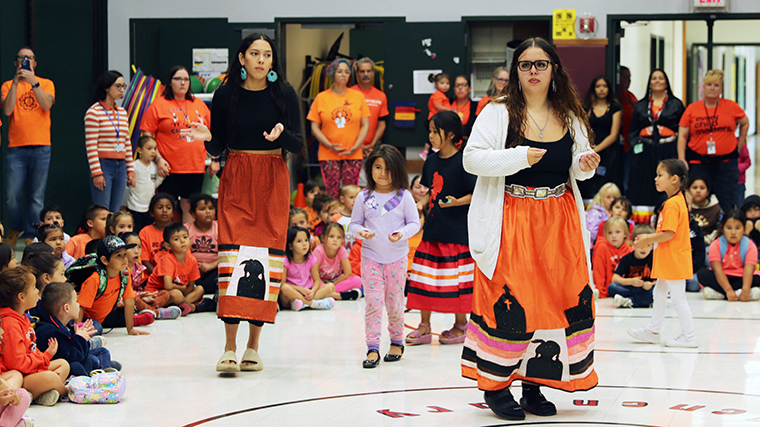 The special tribute came to end with the Happy Song, and the kids were invited to the floor to dance and sing along to the song that is well-known throughout all the coastal territories.