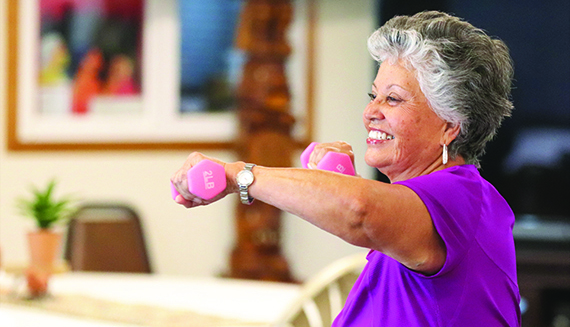 By Micheal Rios, Tulalip News
Tulalip elders Pauline Williams and Marvin Jones are regulars at the senior fitness class that takes place Wednesday mornings at 9:30 a.m. at the conveniently located Senior Center. While their commitment to a healthier heart, stronger bones, and improved flexibility should serve as positive role models to their peers, they are instead left wondering why more Tulalip seniors aren't participating in the program.
"I'd love to see more of my beautiful Tulalip seniors attend this wonderful class," said 78-year-old Pauline. "Movement and balance are very important for us at this stage in life. As we age, we lose the ability to do some of our favorite activities, but we can still evolve and adapt to keep our mind and body functional for other activities. For example, because of arthritis I can no longer play tennis, but I've adapted to the change and implemented other forms of cardio, like morning walks and dancing, into my life. These gentle workouts on Wednesday mornings are another example of adapting as we age. They are well coached and appropriately suited for us seniors."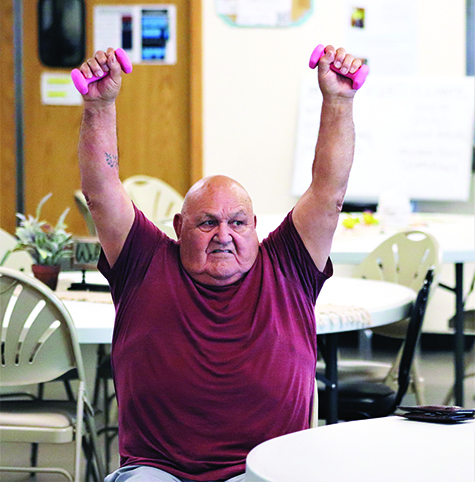 "Why do I choose to work out? Simple, to live longer," chuckled fellow 78-year-old Marvin. "For me, these morning workouts are all about getting my joints moving and feeling better from the natural energy boosts. We have a lot of people talk about wanting to exercise, but then don't show up when the classes are offered. It could be a lack of interest or maybe they are concerned about looking foolish. I'd tell all our seniors to come check out the class at least once to form your own opinions. We can all look foolish together."
If you're a senior reading this, then you've probably heard it time and again: physical activity and exercise are good for you, and you should commit them as part of your routine. There are countless studies that prove the important health benefits associated with exercise, and it becomes more important as we age.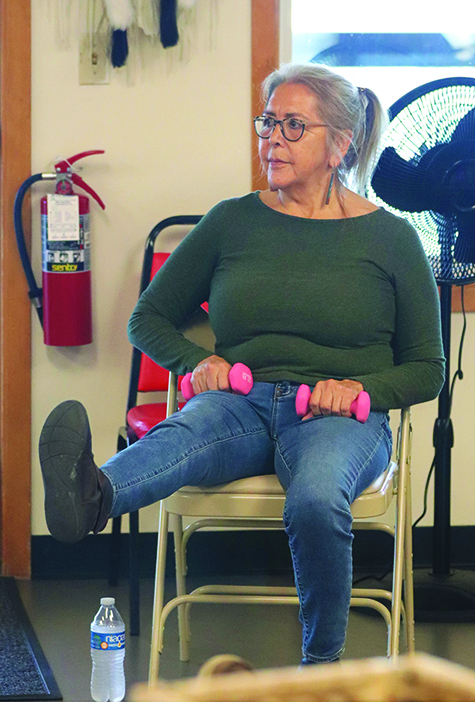 Regular physical activity and exercise for seniors helps improve mental and physical health, both of which will help you maintain your independence as you age. According to The Green Fields Continuing Care Community there are five huge benefits of exercise for seniors and aging adults:
Prevent Disease. Studies have shown that maintaining regular physical activity can help prevent many common diseases, such as heart disease and diabetes. Exercise improves overall immune function, which is important for seniors as their immune systems are often compromised. Even light exercise, such as walking, can be a powerful tool for preventable disease management.
Improved Mental Health. The mental health benefits of exercise are nearly endless. Exercise produces endorphins (the "feel good" hormone), which act as a stress reliever and leaves you feeling happy and satisfied. In addition, exercise has been linked to improving sleep, which is especially important for older adults who often suffer from insomnia and disrupted sleep patterns.  
Decreased Risks of Falls. Older adults are at a higher risk of falls, which can prove to be potentially disastrous for maintaining independence. Exercise improves strength and flexibility, which also help improve balance and coordination, reducing the risk of falls. Seniors take much longer to recover from falls, so anything that helps avoid them in the first place is critical.
 Social Engagement. Whether you join a walking group, go to group fitness classes or visit a gardening club, exercise can be made into a fun social event. Maintaining strong social ties is important for aging adults to feel a sense of purpose and avoid feelings of loneliness or depression. Above all, the key is to find a form of exercise you love, and it will never feel like a chore again.
Improved Cognitive Function. Regular physical activity and fine-tuned motor skills benefit cognitive function. Countless studies suggest a lower risk of dementia for physically active individuals, regardless of when you begin a routine.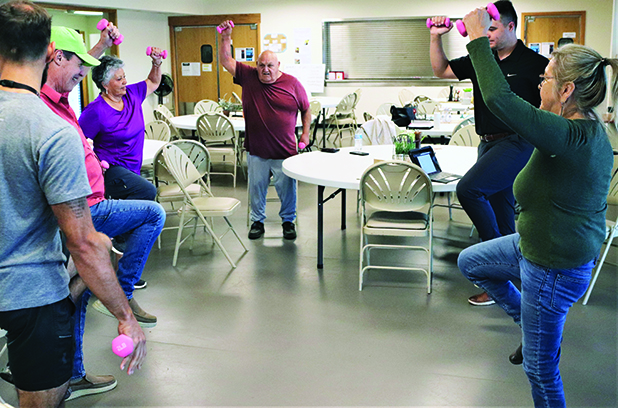 It is never too late for seniors to start engaging in a regular exercise routine. The key is to find something you enjoy doing and start at a level that is easy to maintain, which is what the senior fitness class strives to do. Led by two enthusiastic health coaches who work with Tulalip seniors routinely via the Health Clinic, Jared and David are eager to see more participation at their weekly offering.
"We try and make it these gentle workouts as adaptive as possible, so that anyone, even those with mobility issues, can participate, have some fun and get a possible health outcome from the class," said physical therapist, Dr. David Morris. "Hopefully, we start to accumulate more people joining and being a part of this health movement. No signups or reservations needed. Just come on down. Wednesdays at 9:30 a.m. at the Senior Center. Bring your brother and sisters, cousins, and significant others with you."
For those seeking more information or have questions about the senior fitness Wednesdays, please call Dr. Morris at 360-716-4511.