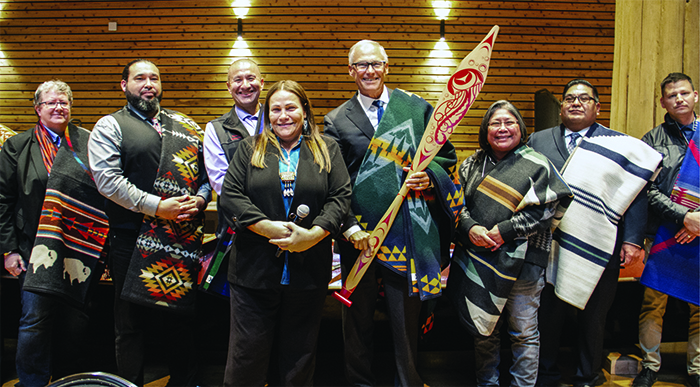 By Shaelyn Smead, Tulalip News
On October 24-25, Tulalip Tribes hosted the 33rd annual Centennial Accord at the Tulalip Resort Casino and the Tulalip Gathering Hall. Washington Tribal leaders, State legislators, Governor Jay Inslee, and numerous government agencies were in attendance to discuss policies and issues regarding tribal sovereignty, humanitarian efforts, and other tribal concerns.
The Centennial Accord was developed in 1989 by the federally recognized Indian tribes of Washington State and the State of Washington to build trust and confidence among the parties in the government-to-government relationship. Meetings like the Accord help strengthen the foundation for the future of tribes in Washington and how our people operate. Having a Native voice to discuss, change, and implement state policies significantly affects how Washington handles Native issues in the future.
Chairwoman Teri Gobin began the meeting by saying, "Thank everyone for all your efforts and being here today. My dad Stan Jones was a part of history and participated when the first Centennial Accord was passed. I remember praying that we would reach a point where our people would be treated as equals, our rights would be respected, and our sovereignty would be protected. Years of hard work have gone into this, and we are at a pivotal point in history where so many issues require us to take action now. Our ancestors are here with us and watching over us as we make these changes."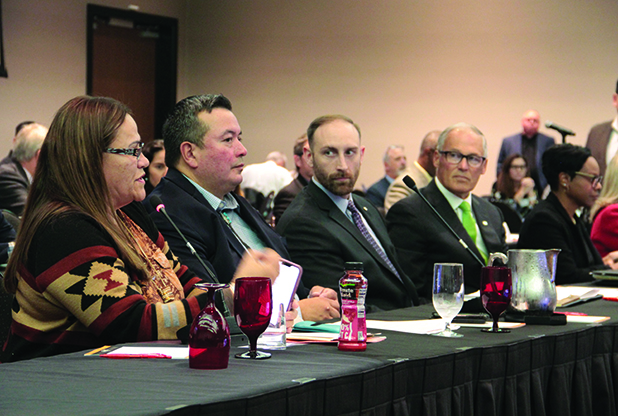 Throughout the day, the parties discussed specific issues involving education, health, the Climate Commitment Act, the HEAL Act, environmental justice, Social Services, and Natural Resources. The first day of the Accord is used to finalize details and answer concerns before presenting these agendas to the state Governor on the second day.
This year's Centennial Accord was the first gathering that Higher Education acquired its own roundtable discussion. One of the many topics discussed was the lack of Native employee and counselor representation within colleges, funding towards Native students, and hardships that first-generation Native college students face. And though many of the public colleges are willing and able to work with tribes, establishing the foundation of these efforts is what many tribal leaders are trying to develop.
Representative Debra Lekanoff, D-Bow, was in attendance for the Accord and spoke about the actions that she is taking for Higher Education, "I'm proposing a Bill this year that provides free tuition, housing, and a stipend for food. This will apply to Native Americans of all federally recognized tribes across the nation attending (public) universities and colleges in Washington. If you are a Native from a federally recognized tribe from Montana and enroll in a university or college in Washington, then you can receive funding."
During the Social Services meeting conversation focused on the Indian Child Welfare Act (ICWA) and the possibility of it being overturned by the Supreme Court on November 9. Ross Hunter, Secretary of the Department of Children, Youth, and Families, and Honorable Loni Greninger, Vice-Chair of the Jamestown S'Klallam Tribe, assured that they are working to prepare an argument for November 9 to preserve ICWA, and have been diligently working with other states in the US to do the same.
When speaking about the health struggles that Native people face, a State of Emergency was discussed, as Native Americans accounted for 63% of the suicide attempts in Washington in  2020. It was also noted that in 2001 the Native American mortality rate increased by 58%. To help mitigate this issue, the Substance Abuse and Mental Health Services Administration (SAMHSA) set up a 24/7 emergency hotline dedicated to mental health crises called the 988 Suicide and Crisis Lifeline. When a Native is suffering a mental health crisis, they can dial 988, explain that they are Native, and be transferred to a Native mental health and substance use disorder professional in their territory and seek specific cultural and spiritual guidance. It is a new program that SAMHSA hopes to have operational soon.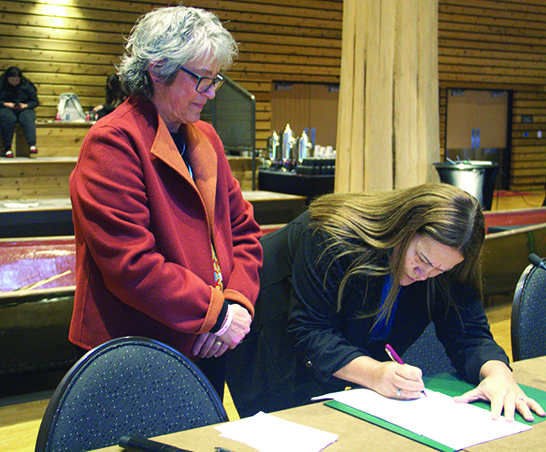 The opioid crisis was also heavily discussed at the Accord. Lummi Chairman William Jones Sr was transparent about their declaration of emergency, their struggles, and concerns about fentanyl, saying, "We keep talking about how it's a crisis, and how devastating it is for our people, but why isn't the government attacking this issue like they did Covid? I'm sure everyone in this room can say they have been affected by fentanyl. We're becoming almost numb to hearing about overdoses, but we must figure out a solution and need real help from the state."
Many other tribes shared their problems with fentanyl and how the lack of law enforcement and healthcare on reservations only continues to play into the crisis. The Chair of the American Indian Health Commission, Steve Kutz, responded by saying there is a need for a summit dedicated towards fentanyl, to which Governor Inslee agreed.
Another concern for many tribes is the Salmon crisis. Some tribes explained a severe decline in the salmon population in their area and an urge for government involvement and funding towards rehabilitation.
Senior Policy Advisor for Natural Resources for Washington, Ruth Musgrave, responded, "Although the Lorraine Loomis Act was not successful, this process is still ongoing, the two provisos were put into place. One was finding all the voluntary and regulatory programs agencies have for riparian restoration and protection. The other was to interview many of you [tribal leaders] and stakeholders about what would work for riparian restoration."
She continued to speak on the 3.2 billion dollars that have been used towards salmon recovery, the Lower Snake River Dam initiative, erecting fish passage barriers, seeking tribal consultation, and the various ways departments continue to work together to try and institute change.
A historical moment occurred at the Accord as the Tulalip Tribes and the Department of Corrections held an additional signing ceremony for Senate Bill 5694, which Governor Inslee initially signed in March. The Bill recognizes tribes' sovereign nations, equitable with any other state, state agency, county, or federal jurisdiction in decisions regarding the Department of Corrections. It also authorizes the Washington State Department of Corrections to negotiate agreements with Washington tribes to allow tribal court inmates to serve their felony sentences in an appropriate facility with access to Native rehabilitative services.
Throughout American history, our ancestors have struggled to protect our culture and way of life. With so many adversaries, the Accord continues to hold a place where tribal leaders get direct face time with Washington legislation, the state Governor, and government department leads. And though discussions can sometimes get heated, Governor Inslee stated, "Native Americans have a voice, and it is powerful."
The state and tribes continue to work together, hold meaningful dialogue, and fight for our peoples' voices and generations to come.