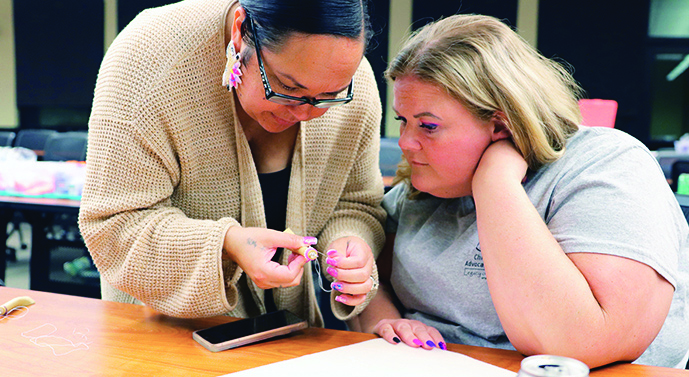 By Kalvin Valdillez, Tulalip News
"As women, there are a lot of things that we go through in our lives, and the one thing I always had was beading," said Tulalip artist, Winona Shopbell-Fryberg. "It is healing. You space everything out and you're focused on the work. To bead and to continue to do these things, you have to have good feelings and a clear mind. If not, you have to lay it down. When you're expressing all of that, your emotions come out. There's a lot of thinking and patience that goes into it and I think that's a part of the healing process."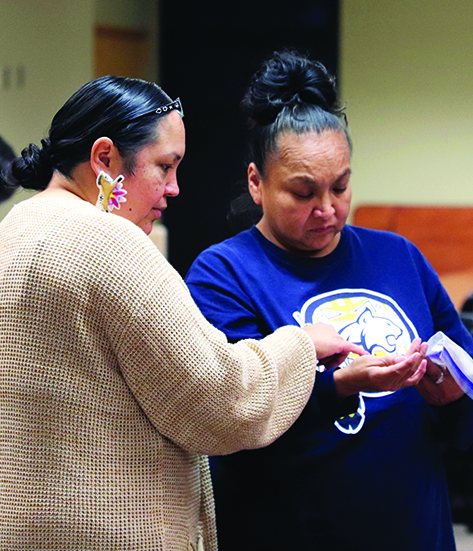 Fifteen local women showed up in support of domestic violence (DV) survivors during the Legacy of Healing's (LOH) final event for the month on the evening of October 25. LOH hosted several events in recognition of National DV Awareness Month and each event had great turnouts, averaging twenty participants for each gathering. 
DV Awareness Month closed with the Beading as Healing Class. What made this class special was that it was instructed by a Tulalip tribal member whose beautiful beadwork and regalia are well-known not only amongst the sduhubš territory, but also on the powwow trail which her family regularly participates in.
Winona explained, "I've been beading since I was 16 – self-taught. One day I was like 'Dad, take me to the bead store. I want to learn how to bead'. I just kind of figured it out from there. I've had some tips along the way, but it's been 30 years of beading for me. It's therapeutic; just to get to know your creative self is amazing. My husband and I made most of our kids' beadwork. When we go to powwows and see it out there, it's like 'wow, I really did that'. It's just beautiful to see your thoughts and vision come to life through that work. I've been beading leggings, moccasins, everything for powwows, earrings, whatever. For me it helps a lot in healing."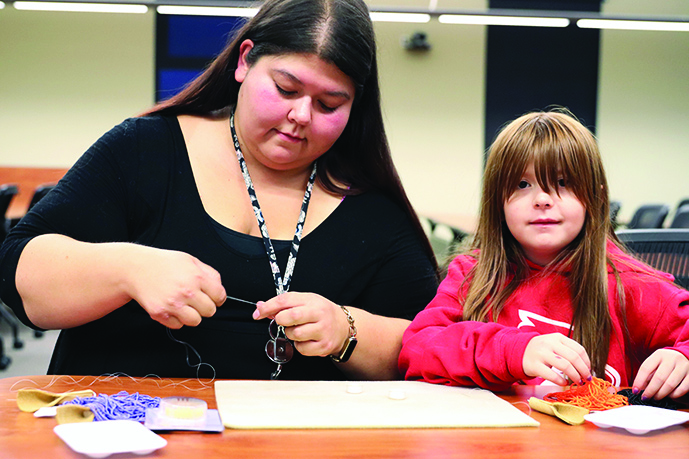 At the center of room 162 were numerous containers filled with beads varying in size and color. Once the ladies selected their beads and received their needle and thread, Winona taught the class how to create beaded keychains.
The two-and-a-half-hour class was relatively quiet as the students took the opportunity to go inward and spend some time with their thoughts while they worked on their keychains. That was ultimately the LOH's goal behind the class, but there was plenty of laughter and a number of stories shared throughout the class as well.
"I started a beaded keychain today, I've always wanted to make one of these" expressed tribal member, Veronica Iukes. "I haven't beaded in a long time, so it was cool to get back out. You get in the zone and start thinking. Doing it bead by bead makes it more meaningful. Each bead to me represents something that I was thinking about. If you're having a stressful day, beading helps smooth things out."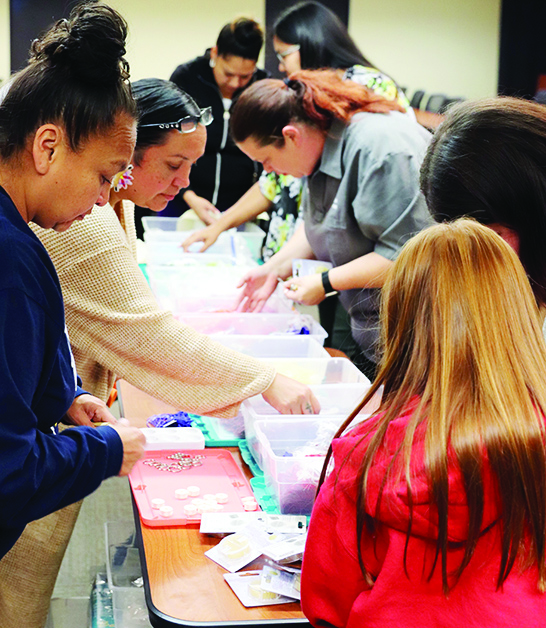 The ladies put a good-sized dent in their personal beading projects and before they knew it, it was time to pack up their beads for the night. Winona encouraged them to complete their keychains at home where they can continue healing through a traditional Indigenous artform. Before heading out, many of the participants stopped and chatted with the LOH team, thanking them for creating a safe space where they could learn about DV and gather resources throughout the awareness month.
"Making the keychain today was really calming and peaceful," said Kelly Waibel, Victims Services Coordinator for the Tulalip Police Department. "The beading helped me feel more centered and grounded. These events provided the people a space to learn during DV Awareness Month. LOH does amazing work, they are here for the victims and survivors of DV, and they support our community. It's nice that they are able to bring the community together, so the people know they are not alone."
If you or anybody you know is experiencing an abusive relationship, please do not hesitate to call the LOH at (360) 716-4100 for assistance. And if you are in a crisis or an emergency situation, the LOH provided a list of three additional hotline numbers that you can utilize during your time of need:
The National Domestic Violence Hotline 1-800-799-SAFE (7233)
Strong Hearts Native Helpline: 1-844-762-8483
Domestic Violence Services of Snohomish County 425-25-ABUSE (22873)