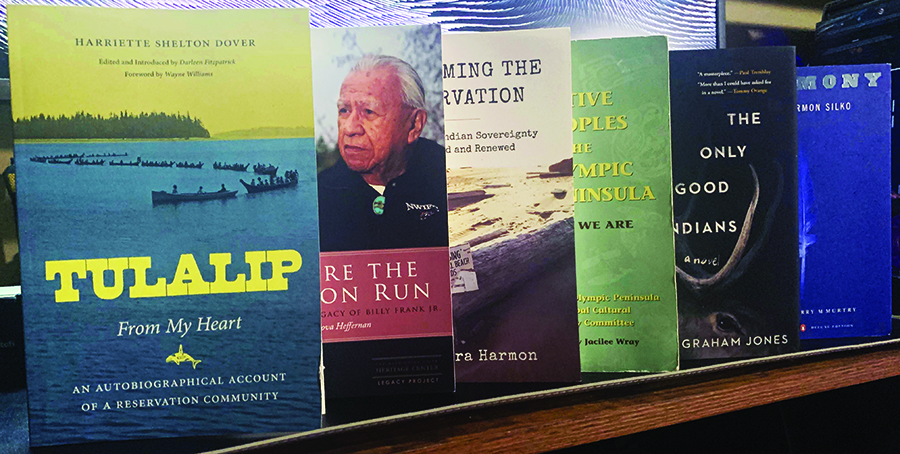 By Kalvin Valdillez, Tulalip News
We've reached another November. As the temperature drops and the leaves continue to fall, now is the perfect time to grab your favorite hot beverage, whether that's hot cocoa, peppermint or pumpkin spice lattes, herbal tea, or hot cider, and curl up with a good book.
Now a national celebration, Native American Heritage Month happens to land every November. While most of the country is focused on shopping for the upcoming Christmas season, many are taking the time and space to honor, celebrate, and learn about the true history of the many tribes, bands and families who are Indigenous to North America.
Below, we've compiled a book list for you to check out during Native American Heritage month. Although there are numerous Native storytellers who have had their works published over the years, we wanted to highlight a few books that have local ties, as well as a couple authors who are well-known in the community of Native writers. And if you are out and about shopping for the perfect gifts, a few of these recommendations are available through audiobook platforms such as Audible, and often times feature a Native narrator. And while you're at it, pick up one of these great reads for the reader in your family.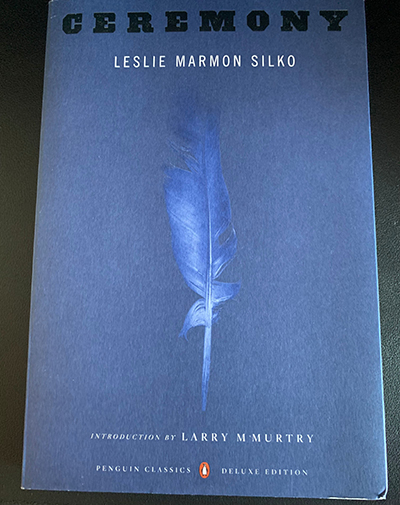 Ceremony by Leslie Marmon Silko
We are starting off with a classic. Ceremony was first published in 1977 and has served as inspiration for Native Novelists ever since. Sherman Alexie stated that Ceremony is the greatest novel in Native American literature, making Leslie Marmon Silko your favorite Native author's favorite Native author. We also chose this novel because of the main character's experience in the U.S. military, and as you may know, Tulalip is home to countless proud and brave veterans who also defended this country's freedom and returned home to the reservation with PTSD.
Set in the Insular world of the Laguna Pablo Reservation but resonating far beyond, Leslie Marmon Silko's novel tells the story of Tayo, and army veteran of mixed ancestry who returns to the reservation, scarred by his experience as a prisoner of the Japanese. Only by immersing himself in the Indian past and its traditions can he begin to regain the peace that was taken from him. Masterfully written, filled with the somber majesty of Pueblo myth, Ceremony is a work of enduring power.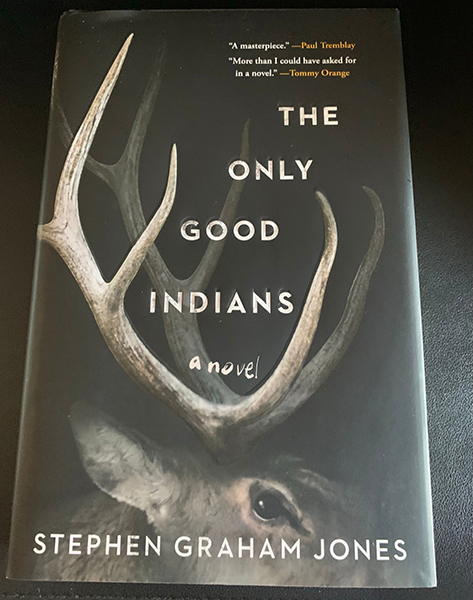 The Only Good Indians by Stephen Graham Jones
Stephen Graham Jones, a.k.a. the Indigenous Stephen King, has been on the Native writing scene since the early 2000's. With over 20 books published, he has shared a number of twisted, haunted, and thrilling stories while weaving traditional tales, cultural concepts, Indigenous issues, and reservation life into each chapter. Once you read a Stephen Graham Jones novel, you are automatically going to want to check out his other works. And might we suggest the shapeshifting novel Mongrels, the fancy dance horror fiction Mapping the Interior, or two modern slashers with Native leads The Night of the Mannequins and My Heart is a Chainsaw.
Seamlessly blending classic horror and a dramatic narrative with sharp social commentary, The Only Good Indians follows four American Indian men after a disturbing event from their youth puts them in a desperate struggle for their lives. Tracked by an entity bent on retribution, these childhood friends are helpless as the culture and traditions they left behind catch up to them in a violent, vengeful way.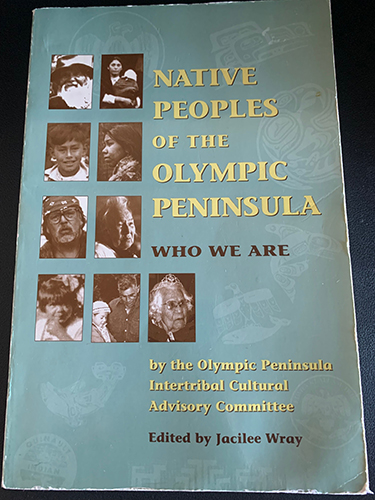 Native Peoples of the Olympic Peninsula: Who We Are by the Olympic Peninsula Intertribal Cultural Advisory Committee
With a page count of 162, this short read can be enjoyed during a quiet afternoon or over the course of a weekend. However, Native Peoples of the Olympic Peninsula: Who We Are will most likely be found in the hands of college students as this particular book serves as the focus of study for many Intro to Native Studies courses, especially in the Pacific Northwest. Locally, this text is often utilized in classrooms at the University of Washington, Shoreline Community College, Everett Community College, Northwest Indian College, and the Evergreen State College. This read gives insight to the Tribes whose homelands are located on the coastline of the Olympic Peninsula and focuses on their traditions, stories, and way of life. Plus, the book is filled with remarkable illustrations, maps, and photography. (And on page 112, you'll find a shot of yours truly, as cute as can be at the age of four, before my claim to fame with Tulalip News.)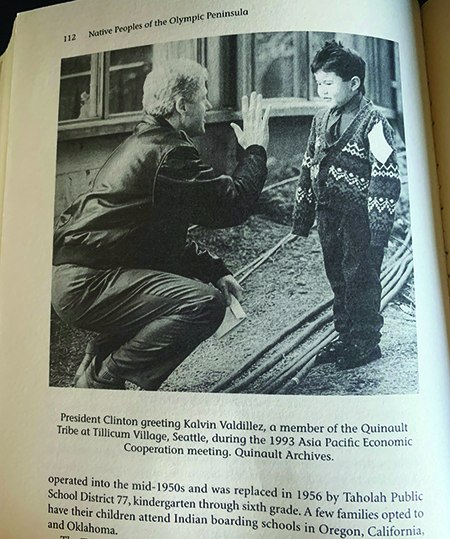 The Native tribes of Washington State's Olympic Peninsula share complex histories of trade, religion, warfare, and kinship. Yet few books have depicted the Indigenous People of this region from a Native perspective. Native Peoples of the Olympic Peninsula: Who We Are introduces readers to nine tribes: the Elwha Klallam, Jamestown S'Klallam, Port Gamble S'Klallam, Skokomish, Squaxin Island, Quinault, Hoh, Quileute, and Makah. Written by members of the Olympic Peninsula Intertribal Cultural Advisory Committee, edited by anthropologist Jacilee Wray, and enhanced by photographs and maps, the book is divided into sections focusing on each of the tribes. Each section relates the tribe's history, its current cultural and political issues, and its tribal heritage programs. Each section also includes information about places to visit and offers suggestions for further reading.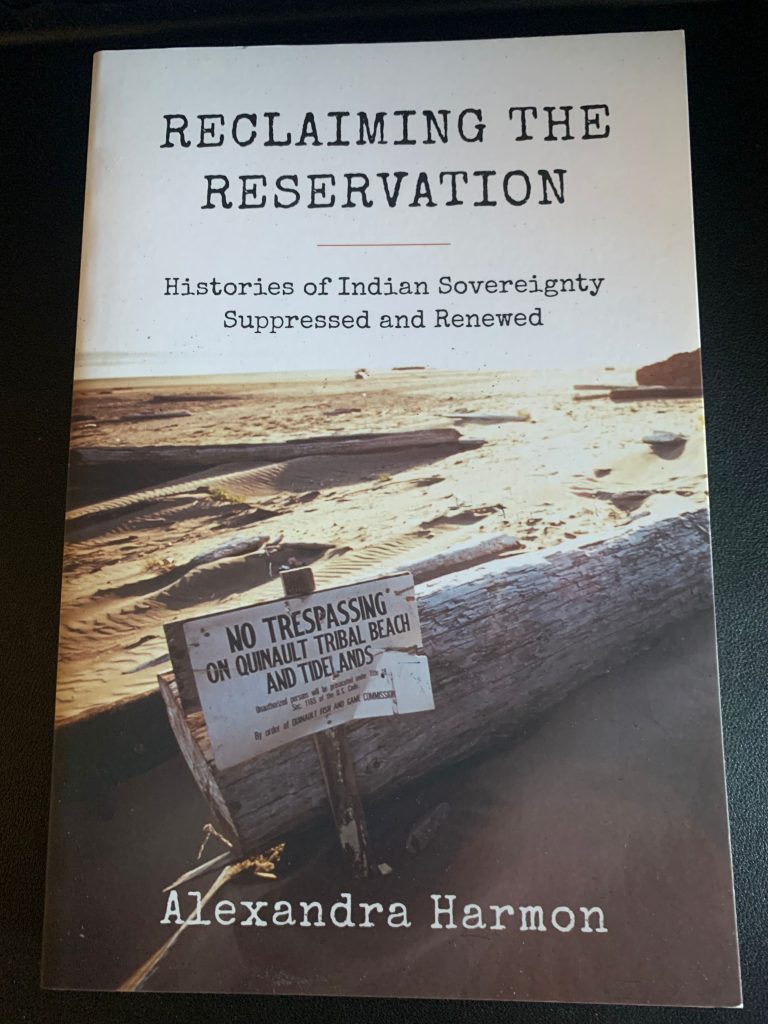 Reclaiming the Reservation: Histories of Indian Sovereignty Suppressed and Renewed by Alexandra Harmon
Reclaiming the Reservation is a deep dive into tribal sovereignty, specifically centered around the Quinault and Suquamish tribes in the 70's, and their jurisdiction, or lack thereof, over non-Natives on their reservations. The book opens up with Quinault's decision to bar non-tribal members from their scenic beach in 1969 due to pollution, stolen gill nets, and the defacing of seaside rock formations that are important to the tribe's heritage. To this day, non-tribal members are still prohibited from stepping foot on the Point Grenville beach that is more commonly known as 'the Indian beach', 'the big beach', or simply 'our beach' by Quinault members. Another large portion of the book focuses on Oliphant v. Suquamish where the Supreme Court ruled that tribal courts have no criminal jurisdiction over non-Indians in 1978. The book was written by Alexandra Harmon, emerita of American Indian Studies at the University of Washington and supported by a grant from the Tulalip Tribes Charitable Fund.
In the 1970's the Quinault and Suquamish, like dozens of Indigenous nations across the United States, asserted their sovereignty by applying their laws to everyone on their reservation. The Supreme Court's 1978 decision in Oliphant vs. Suquamish struck a blow to tribal efforts by ruling that non-Indians were not subject to tribal prosecution for criminal offenses. The court cited two centuries of US legal history as justification but relied solely on the interpretations of non-Indians. In Reclaiming the Reservation, Alexandra Harmon delves into Quinault, Suquamish, and pan-tribal histories and activism to illuminate the roots of Indians' claim of regulatory power. She considers the promises and perils of relying on the US legal system to address colonial dispossession and shows how tribes have sought new ways to assert their sovereignty since 1978.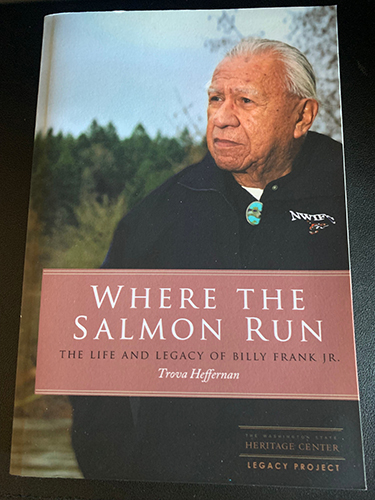 Where the Salmon Run: The Life and Legacy of Billy Frank Jr. by Trova Heffernan
Billy Frank Jr. Fish Wars. The Boldt Decision. Do we need to say more? This detailed account of the Native activist and Nisqually leader, Billy Frank Jr. is a must-read. The book is filled with quotes, interviews, photos and wisdom from the man who put his life on the line for Native fishing rights. He took part in fish-ins to demonstrate his right to fish in usual and accustomed areas, verbiage that is clearly stated in most Northwest tribal treaties. During these fish-ins people were arrested and beaten, and Billy was at the forefront of this movement that ultimately led to the Boldt decision. And of course, the book brilliantly depicts the leadership Billy displayed during the Fish Wars, as well as for his tribe following the Boldt decision, and for Indian Country as a whole.
Billy Frank Jr. was an early participant in the fight for tribal fishing rights during the 1960s. Roughed up, belittled, and arrested many times at Frank's Landing on the Nisqually River, he emerged as one of the most influential Northwest Indians in modern history. His efforts helped lead to the U.S. v. Washington in 1974. In which U.S. District Judge George H. Boldt affirmed Northwest tribal fishing rights and allocated half the harvestable catch to the tribe.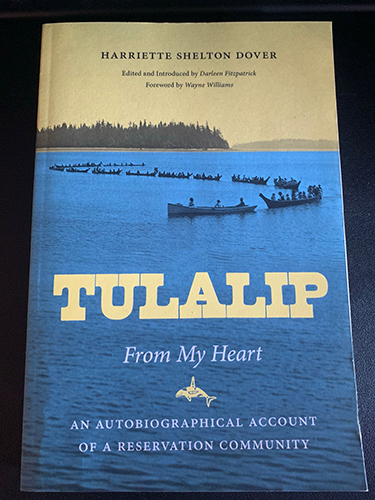 Tulalip, From My Heart: An Autobiographical Account of a Reservation Community by Harriette Shelton Dover
No bias here. We honestly think that this is the perfect read for Native American Heritage Month because it is informative about what many tribal nations went through following the signing of their treaties, but from a Tulalip perspective. This story includes a Lushootseed phonological key and introduces the traditional sduhubš language to any reader who picks the book up. Tulalip, From My Heart opens with the signing of the 1855 Treaty of Point Elliott and follows one of the most influential leaders, and the first Tulalip Chairwoman, through her life and trials while growing up Tulalip. For those who recently gained knowledge about forced assimilation, the boarding school era, and the Every Child Matters movement, this book recounts Harriette Shelton Dover's time spent at the Tulalip Boarding School and covers all the atrocities she and her fellow tribal members experienced in the name of Catholicism. The book also sheds light on the Tulalip way of life and the traditions of her people, while also highlighting the tribe's growth over the years. Along with the captivating, heartbreaking, and inspiring story, Tulalip, From My Heart includes photos from the Tulalip Boarding School as well as its daily schedule that the kids had to endure, and also photos of tribal members exercising their treaty rights and proudly engaging in cultural activities.
In Tulalip, From My Heart, Dover describes her life on the Tulalip reservation and recounts the myriad problems tribes faced after resettlement. Born in 1904, Dover grew up hearing the elders of her tribe tell of the hardships involved in moving from their villages to the reservation on Tulalip Bay: inadequate supplies of food and water, harsh economic conditions, and religious persecution outlawing potlatch houses and other ceremonial practices. The first Indian woman to serve on the Tulalip Board of Directors, Dover describes her experiences in her own personal, often fierce style, revealing her tribe's powerful ties and enduring loyalty to land now occupied by others. She died in 1991 at the age of eighty-six.
Thanks for reading our suggestions, and if you do happen to check out any of these great books, please feel free to share your review with us. We hope everyone is having a great and informative Native American Heritage Month!