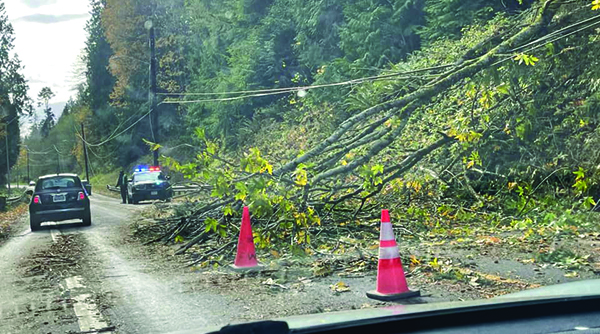 By Micheal Rios, Tulalip News
A fall tradition, literally, occurred yet again as towering trees across the reservation were blown over by a November 4th wind storm that brought consistent wind speeds around 50 miles per hour. The mighty wind huffed and puffed and blew countless trees down, with the most impactful ripping through power lines and blocking roadways along Marine View Drive and Fire Trail Road.
There was all the natural splendor of our now traditional Tulalip wind storm: Leaves swirling, branches flying through the air, recycling bins being blown down the road and, of course, a days-lasting power outage. Close to four days this time.
Similar scenes played out across Western Washington as fierce winds from the season's first major storm ripped through the region, cutting power to more than 300,000 customers from the Olympic Peninsula to the Cascade foothills, according to the Seattle Times.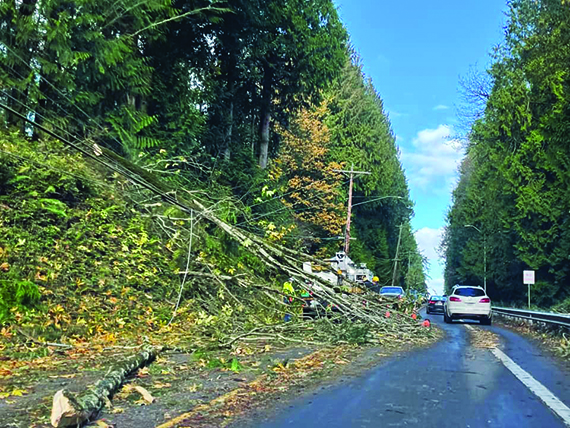 While Tulalip went dark, its dedicated emergency management team and essential staff from various government departments went to work. The Youth Center was turned into a warming center offering hot showers and warm shelter to charge mobile electronics, the Senior Center offered hearty dinners, and critical needs elders received generators to power their medical devices.
Teams from Tulalip and Snohomish County operations worked around the clock to clear roadways of downed trees and power lines, maintained generator operated facilities, and maintain a consistent communication structure with Tulalip citizens via government email and Facebook groups.
Power returned to most of the reservation late Monday, November 7th, while the remaining households left in the dark were able to turn on their lights and heaters the following Tuesday.
It's impossible to be prepared for every possible emergent situation or Western Washington storm, whether it be due to excessive winds, rain or snow. However, vigilant minds may take this early November black out as a learning experience to get prepared for the next one. Because, rest assured, there will be more black outs to come this winter.
As a reminder for all people living on the Tulalip Reservation, you can text "STORM" to (360) 745-1010 for weather, traffic, and closure updates.