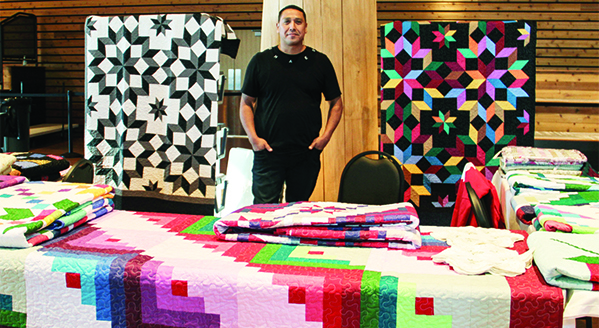 By Shaelyn Smead, Tulalip News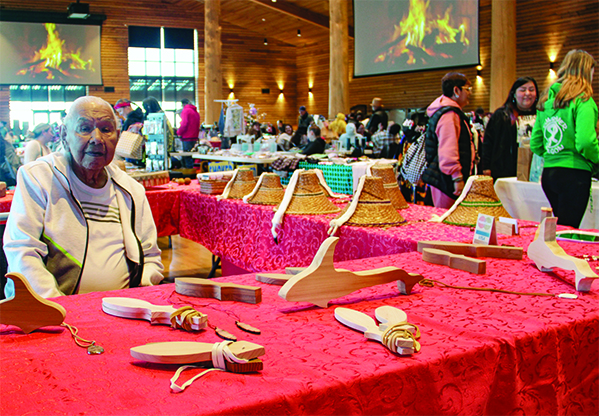 The holiday and gift-giving season officially kicked off with the annual Native Bazaar, held November 11-13. The Tulalip community showed up in droves as various tribal vendors sold their handmade crafts, baked goods, and art pieces.
This year's event was tied for the largest Bazaar Tulalip has had thus far, with over 50 vendors committed. The event also needed a new place to settle into as the vendor list expanded and their collections grew. Ultimately, event coordinator Tammy Taylor, moved the bazaar from the gym to the Gathering Hall.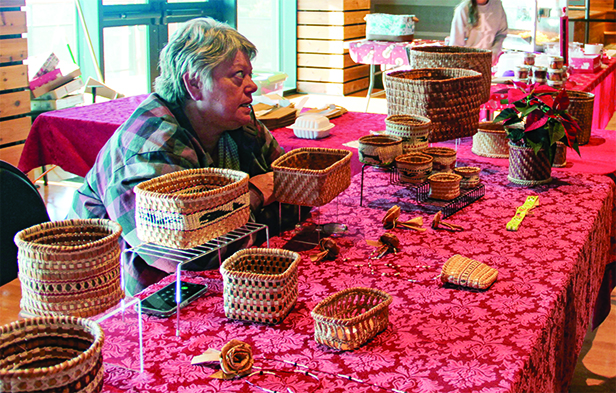 "This year was so successful. We had so many great vendors, and many of them sold out. Many of our membership, customers, and non-Natives were also in awe of how beautiful the Gathering Hall is. There really is no other building like this close to us, it is our sacred spiritual home, and it feels so good to have shared the bazaar there," Tammy said. 
A highlight of Native bazaars is that you find highly sought-after cultural pieces like drums, rattles, dreamcatchers, beaded jewelry, ribbon skirts, cedar hats, etc. Items like these are sacred to our culture and community that you can't find in a typical retail environment. Even though the event is open to all, it creates a safe place for Native artists to sell their handmade crafts and keep them within our community. 
Specialty goods like salves, lemongrass soaps, and local berry baked goods represent our community's desire to maintain our traditional ways while adapting to a modern world. Some vendors carried out this thinking style by turning dreamcatchers into crib mobiles, adding small cedar roses to store-bought home décor, transforming cedar dolls into Christmas tree toppers, or simply using acrylic and contemporary materials for their craft making.
Ultimately, curating these crafts, goods, and art stems from our traditional ways. As seen at many of the bazaar booths, these traditional art forms are usually multi-generational. They illustrate the ways of our people, passing down a skill and cultural practice from one generation to the next. Some of these pieces become less about the works themselves and more about the family teachings, cultural preservation, time spent together, and bonds built with our people. Elders and master artists hold a special place in our community because of their experience and expertise; learning from them, purchasing their work, and sharing this time with them helps build room for our culture in the future.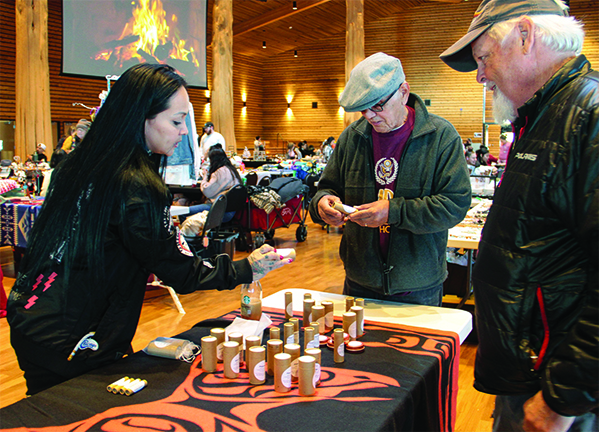 Tribal member and master weaver Lance Taylor has over 30 years of weaving experience. His work can be found all over the community at weaving workshops, but more importantly, within his home. Lance has shared this art form with his family to preserve weaving and as a part of his legacy.
"Weaving has been a part of my family for some time; my great-grandmother was a weaver and made baskets out of fern and cedar roots. I'm glad my family could pick it back up and pass it down to our grandchildren. That's what it's all about, passing it down to the next generation. There's a sense of pride looking at our community wear our work," Lance said.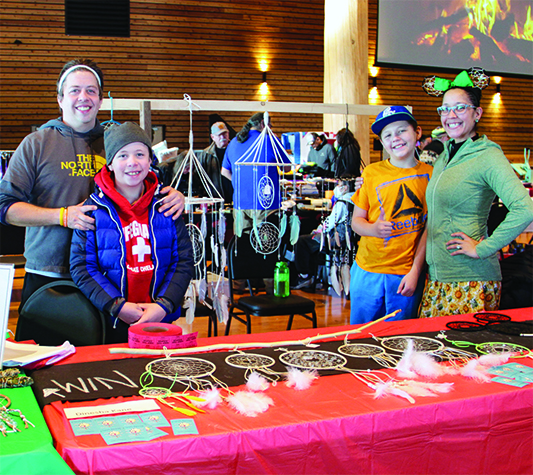 Tribal member Ronnie McClellan was seen selling handcrafted star quilts at the bazaar but gave full credit to his aunt and her friends. Like many other tribal artists, they consider their work a family business. Ronnie's aunt and friends spend their days making quilts, and Ronnie will sell them for them at bazaars and community events.
"My family used to buy her quilts as gifts for people. But I wanted to help more. It's such beautiful work, and there's a lot of medicine in them. You can feel all the prayer, love, and passion that my aunt and her friends have for their work through the blankets. In our culture, it's an honor to be blanketed and receive this medicine. It's humbling, and I feel honored to represent her lifelong work. I love seeing people's smiling faces when they buy a quilt, and I know they will cherish it."
If you missed November's Native Bazaar, don't fret, you can support these Native artists and more at the next Native Bazaar, December 9-11, at the Gathering Hall. The event will also expand for more tribal vendors to join, so if you have any questions, please call Tammy Taylor at 425-501-4141.