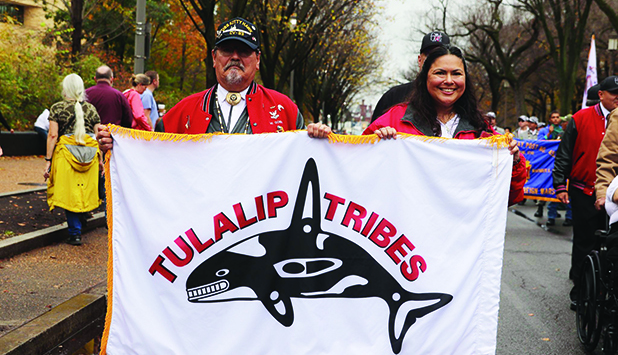 By Kalvin Valdillez, Tulalip News
"Even though it rained on our parade, it was awesome," exclaimed Tulalip Veteran, Dan Bradley (Marine Corps '72-'74). "As we were walking through the parade all the spectators were clapping, giving us the thumbs up, and saying thank you for your service. It felt good."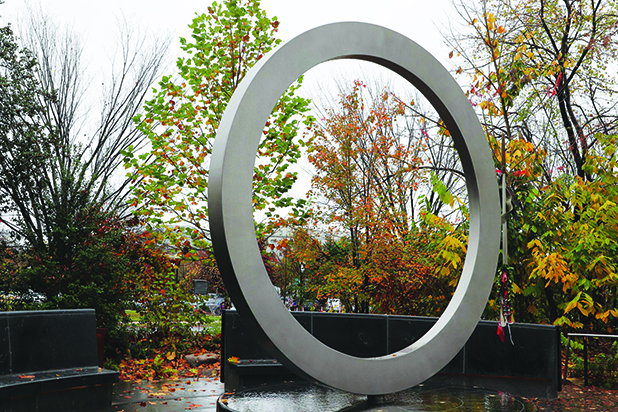 For the first time in the United States' history, Native American service men and women have a monument to call their own, which honors and pays tribute to thousands of veterans from tribes all across the nation. Located on the National Mall in Washington D.C., the circular monument stands in front of the Smithsonian National Museum of the American Indian and was designed by Harvey Pratt (Cheyenne and Arapaho Tribes of Oklahoma).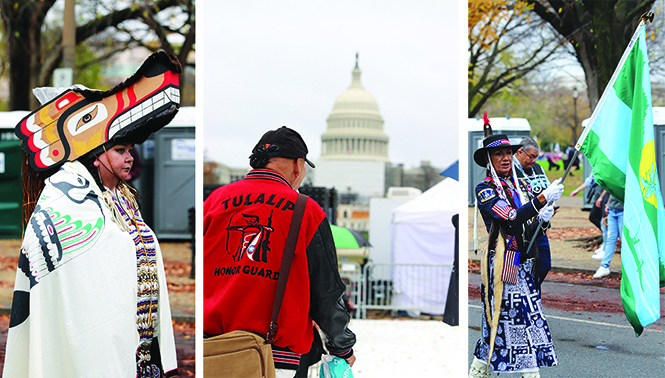 According to the Smithsonian website the memorial is, "an elevated stainless-steel circle balanced on an intricately carved stone drum, the design of the National Native American Veterans Memorial is simple and powerful, timeless and inclusive. The design incorporates water for ceremonies, benches for gathering and reflection, and four lances where veterans, family members, tribal leaders, and others can tie cloths for prayers and healing. The memorial creates an interactive yet intimate space for gathering, remembrance, reflection, and healing. It welcomes and honors Native American veterans and their families and educates the public about their extraordinary contributions."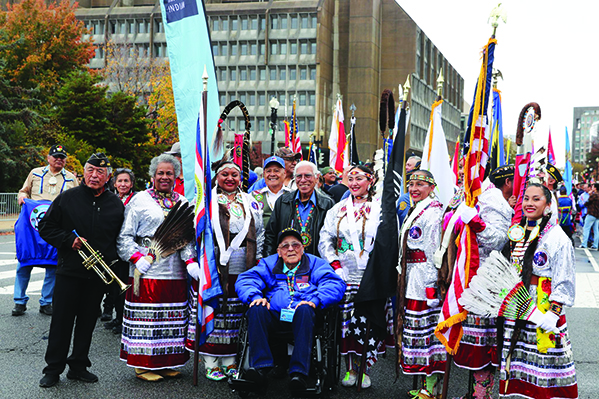 Construction on the memorial began prior to the pandemic and due to social gathering limitations, the Smithsonian was unable hold a celebration when the memorial was complete. Once limitations lifted, plans for a dedication were quickly set in place and invitations were sent to tribal veterans across the country.
The dedication of the National Native American Veterans Memorial took place this year on Veterans Day. Hundreds of brave and proud Indigenous veterans traveled to Washington D.C. to take part in a historic moment, not only for Native America, but for the entire country as well.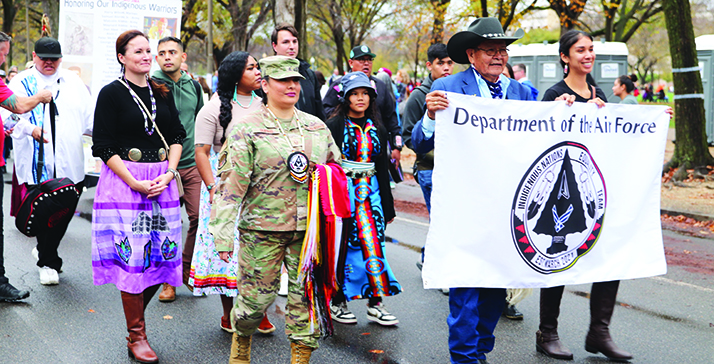 The memorial was commemorated with a procession through the streets of D.C. and many veterans wore their traditional regalia and sang and danced to their ceremonial songs. Sage filled the air while the vets proudly carried their tribes' respective flags, the U.S. flag, the POW flag, and a few eagle staffs were sighted too.
After nearly a mile march, through wet streets and humid and rainy conditions, the veterans arrived at a stage that held this nation's capital building in the background. A timelapse video of the erection of the monument played from start to finish, and various tribal leaders spoke about what the memorial means to those tribal members who bravely defended America's freedom.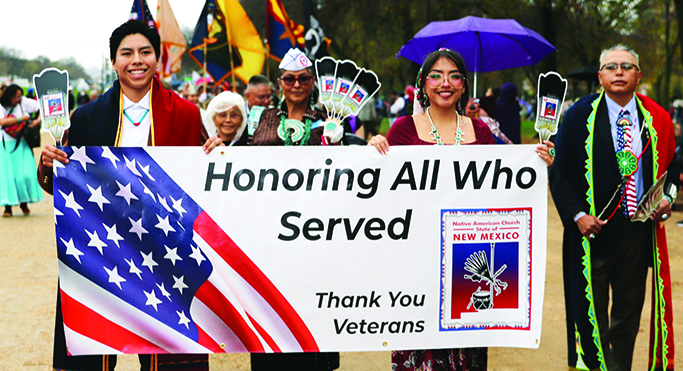 Veterans from the Vietnam War, the Korean War, Desert Storm, and the Global War on Terrorism were in attendance, including 28 Tulalip veterans. The highlight for many of these brave warriors was meeting Navajo Code Talker Thomas H. Begay, who marched alongside his fellow Native veterans during the procession. And among all the family members and supporters cheering on the veterans during the procession were Kansas Rep. Sharice Davids (Ho Chunk) and Actor and Film Producer Wes Studi (Cherokee), who many people were excited to meet and take selfies with.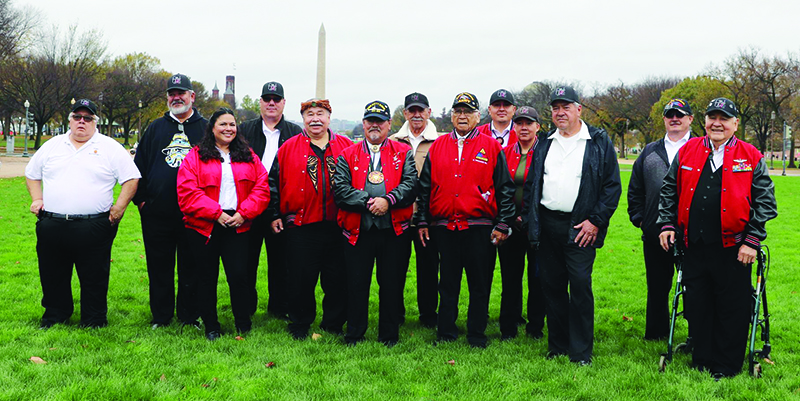 The Tulalip veterans, along with many other veterans from around the nation, enjoyed an extended stay in D.C. following the Veterans Day ceremony. The vets had the weekend to explore the busy and scenic District of Columbia; some spent their time visiting sites like the Vietnam Veterans Memorial Wall and the Arlington Cemetery to pay their respects to their fallen brothers and sisters in arms, while others visited the Capital, the Lincoln Memorial, the White House, and several of the historic museums, such as the four-story National Museum of the American Indian.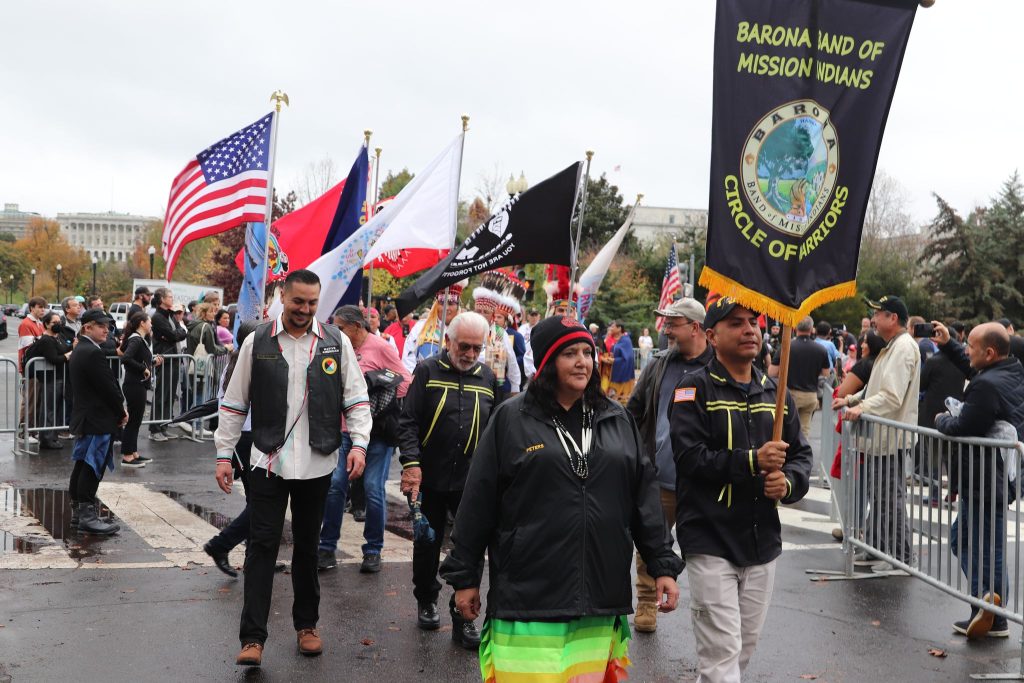 "The most important thing I hope our veterans take away from this are the memories," said Tulalip Veterans Coordinator, William McLean III (U.S. Marine Corps 03-07).  "It's not often the entire nation comes together to honor tribal veterans; this is probably a once in a lifetime opportunity. I'm hoping they take good memories and that they enjoyed themselves."
___________________________________________________________________________
Tulalip Vets visit Washington D.C.
Twenty-eight veterans traveled on a direct flight from Sea-Tac to the Ronald Reagan Washington National Airport to witness and participate in the dedication of the National Native American Veterans Memorial at the National Museum of the American Indian. After a moving ceremony which took place on Veterans Day, a handful of Tulalip Veterans took the time to reflect upon their visit to D.C. for the historic dedication.
Cara McCoy Tohannie, US Army
We flew from Tulalip and got here a couple days early so we could explore. My dad was actually stationed here, so we lived here for a while. We went to the Arlington Cemetery for a walking tour, we had the procession, and we went on a night tour of all the monuments. It was great to see all the Native American veterans from around the United States in the procession. I felt really proud to be here because it's a once in a lifetime opportunity, to be able to represent Tulalip. My dad, my grandpa, and my uncle were also in the military but couldn't be here.
It's great that they have a monument specifically for Native American veterans. I think having it on Veterans Day is significant because it's important to honor veterans, and of course November is Native American Heritage Month, so just to have everything come together, it felt pretty amazing.
Dan Bradley, US Marine Corps.
We came from Orange County near Disneyland. I really enjoyed it and it's about time, because look at all these years that have gone by, and they finally have done something for the Native American Veterans to recognize them. We haven't been recognized like this before, so I thought it was awesome that this happened. A lot of people came from different tribes. It took a while because of the pandemic, but here we are.
Cyrus Hatch III, US Marine Corps.
I've been looking forward to this for months! I want to thank the Tulalip Tribes, the Board, the Vet department. I was stationed here for years, twice, and it's great to be back. It's a walk down memory lane to see everything again. I haven't been here since '89. Good thing it was rainy because I was getting misty eyed. I'm really happy we have a memorial and something to reflect on us to be proud.
Hank Williams Sr., National Guard & US Army
It was wonderful. It's probably something that happens once in a lifetime. We get to see and meet friends, people from different states and tribes – all friendly people, and get to know each other – where were from, what we did, what service we were in.It was exciting to shake hands with everybody.
That parade we had, we got see a whole bunch of people, I haven't seen so many Indians in my life. I carried the flag which was an honor for me. I'm 92 years old and I can still get around and I was proud to do it and help show off my tribe and people. Not all the veterans came, some couldn't make it. A lot of our veterans are old age now, we are from Korea and Vietnam.
David Fryberg Jr., US Marine
It was a great experience. I never had such feelings and receive such blessings from seeing some of these Cherokee and Comanche warriors from other tribes that really went out and did what they did. We are asked to do a lot of things that other people wouldn't do.
I had a great time here in D.C., I was even able to sneak off and do an Okinawa reunion with my best friends in Philadelphia. The comradery you build in the service, its beyond brother and sister, it's something I can't even describe. Thanks Tulalip tribes for sending us here, for the procession and to commemorate the Native American war memorial. It's here. It exists. It's been a long time coming. It's an honor to join the service and do what I did, and know that someone is grateful and appreciative of it.
Richard Dean Ledford, US Air force
I'm so thankful to be a member of the Tulalip Tribes and I'm proud of that. This is my second visit here. There are so many things to see. The National Museum of the American Indian, you get to go on each floor and read about all the different stories of what took place over the years. We're all proud members who were trained to be warriors. This is important because I know we lost a lot of tribal veterans over the years, I'm happy we got to be here together and that we get to pass this on to the members of Tulalip.
To see the people supporting you, clapping, it was great. I was wondering if I was going to make it with my walker, but I did all the way around. It was great to see all the different tribes and veterans.
Raymond Fryberg, US Marine Corps
It was a really unique opportunity because I know for a fact, per capita wise, Native Americans volunteer more than any other ethnic group in the United States, and I was proud to be part of that. At Tulalip, one of the veterans in WWI Elson James, they wrote back to his mother that it was possible he was the first Native American causality.
In WWII and the Korean War, we had some really highly decorated veterans. One of my uncles had his leg shot off, he was a medic. And one of my dad's first cousins was a paratrooper who was shot and wounded in an air drop. And of course, the late Teat-mus (Raymond Moses) was very decorated in the Korean war, he had a silver star, bronze medal, and a lot of purple hearts. Because he was Indian, he knew a lot about terrains and being out in the environment, he was very effective, they looked to him a lot to help them out.
I took a picture with one of the code talkers. They influenced the war; that gave us an advantage in WWII. And a lot of the others who were here, a lot of people from Vietnam and the Korean War. I'm proud to be a part of that because I appreciate my freedoms in this country – freedom of speech and the right to vote. They laid it all on the line for it.
Morena Lopez, US Air Force
I'm coming from San Antonio, Texas. It's really awesome because I didn't grow up on the reservation, so I don't really know anybody here. Being able to meet everybody and connect and find out how we're related has been awesome. To be here on Veterans' Day at the Nation's Capital was phenomenal. I didn't know about the museum, so that was really cool too and I saw that our tribe was recognized in there and I felt like a fan girl.
When Bill asked if anyone wanted to hold (the flag) I stepped up immediately. That was such an honor. I wanted to hold our flag because I'm not that involved with the reservation, the tribe and our ways, that felt like a way to connect. In some ways it felt like a big powwow, I really enjoyed that comradery and listening to the singers, the drumbeats and the burning of the sage. And to have people on the side cheering us on, I thought was really neat as well.
This has been the greatest thing that happened to me since I retired. Thank you for the Tulalip Veterans group to invite me and keep me involved, I'm so grateful and blessed.
Rocky Renecker, US Army
It was surreal. I got to view veterans from all over, and they're all Indigenous so it meant a lot to my spirit and heart to see. We're still here. To see them all in their regalia and their uniforms and all the different colors, it was really surreal to be able to march with not only my fellow Tulalip veterans but my fellow Indigenous veterans from all over the country and be a part of this. It's going to mean a lot to me for the rest of my life.
It's nice to be here to represent Tulalip, our community, and the rest of the veterans at home. It's an honor to be able to stand for them and march and be present for the ceremony. The memorial, I like the simplicity of it, it's right to the point. Everything about us is full circle, so it hits home.
William McLean III, US Marine Corps. 
The tribe donated a few years ago when the project was first getting started. When we found out about it, I thought it would be good to send as many Tulalip veterans as possible to represent the tribe. The memorial has been up for a few years, but they had to shut down the in-person dedication ceremony. And when they decided to host one, I got everything situated and got as much funding as possible.
Getting 20-40 people situated on a cross country trip is a task, but once we got passed all the speed bumps and ironed out all the wrinkles and got everybody here, I think it went well. I really hope everyone enjoyed themselves. My only goal was to represent for Tulalip and in doing so have Tulalip veterans enjoy themselves.
The gathering was unique, it was powerful. There are not very many opportunities for so many tribal people to come together from all over the nation. It's really good to see that people care and are willing to take time, effort, funding. And just in general, that feeling of having people's admiration and respect for doing something a lot of people wouldn't do is good to see.