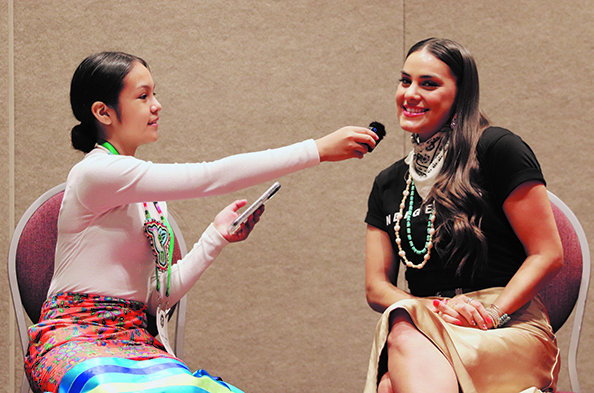 By Kalvin Valdillez; photos courtesy of Kalvin Valdillez, Chef Pyet and Faith Iukes
Meet Chef Pyet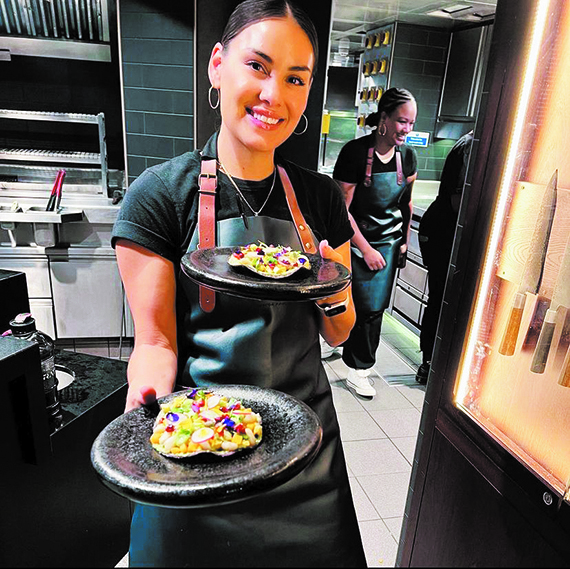 At the beginning of 2022, a new cooking show by Gordon Ramsay debuted on the Fox network called Next Level Chef. In this primetime show, fifteen chefs compete against each other and are placed on one of three tiers; the top kitchen is equipped with all the latest cooking gadgets, the second kitchen features standard equipment used in kitchens nationwide, and the bottom kitchen has limited and outdated equipment making the challenges all the more difficult.
At the end of the eleven-episode season, Chef Stephanie 'Pyet' DeSpain of the Prairie Band Potawatomi Nation Tribe was crowned the very first winner of Next Level Chef. Throughout the show she incorporated her Native American and Mexican heritage into each plate and simultaneously brought Indigenous teachings, knowledge, and history to homes all across America. In addition to a 250,000-dollar cash prize, Chef Pyet also won a one-year mentorship from each of the esteemed Next Level Chef judges – Nyesha Arrington, Richard Blais, and Gordon Ramsay himself.
Chef Pyet was also listed as one of the top ten best private chefs in Los Angeles in 2021. And from the exposure of Next Level Chef, she has elevated her brand. During the first week of October, she was the guest chef at Ramsay's very first restaurant in Chelsea, London, the Lucky Cat. Recently, she utilized her platform to help raise funds for the UNITY scholarship for Native Youth, and just this week she announced her first cookbook deal with HarperCollins Publishers.
On an Instagram post she stated, "I can't wait to share this book with you all. I am setting intentions to celebrate Native American culture with curated recipes that tell my story of how I've found healing and comfort returning to my ancestral food ways."
As mentioned earlier, Chef Pyet collaborated with UNITY and is a strong advocate and supporter for Native youth. In fact, this was not her first time working alongside UNITY. Back in July, she served as the keynote speaker at the UNITY Conference in Minneapolis, where she shared her story with the youth and encouraged them to always be their true selves on their personal journey throughout life. No doubt, her words made a huge impact on the kids who flocked to her for selfies after her speech and were starstruck to see a young Native woman making huge waves in her desired career path.
Meet Faith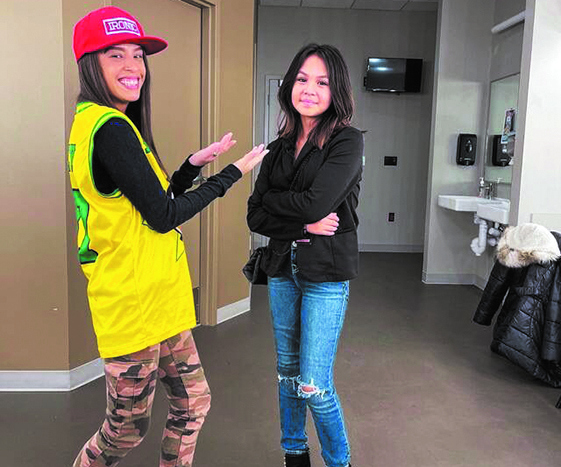 In attendance of the 2022 UNITY Conference was none other than Tulalip's own social media influencer Faith Iukes, who was invited to the conference for media coverage. Faith had the pleasure of meeting and interviewing several of the keynote speakers and panelist at the conference.
At the young age of 13, Faith has been making big moves on the social media circuit over recent years. Currently she boasts 12.2k followers on Instagram, 11.3k followers on TikTok, and 1k followers on her Twitter and YouTube pages respectfully. And with a strong team of supporters backing her as she follows her dream, Faith is just getting started.
Faith also hosts her own online radio station on Soundcloud and www.FaithIukes.com, which features music and conversations from Native artists throughout the nation. She is always hard at work, creating content on a daily basis and has numerous endorsements and partnerships with Indigenous brands such as Rise Above and Generational Trauma. And she also steadily promotes other Natives, whether it be music, fashion, comedy, film/tv, culture, or art, Faith is quick to share and support the work of her fellow Indigenous creators in the entertainment industry.
At the latest Mariners Native American Heritage Night, Faith was asked to be the special guest announcer for the game and was seen calling the ballgame on the jumbotron. She has also done some great work with the Seattle Kraken, a partnership that was developed before the newly established NHL hockey team even hit the ice. Most recently, she helped bring an Indigenous Fashion Show to the Pacific Northwest along with her mom Alexis and NSO Entertainment and was featured as one of the show's models. And although she is a big supporter of Native athletes, she wants to serve as inspiration to other Indigenous youth and show that you can follow a successful journey and make a name for yourself outside of the sports realm.
As her viewership and followers continue to grow, Faith is taking in as much as she can and learning from other Natives in the entertainment game. In just two years, she has cultivated a following and has done all the camera work, interviewing, DJ'ing and editing on her own.
About her time spent at the UNITY Conference, Faith shared, "I'm working with the organization and bringing light on the social media scene and doing work with the keynote speakers and doing interviews. My experience has been great. It's very exciting. I love the people and the chaperones. I made a lot of new friends. I'm gaining a lot of inspiration from them. I look up to everybody who I interview because they all have good energy and a great mindset. UNITY invited me and that's pretty cool because I really want to inspire our youth, and I am the youngest person to be invited. This is my first time traveling on an airplane too and it's without my family, so they are all kind of nervous. And I was pretty nervous myself but it's really exciting."
A conversation with Faith Iukes and Chef Pyet:
Faith got an exclusive interview with Chef Pyet following her keynote speech at the UNITY Conference. A special moment took place in a conference room of the Minneapolis Convention Center as two young up and coming Native women met for the first time and shared a quick conversation after complimenting each other on their Indigenous jewelry, ribbon skirts, and fly kicks.
Faith: Can you give me a brief history of who you are?
Hello, my name is Chef Pyet. I'm a member of the Prairie Band Potawatomi Nation Tribe and I'm also Mexican American. I grew up in Kansas City and now I live in Los Angeles as a private chef. I just recently won a Gordon Ramsay cooking show and I specialize in Indigenous fusion food where I highlight Indigenous foods of the Americas.
That's great! What's the first app you open on your phone in the morning?
The first app I open is my calendar. I have a Google calendar and it really allows me to know my timeframe in the morning to get settled in and get my meditations or my prayer in.
Cool. What are some words of encouragement you can leave for the youth and our future generations?
I think for me, it's really important for our youth to focus on being their true authentic selves. The reason why I say that is because a lot of Indigenous people in this country have felt kind of ignored or maybe looked passed, as if their lives don't matter, and it's hard to show up and be your true authentic self when people are saying your life doesn't matter. I think it's important there's representation in the world for people like them. You never know who's watching you, you never know who's going to be inspired by what you're doing or what you're saying. So, I think it's important for people to show up as themselves and give people who are watching permission to also be themselves because authenticity is something that we're missing.
That is amazing! If I pray for you, what should I pray for?
Well first of all, thank you for asking that question. I also wanted to say before I answer this question that I think it's incredible that this is one of your questions. I never had someone ask me that question in an interview. When I saw that, I thought wow, this girl is going places. Thank you so much for asking that. If you were to pray for me, I would definitely say please pray for strength because the line of work I am in requires a lot, and a lot of work. It requires a lot of emotion, whether that be internally for myself or for other people. The work that I am doing requires me to go inward and be really intentional with what I'm doing, so strength is something that I could utilize.
Be sure to follow these two amazing ladies on all your social medias!
Chef Pyet
Instagram/TikTok/Twitter: @ChefPyet
YouTube: @ChefPyet5754
Facebook: Pyet's Plate
Official Website: www.PyetsPlate.com
Faith Iukes
Instagram/TikTok: @Faith.Iukes11
Twitter: @IukesFaith
YouTube/SoundCloud/Facebook: Faith Iukes
Official Website: www.FaithIukes.com