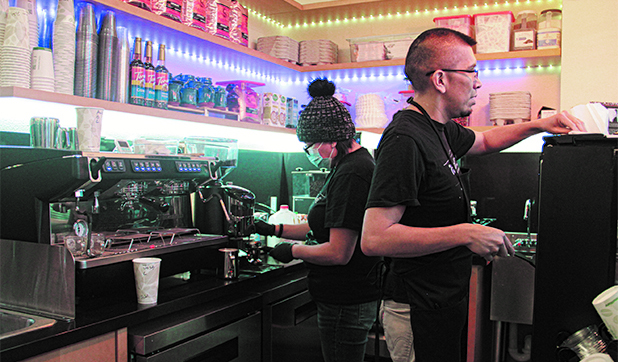 By Shaelyn Smead, Tulalip News
On November 29, the ?ál?al Café by Chief Seattle Club (CSC) opened in the heart of Seattle's Pioneer Square neighborhood. Unlike the other 300+ cafes in Seattle, ?ál?al Café disrupts this metropolitan lifestyle by reclaiming and reintroducing traditional Indigenous foods in a modern café setting. CSC's ideologies and the basis of their work are to uplift our culture across North America and support unhoused Natives in Seattle.
In addition to the Café's full espresso bar, ?ál?al offers quick-serve cuisine highlighting Indigenous ingredients from all over North America. The café strives to use elements that predate colonial descent, including Great Plains' bison, the Southwest's Three Sisters, the Northwest's salmon, etc. These Indigenous foods have been carefully procured by selected indigenous-owned companies and suppliers across the continent. Some ingredients and food products were displayed and available for purchase, along with Indigenous-made cookbooks for customers to take home and try for themselves.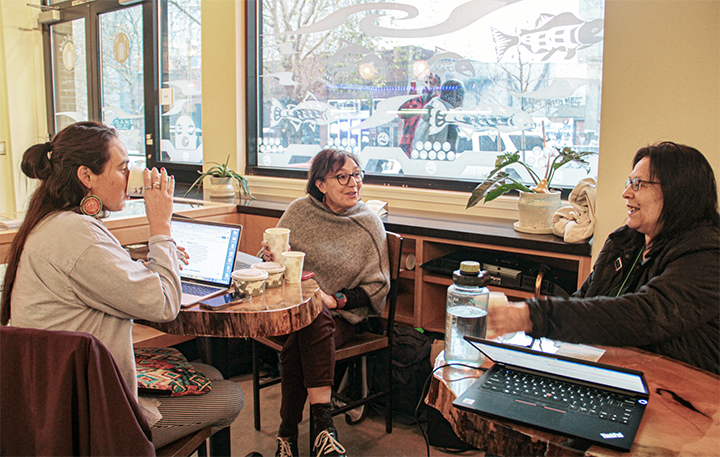 So often in the modern world, we see restaurants, cafés, grocery stores, and markets covering various cultures, yet Indigenous culture is still often overlooked and ignored. But as many cultures across the US proclaim, representation matters.
The café manager Anthony Johnson agreed, saying, "We want to decolonize the food industry. You look at areas like Chinatown and see a massive district full of vibrant culture and community. We believe that as this land's first peoples, we should be no different. It is important to have representation and for our people to be seen. We want Native folks to come in, feel like they control themselves, and can call this place a home."
Along with consuming delicious foods and drinks at their live edge spruce-made tables, patrons also enjoyed the handcrafted and curated Indigenous artworks displayed all over the café. The art is also set to change seasonally throughout the year and feature different artists. Shown on the center wall of the café is a 3-D mural collage of Chief Seattle, an eagle, Mt. Rainier, a canoe, basketry, salmon, etc. Additionally, on the street-facing windows, a display of translucent salmon artwork is visible for bypassers to see.
In the background, customers will hear singing, drums, and various Indigenous music. With this idyllic atmosphere, decolonization expands from food and drink to Indigenous conversations, artwork, and spaces. Their website says, "Connection to traditional dishes goes beyond taste and conversations around the dinner table. Food connects us to our culture; to our Indigenous roots and identity."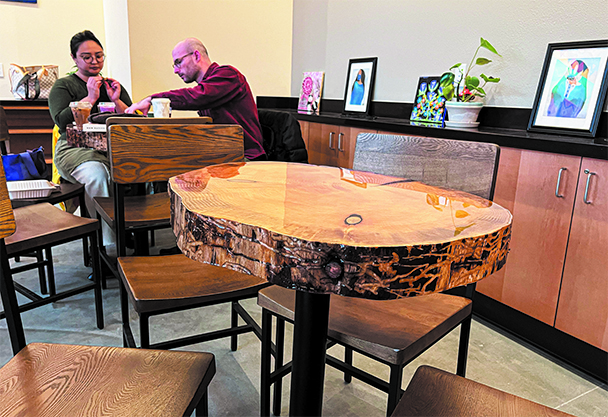 Anthony also spoke about how the storefront acts as a bridge from Native communities to the public, "It opens up a broader conversation for people. If they see some characters, glottal stops, or linguistics marks from our language that they don't understand or don't know how to pronounce, it opens up new discussions. People will become more curious about the language of the Puget Sound, how we speak it, and what it means."
The name '?ál?al' derives from the Lushootseed language that is Native to this land, and the definition of it means 'home.' Currently, the café employs an entire Indigenous staff with a few job openings still available. ?ál?al Café is located on the ground floor of their landmark Native urban permanent housing complex that CSC constructed with 80 units in January earlier this year. The residence provides housing for struggling Native Americans to find connections and stability. According to CSC, in 2022, Native Americans face the highest poverty rate than any racial group in King County, with over 15% of the homeless community being American Indian or Alaskan Native.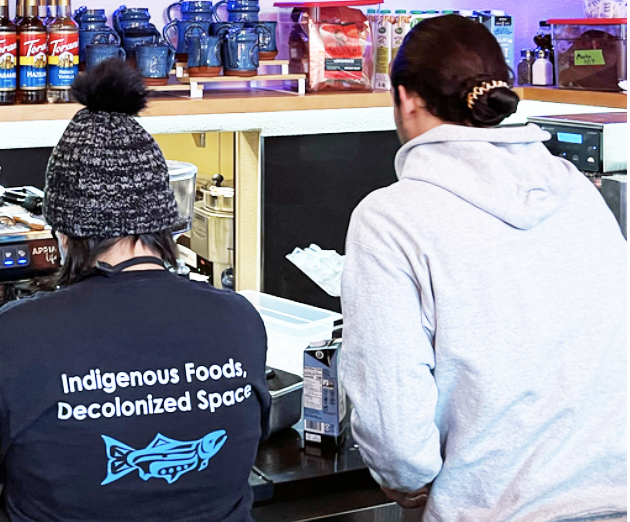 Being involved with CSC for over 12 years, Anthony said, "A vast majority of Seattleites ignore or turn a blind eye to the housing security crisis. But we want our communities to take action. This is just one of the ways to help. Come in, have a cup of coffee, and think deeply about the issues that the city and our people are facing."
100% of the Café's net profit will go back into the 501(c)(3) organization and support the work for unhoused Native people. Private donations are a significant source for the non-profit; they always look for donors and people to get involved. You can visit ?ál?al Café at 122 2nd Ave S. Seattle, WA 98104, Tuesday-Friday from 6:30 AM – 2:30 PM. For more information, please visit their website at: www.alalcafe.org.