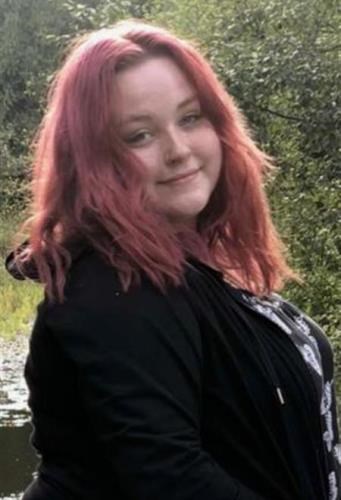 Hayleigh Jo (JoJo) McGhie, 17, passed away on December 8, 2022 at Everett Providence Hospital.
Hayleigh was born in Everett, WA on June 22, 2005 to Brett McGhie and Corrina Gobin.
Throughout her life, Hayleigh enjoyed numerous hobbies which included being a member of the 4H club where she proudly participated in showing dogs and horses. Arts and Crafts with her mother, while listening to their favorite music was another one of her cherished past times. She loved the outdoors; riding and racing quads alongside her father, standing by a bonfire and camping at fish lake will always be memories her family will treasure. Hayleigh attended Arlington High School and looked forward to walking alongside her graduating class of 2023. She was referred to as a sister to many of her friends and offered a sense of family for many youth in need. JoJo was full of life and love, she will be deeply missed by all of her family. At the end of her journey with us, our precious Hayleigh Jo was able to give the gift of life to numerous others through organ donation.
Hayleigh Jo leaves behind her Mother Corrina Gobin, Father Brett McGhie (Dana), Special Guardian Jerry Jones, Sisters – Keely (Taylor), Mykalee, Jaxsyn, Shelby and Taylor (Branden), Brother – Charlie, Great-Grandma Bev, Grandma Donna (Jerry), Papa Steve, Grandpa Kyle (Michelle), Uncles – Kit, Michael (Nicole) and Kyle (Angela) , Aunts – Krisan (Ross), Lori (John), Stacey, Special Auntie/Cousins – Rebecca, Samantha and Cidney, Nephews – Charles, Hank, Brett, Miles and Jr. Nieces – Beverly and Marilyn. She also leaves behind numerous family members that were dear to her heart; but far too many to list.
She is preceded in death by her Great-Grandpa Tom, Great-Grandma Jo, Grandma Wendy and Uncle Kenny.
Services for Hayleigh will be Friday, December 23, 2022 at 10:00am at the Tulalip Gathering Hall, 7512 Totem Beach Road, Tulalip, WA. Immediately following, Hayleigh will be laid to rest at Mission Beach Cemetery in Tulalip, WA.