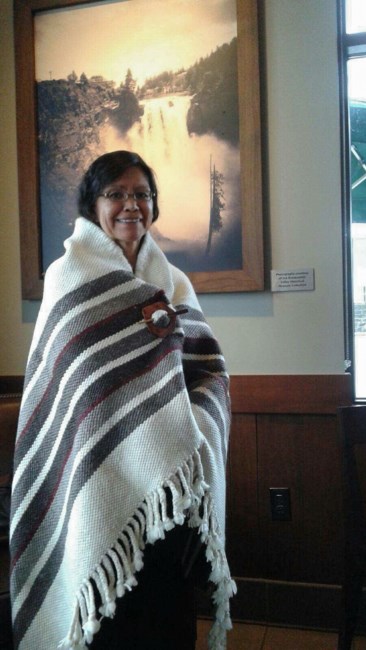 OCTOBER 4, 1957 – DECEMBER 26, 2022
Lena Arlet Jones born on October 4, 1957 in Arlington, Washington to Kenneth Moses Sr. and Theresa (Joseph) Moses passed away on December 26, 2022 surrounded by family. Lena, a Tulalip tribal member, respected and honored her Snoqualmie, Wenatchee, Duwamish, Cowichan, Saanich, and Malahat ancestry.
Lena graduated Darrington High School in 1975, where she held the record as the fastest typist and shorthand transcriber. Lena attended Seattle University shortly after high school and graduated with her Bachelor of Arts from Antioch University in 1998. She received her Master of Arts in Organizational Management from University of Phoenix in 2005.
Lena started working when she was 13 years old at berry farms. Lena dedicated over 31 years of her life to working for The Tulalip Tribes in Natural Resources, bədaʔčəɬ, the Legal Department, and at the Hibulb Cultural Center. Lena loved working as the Education Curator for Hibulb, where she helped coordinate the film festival, lecture series, workshops, and lesson plans. Lena loved to be a part of the quilting group that annually make Veterans quilts to honor and respect the Tulalip service men and women.
Lena loved and cared for her sisters and brothers. Often recalled as the most caring person while watching over her siblings growing up. As a sister and aunt, every Christmas, she ensured that all of her siblings, nieces and nephews got gifts. She also provided whatever support she could to the family, whether it be finding them work, donating her time or money to their causes, and sharing her knowledge, teachings, and gifts with the culture and spirituality of our people in the United States and Canada.
Lena raised four children and has nine wonderful grandchildren who were her world.
Lena is survived by her children, Monique (Moses) & George Jones (son in-law), Kyle Moses, Derek Jones & Christine Ann Jones (daughter in-law), Aaron Jones & Brit Reed; her grandchildren Eilidh Fleek, Sorcha Fleek, George Jones Jr., Kenneth Jones, Walter Jones, Stomper Jones, Artie and Selena Jones (twins), and Mikel Jones; her siblings Russell Moses (Judy), Lyle Moses, Marcia (Moses) Horne (Manual), Susan Moses, Myra (Moses) Hudson (Hoss); her loved nieces and nephews.
Lena is preceded in death by her parents, Kenny Moses Sr. & Theresa (Joseph) Moses; her grandparents, Peter & Selena Joseph, Edward & Helen (Pierce) Moses; her siblings, Kenneth Moses Jr. & Carolyn (Grenier) Moses, Dolly (Moses) Iukes, and Gladys Moses.
Lena goes on to join our ancestors.
An evening service will be held Friday, Dec. 30, 2022 at 6:00 PM at the Tulalip Gathering Hall. A celebration of her life will be held Sat. Dec. 31, 2022 at 10:00 AM at the Tulalip Gathering Hall with burial to follow at Mission Beach Cemetery.
In the care of Schaefer-Shipman Funeral Home