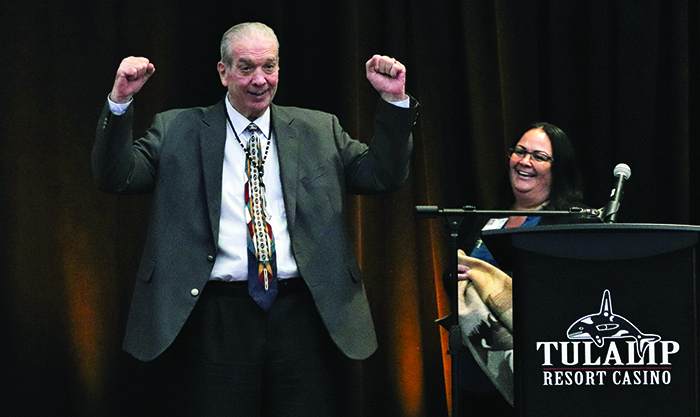 By Micheal Rios, Tulalip News
Ken Kettler came to Tulalip in 2006 with over three decades of gaming leadership experience. He served in a variety of executive and managerial positions with Harrah's Entertainment for twenty-seven years, before spending the next five years as the General Manager of the Agua Caliente Casino in California. Then, from 2006 – 2022, Ken ushered in an era of financial prosperity that resulted in Tulalip's gaming enterprise growing from infant to powerhouse.
As long-time, former Board of Director Glen Gobin recalled, the decision to bring Ken on as President of the Tulalip Gaming Organization came in an auspicious time; when Tulalip leadership was struggling to find a unified vision for its fledgling Tulalip Casino.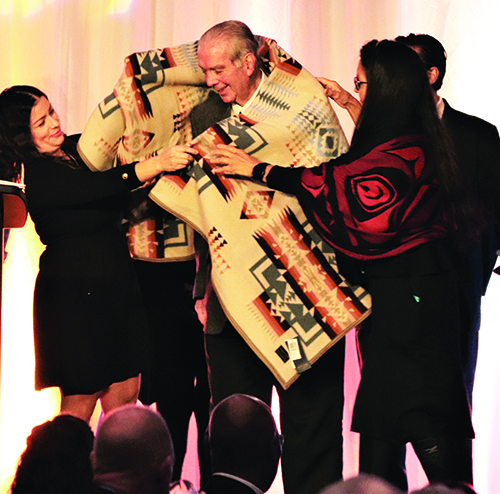 "At that time in 2006, prior to Ken, we were a floundering organization going through managers left and right. There were a number of growing pains from trying to develop a business that was brand new to us, and going through 13 managers in about as many years was a huge concern. I happened to be on Tribal Council when we interviewed Ken and it was apparent right away that he shared our dream to make Tulalip a true resort complex.
"Our surrounding competition was getting better and we knew we had to elevate ourselves in order to stay at the forefront," Glen continued. "After hiring Ken, we quickly started down on the path to making Tulalip a resort destination. With Ken's expertise and gaming experience, we built a hotel and in doing so created a place where people wanted to come and spend a night or two. We've only continued to grow since then, and I for one don't think we'd be enjoying the financial prosperity we are today if it wasn't for Ken's leadership."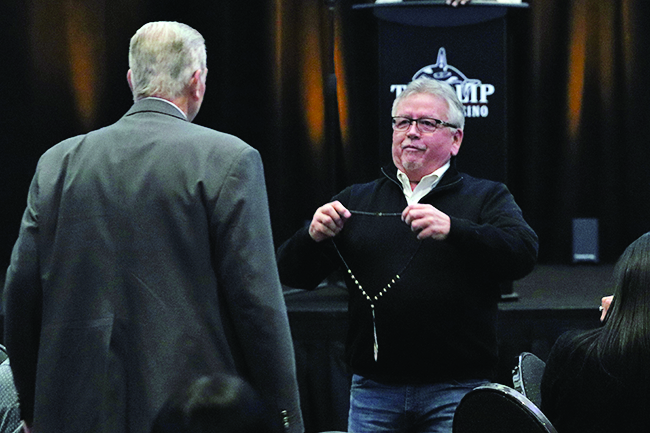 Showered with well wishes and heartwarming memories, the most successful and longest tenured President of the Tulalip Gaming Operation was celebrated with a retirement ceremony in late December. There was no setting more fitting that the Resort Casino's Orca Ballroom. Attendees formed an intimate gathering of friends, family and business colleagues that brought tears to the Kettler family as they were overjoyed to see how their father was embraced by leadership and elders.
The ceremony started with traditional songs offered by Tulalip youth, led by their cultural liaisons Deyamonta Diaz and Tony Hatch.
"We're honored to be here today to honor Ken with a couple songs," said former Board of Director Tony Hatch. "We thank him for all his years of dedication to our people. What better way to show the impact of all the work he's done than to have your youngest generation share a song in their traditional language? Because Ken's legacy reaches far beyond the casinos. All he's created for us is certainly going to positively impact and benefit these kids for years to come. It's only right then that they and us show our appreciation in a traditional way, with a song."
For the last sixteen years, Ken was responsible for overseeing the operations of all three properties that make up the Tulalip Gaming Organization: Tulalip Resort Casino, Quil Ceda Creek Casino and Tulalip Bingo. Their overwhelming success during his tenure is also noted as resulting in an unprecedented cash infusion to the Tulalip citizenship, from gradually increasing per capita payments to larger and larger bonuses given out prior to the holidays. Not to mention all the infrastructure, services, and programs that have been developed over that time span that have benefitted multiple generations of Tulalip families.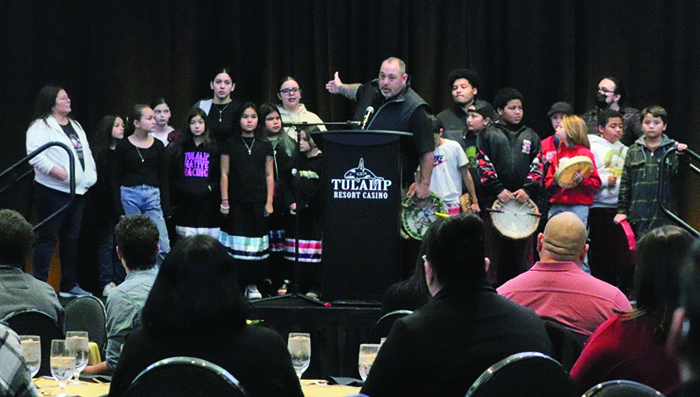 "I've been the manager/director of Bingo for twenty-five years, the last sixteen of which were under Ken's leadership," explained Tammy Taylor. "Ken always told us that 'we're better together', and we are. Every one of us are better together. I'm honored for my children, my grandchildren, and all the children of our Tulalip community and generations to come because they are going to have so many things that benefit their life, things that we can't even imagine, that are a direct result of what Ken helped create here. That is Ken's legacy. All my grandchildren know his name and how important he is. From the bottom of my heart, I thank Ken for making us all better."
While he presided over the Tribe's gaming enterprise, Ken also served as an active member of the Tulalip Marysville Chamber of Commerce, the Snohomish YMCA Board of Trustees, and the Tulalip Lions Club. He's also noted as an integral part of building the Tulalip Boys & Girls Club Auction into the annual fundraising juggernaut it is today.
For all his tireless dedication to Tulalip, Ken was also honored with a family necklace by Glen Gobin and wrapped in a Pendleton blanket by Marci Fryberg and April Brisbois.
"We are so, so grateful for having Ken's leadership for sixteen years. With him in charge, our revenue has grown so much and allows our community to be positively impacted for generations," said Tulalip Vice-Chairwoman Misty Napeahi. "We were an infant organization when he came to us, muddling along and doing our best but not getting the results we wanted. Then Ken pulled us together, unified our vision, and made us into the powerhouse we are today. On behalf of Tulalip, my hands go up to you."
As Ken walks into the green pastures of retirement, he is succeeded as TGO President by Tulalip tribal member Marci Fryberg.