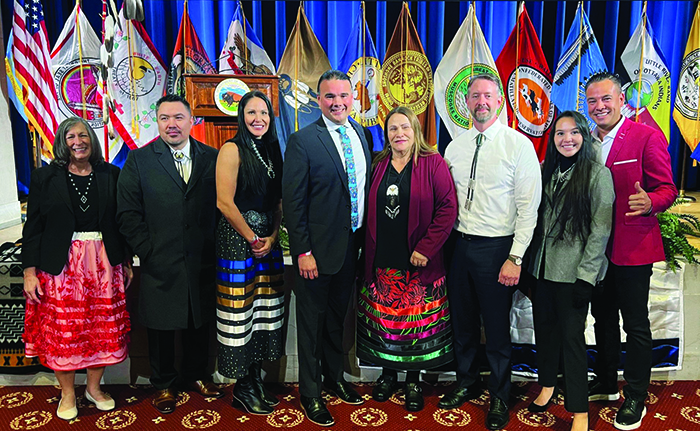 By Micheal Rios, Tulalip News
The White House is pleased to announce the 2022 White House Tribal Nations Summit at the Department of the Interion in Washington, D.C.
Building on the 2021 Summit and the progress made to strengthen our Nation-to-Nation relationships and invest record levels of resources in Tribal communities, we look forward to hosting a robust and meaningful engagement with Tribal leaders on important issues facing Tribal communities. The Summit will feature new Administration announcements and efforts to implement key policy initiatives supporting Tribal communities.
The Biden-Harris Administration is deeply committed to honoring its trust and treaty responsibilities to federally recognized Tribes, and this Summit provides an opportunity for Tribal leaders to engage directly with officials in the highest levels of the Administration.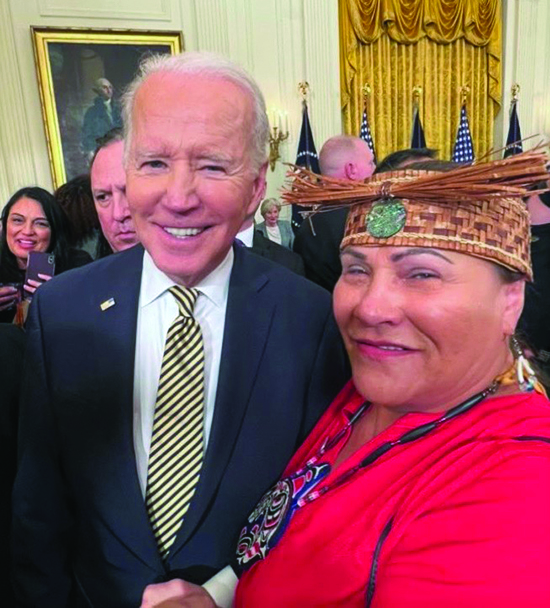 The preceding paragraphs were the opening sentiments expressed in a letter written on behalf of the White House to Tulalip Chairwoman Teri Gobin, inviting her to the Tribal Nations Summit held on November 30th and December 1st, 2022. She accepted the invitation, of course, and journeyed to the nation's capital to represent her Tulalip people as best she could.
Much excitement came with this summit as it was the second one held by the Biden Administration, but, even more notably, it was the first one held in-person in six years. The exclusive guest list was reserved for one government representative per Tribe, which resulted in a truly once-in-a-life-time White House visit for the Tribal leaders who travelled from all across Indian Country to convene as sovereigns with the 46th president of the United States, Joe Biden.
"To all the Tribal leaders: Thank you. Thank you for being here and for your partnership," remarked President Biden during the summit's opening session. "I made a commitment when I ran for President…that my administration would prioritize and respect nation-to-nation relationships. And I'm going to make sure that happens.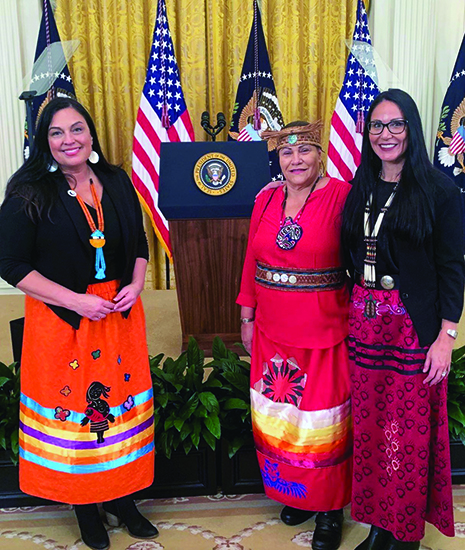 "I hope our work in the past two years has demonstrated that we're meeting that commitment. That's why I re-launched this convening and elevated an event into a White House Tribal Nations Summit after the previous administration failed to convene any events, anything on this scale. On my watch, we're ushering in a new era for the federal government to work with Tribal nations. And it starts by appointing Native Americans to lead the frontlines of my administration.
"Starting with Secretary Haaland, we've followed dozens of Senate-confirmed Native American officials, over 60 Native American appointees all across my administration, including in the federal court," continued President Biden. "I restored the White House Council on Native American Affairs to improve interagency coordination and decision-making. Together, I emphasize the word together, my entire administration is advancing the economic agenda and making historic investments in Indian Country that are long overdue."
The particular summit provided opportunities for Tribal leaders to engage with members of the Biden Administration in robust and meaningful discussions that are foundational to strengthening nation-to-nation relationships. By being able to convene in-person once again, the conversations were even more meaningful when issues facing Tribal communities were brought up, which they routinely were.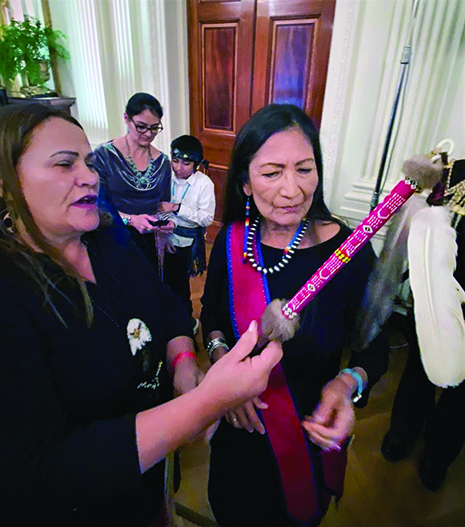 This year's summit included presentations from President Biden, Vice-President Kamala Harris, and Secretary Deb Haaland. It also included panel discussions with representatives from the Department of Education, Department of the Interior, Department of Agriculture, the White House Climate Policy Office, Department of Health and Human Services, Department of Homeland Security, Department of Veterans Affairs, and more.
A definite highlight of Chairwoman Gobin's summit was when she got to sit front and center on a panel dedicated to discussing Tribal strategies and priorities on the hot button issues of public safety and justice. Her fellow panelists were Chairman Peter Yucupicio (Pascua Yaqui Tribe), associate attorney general Vanita Gupta (United States), Secretary Alejandro Mayorkas (Dept. of Homeland Security) and Secretary Deb Haaland (Dept. of Interior).
Specifically, Chairwoman Gobin was asked to speak on the importance of reauthorizing the Violence Against Women Act (VAWA) and how it impacts her home reservation. "Tulalip was one of the first Tribal courts to exercise the special domestic violence criminal jurisdiction under VAWA 2013…we made 15 arrests in that first year. However, one of the things we noticed was that half of the incidents involving the non-Natives included crimes against our children, which weren't covered by VAWA 2013," she explained.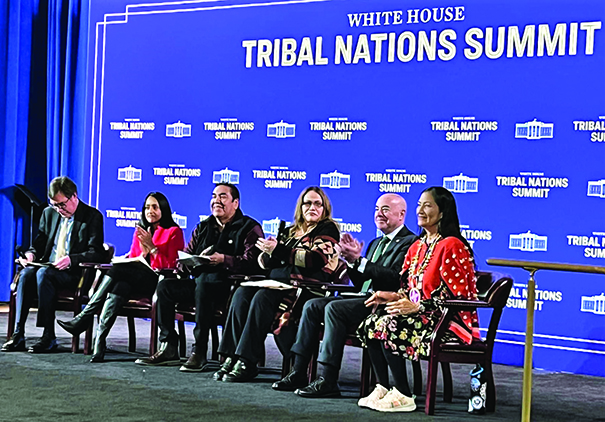 "We used this data and other data we had to show why it was so important to extend protections to Native American victims of sexual violence, stalking, trafficking, and child abuse," added Chairwoman Gobin. "The VAWA Reauthorization Act of 2022 was a huge win for public safety in our community, especially for our women and children. VAWA 2022 was a necessary second step. Now, we are looking to build upon that momentum and do more."
Within Tribal communities, it is well known that public safety and justice are entangled in a complex web of Treaties, federal acts, state laws, and lots of Supreme Court decisions that conflict with each other. This entanglement creates an incredibly complex situation when it comes to Tribes protecting their own people from violence, and pursuing justice for their people who've been victimized by non-Native offenders.
However, recent mainstream spotlight and federal focus on these Native American social issues, such as Missing and Murdered Indigenous Women and the atrocities committed during the Boarding School Era, have amplified attention to the high rates of violence experienced over multiple generations. In these times, it's become imperative for the movers and shakers of Washington, D.C. to actually engage with Tribal leaders in order to ask questions and seek valuable insight on realistic strategies that can foster long-term improvements to public safety.
In that regards, the White House Tribal Nations Summit was a huge success. Elected leadership and officials from Tribes from all across Indian Country were at the decision-making table, while D.C. lawmakers listened and learned. In that sovereignty affirming space, Tulalip's voice was heard and its knowledge valued through the heartfelt messaged conveyed by Tulalip's own Chairwoman.