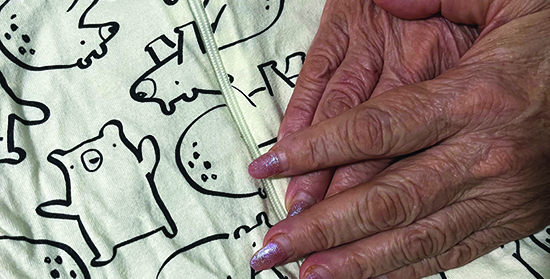 By Shaelyn Smead, Tulalip News
Family issues surrounding chemical dependency, domestic violence, and homelessness have created a continued upward trend of Native grandparents obtaining guardianship over their grandchildren.
Traditionally speaking, the concept isn't too far off from how our ancestors raised their kids. For centuries before us, Native people thrived through communal operations. Rather than families only being responsible for their 'own,' families worked together, raised children together, and depended on one another frequently.
Historically Native grandparents helped raise children in their community out of choice and tradition. However, with certain struggles that today's world brings, grandparent guardianship has become more about necessity and intervention. Native grandparents have become the glue for many Native households trying to keep their families together.
Family Haven manager Alison Bowen recognized that grandparent guardianship is nothing new to Tulalip. Still, she has witnessed the increase in the trend as well, "We mostly see grandparents offer to help and take over guardianship. It says a lot about their love for their family and keeping the kids close, safe, and surrounded by their community. Beda?chelh has also taken great strides at approving kinship care and allowing that to happen, which is wonderful," she said.
Other than some of the obvious struggles that derive from family distress, grandparents, in particular, have their own set of adjusting and obstacles to overcome. A big hurdle is the difference in generations. Many have raised their children in a completely different era and environment than they are now in.
"Understanding concepts around bullying, social media, drugs, and technology are all new to them. Fifty years ago, they might have had a version of these struggles, but as time has progressed, so have these parental stresses. They are being exposed to these new situations and have to adapt quickly," Alison said.
The success of these grandparents weighs heavily on the amount of support that they have. A 2019 Journal of Cross-Cultural Gerontology studied Montana's Grandparents Raising Grandchildren Project's stressors, resources, and resiliency of rural Native and European American custodial grandparents. In short, the research found that 33% of the Native grandparents suffered from economic distress and were ill-prepared to financially accommodate the needs of childrearing. They also found that living on reservations or small communities brought shame, guilt, and fear of gossip that challenged the uptake of services when eligible.
It was argued that due to Native Americans' history of traumas from colonialism, cultural genocide, forced relocation to reservations, and residential boarding schools, Native American grandparents suffered a higher level of depressive symptoms. On the other hand, because of these historical events, it forced Native Americans to adapt, and the grandparents scored a higher level of resiliency than their European American counterparts.
Alison spoke about her admiration for Tulalip grandparents taking on this new role, "To settle down and retire, and then to choose to repeat the childrearing chapter of their lives, is so amazing. You can feel the love that they have for their grandchildren. And whenever kids can stay in their family or community, they feel more connected and like they belong. That's what any child wants," she said.
An anonymous tribal grandparent shared their story, similar to many other grandparents holding guardianship. They obtained guardianship over their four great nieces and nephews in 2020 due to parental mental health and addiction-related issues. Raising four kids under eight years old, lack of energy, exposure to new technology, and adapting to new parenting styles were all obstacles the grandparents had to overcome. But they look at this time in their life to better themselves and have a second shot at parenthood.
The anonymous grandparent spoke about not having parents and how they didn't want these kids to experience that same trauma, "It was not a question at all when we took them in. We love them, and we had to keep our family together. We wanted their parents to be sober and care for their kids because they were once awesome parents. But it's just not what happened. We struggled at first in our transition because this wasn't what we had planned for our life, but we shifted our thoughts and started saying- 'this is our life,'" they said.
The grandparent also shared their gratitude for how their family has come together and helped them with raising the kids. They expressed how TANF and Beda?chelh have been substantial resources for them.
"The biggest thing I could say to other grandparents experiencing this transition is to enjoy the moment, enjoy the children, and find your support system. Kids are a blessing and can motivate you in ways you haven't thought of before," they said.
Many resources are available for Tulalip families in distress, including Family Advocacy's programs like Beda?chelh, funding through TANF, Child Advocacy, and Legacy of Healing. Child Youth and Family (CYF) Mental Wellness also provides individual and family therapy, transportation services, and referrals to various psychological services. Additionally, Family Haven provides Teen Outreach Program, Tulalip Peer Support Program, MOMs Group, parenting classes, Family Spirit Home Visiting Program, and the Family Preservation Program.
If you or someone you know needs services, please contact Beda?chelh and Family Haven at 3607163284, Family Advocacy at 3607164320, or CYF Mental Wellness at 3607164224.