By Kalvin Valdillez, Tulalip News
"We want our youth to set positive examples and be good role models for their peers and future generations," shared Tulalip Youth Council Advisor, Shane McLean. "We value our youth's insight, expertise, experiences, and contributions. Youth know what issues are important to them and what solutions will work."
Since its revival in 2015, the Tulalip Youth Council has helped shape the up-and-coming generations into strong young leaders who are prepared to take on the world. Comprised of a senior and junior council, fourteen Tulalip tribal youth who wish to make a positive impact for their tribe and community, are sworn-in to the council every year.
Through the Tulalip Youth Council, the elected officials gain real-life experience and serve as the voice of the young people during official Tulalip Board meetings. They also address a number of topics that affect both tribal youth and the tribe as a whole, by organizing events throughout the year that help support and/or raise awareness of those issues. In the past, such events included the Get Drugs Off Our Rez Prevention Walk, the PRIDE Walk, coastal jams, healing circles, and fitness camps.
Said Shane, "Supporting and including young people in the development processes is critical for several reasons. Youth have the experience, knowledge, and ideas that are unique to their situation, which enables them to offer key insights and perspectives on development. Our young people want and deserve a voice in their community."
Not only do the council members host events, but they also help organize and actively participate in other community gatherings and culture-focused events as well. Most importantly, the Youth Council works closely with the Tulalip Board of Directors during their one-year term, and therefore they have the opportunity to learn the ins and outs of tribal government operations first-hand. Those young council members will be all the more prepared when it's their time to serve on the Tribe's BOD, if they choose to do so in the not-so-distant future.
The 2022 Youth Council elected officials are currently wrapping up a strong term in which they proudly represented the Tulalip youth at each local event this past year. They traveled to Minneapolis in July and met hundreds of other tribal youth from across the nation, while also gaining invaluable knowledge and life skills through a number of workshops geared towards Native youth at the annual UNITY conference.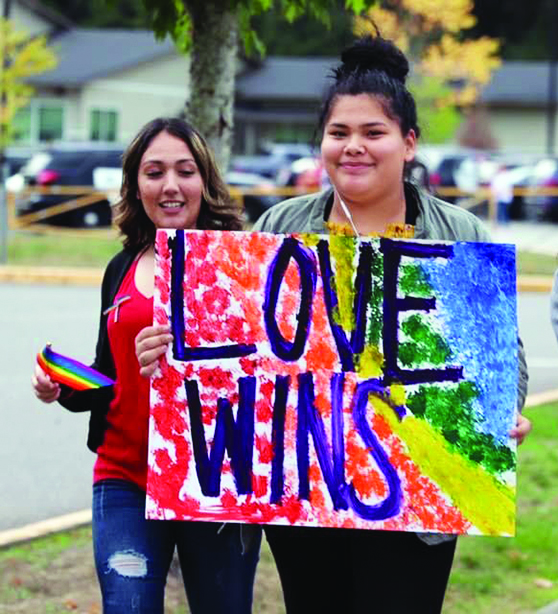 "It felt heartwarming seeing everyone gathering in a place where we all felt comfortable with each other, knowing that we all struggle with the same things because our people went through a genocide," said Tulalip Youth Council member, Arielle Valencia at the 2022 UNITY Conference. "I felt comfortable being around people who understand me. Just knowing that everyone here will be there for you felt good. It was awesome."
Although each member approaches their duties in a serious manner, there is plenty of room to have fun with the rest of the council members. More often than not, members of the Youth Council can be spotted at local happenings, throwing their heads back in laughter and joining in on the fun with their fellow Tulalip community members. And each year, as the council members settle into their positions, they naturally grow together over their term and thus create bonds and connections that will last a lifetime.
If you are between the 6th and 12th grades and are looking to hone in on those leadership skills, then you are in luck. As mentioned earlier, 14 total positions are up for grabs on the Tulalip Youth Council – seven on the senior council (9th-12th grade) and seven on the junior council (6th-8th grade).
"We are coming up on Tulalip Youth Council elections for 2023," shared Shane. "Some of the Youth Council's purposes are to provide a collective voice and represent the Tribal youth in all matters that concern them, work towards positive goals, and create opportunities for our youth and our communities. If you are a youth or if you know any youth who would be interested in being a part of Tulalip Youth Council, please apply or reach out."
Shane can be reached at SMclean@TulalipTribes-nsn.gov or at (360) 501-1778. Be sure to contact him for your application for candidacy on the Tulalip Youth Council, and for any additional details as well. The application deadline is 4:00 p.m. on February 3rd. Eligibility rules are as follows; must be an enrolled Tulalip tribal member, must be in-between the 6th-12th grade, must be enrolled in school, and must have good grades and attendance.
"Engaging young people in their community and governance activities, such as youth councils, encourages them to learn peaceful means of impacting their communities and the world," Shane expressed. "It's our mission to create opportunities of awareness, healing, and growth through collaborative community outreach while sustaining our Native teachings."