By Micheal Rios, Tulalip News
In constructing a brand new building as part of a Foster School of Business expansion, the University of Washington sought to honor its commitment to respect the Coast Salish lands upon which the school resides. The planning committee was tasked with seeking art installations reflective of the thriving Native culture found on the reservations of present-day tribes of Western Washington.
The privately funded 85,000-square-foot building is now known as Founders Hall and debuted to much excitement among University staff, students and several guests of honor to kick off the 2022-2023 academic year.
According to Foster Business Magazine, the facility is a model of sustainable construction, collaborative learning and community building. A cathedral of collaboration. An incubator of innovation, an accelerator of ideas, a convergence of team projects, case solutions and business plans. It is a forum, a gathering spot, a hangout. A place to learn, express, engage, brainstorm, formulate, ideate, implement, celebrate. A place to honor the past and create the future.
Quite the description, right? Intentionally built upon bedrock principles of sustainability and collaboration is the key take-away here. Because imbedded within the bedrock of Founders Hall is an unmistakable essence of Tulalip.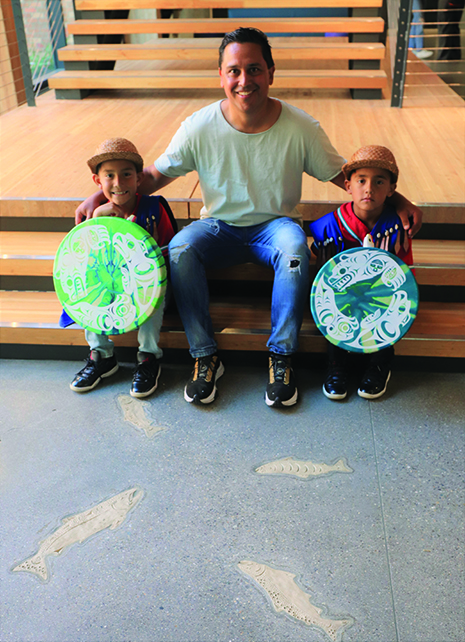 Dubbed "Life of the Salmon", Tulalip artist James Madison traces the epic upstream run of sacred king, sockeye, silver, humpy and chum. In the form of polished bronze cases embedded into concrete floor, the fish grow and mature as they swim from the ground floor to the 5th floor Founders Gallery.
Known largely as a master carver who specializes in creating stunning, one-of-a-kind pieces of art from cedar wood, James is far from an amateur when it comes to working with metal. In fact, a large part of his education that earned him a bachelor's degree in fine arts from UW in 2000 was bronze casting.
"In discussing idea concepts with the planning committee, it was clear they and the Dean wanted to pay respect to the local tribes of this area, and wanted to combine that respect with a core teaching we have to protect the salmon," explained James. "It only made sense then that creating bronze salmon in the actual concrete of the building would serve as an irremovable reminder that our people are here and we will always be here.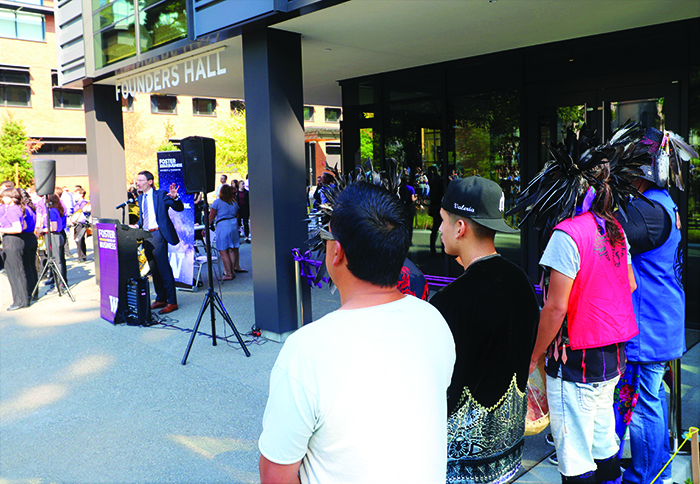 "For me, this kind of work is all about keeping our culture alive," he added. Commemorating the opening of UW's latest building and the cultural artwork within, the hundreds of college students in attendance stood respectfully as a group of Tulalip culture bearers offered traditional song. "UW honored not just my art, but our people, our traditions and our protocols by giving us space to share our songs. It meant a lot to hear those drums and those words shared by proud Tulalip youth who aren't afraid to get up in front of hundreds of strangers and share their culture."
Younger generations of Native students who visit Seattle's prestigious UW campus and spot the bronzed salmon may feel a part of their spirit soar and even begin to ponder life as a Husky. Such was the experience shared by 13-year-old Kyla Fryberg after taking part in the opening ceremony.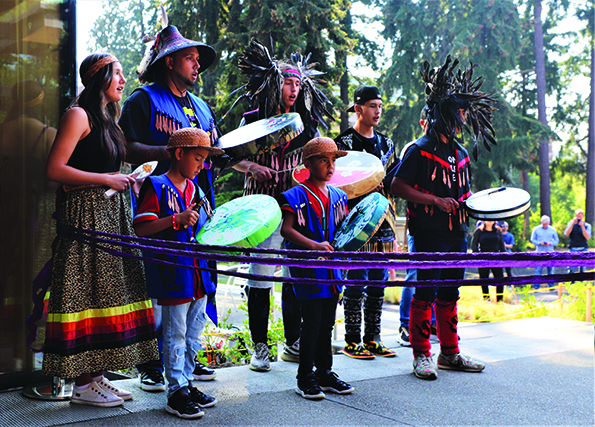 "I do dream of being a UW student one day," said the ribbon skirt wearing 8th grader. "When I grow up, I want to be a veterinarian. I know education plays an important role in the veterinary field, and where better to attend college than here, especially knowing it's important to the school to acknowledge Native Americans. I have people in my family who are fishermen, and I hear them say we are the salmon people. Seeing this salmon art all over the building means we are connected here and maybe gets more people to understand just how important the salmon are to all of us."
Frank Hodge serves as the Dean of the Foster School of Business and led the building's opening celebration. He boasted how on a campus with predominantly stone buildings, one of the most impressive facts about Founders Hall is that the shell of the building is entirely mass timber, sourced sustainable from managed forests. Resulting in the greenest building at the UW by achieving a 76% reduction in carbon emissions and using 70% less energy to operate in comparison to facilities of equal size built with conventional methods.
"The purpose of the Foster School is to bring communities together to better humanity through business," said Dean Hodge. "Founders Hall, with its connections to the Pacific Northwest forest products industry, its Native art, its significantly reduced carbon footprint and its intentional design fostering community and collaboration, is an example of how we are living our purpose as a forward-thinking business school."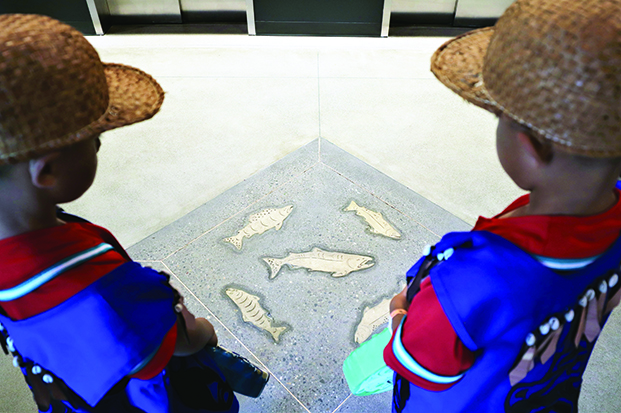 To honor the heritage of the land on which it stands, UW's Founders Hall is a showcase for original Native artwork representing modern Coast Salish styles. The University commissioned installations by two prominent local Native artists, Tulalip's own James Madison and Puyallup tribal member Shaun Peterson.